Recent Release: Music of Venezuela – Marco Granados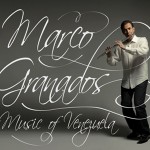 Marco Granados is known for playing some of the most challenging music ever written for the flute, and much of it comes from his native Venezuela. Its wealth of local rhythms – some of them head-spinningly complex caught his fancy, and he's devoted years to developing the skills needed to play them on flute.
Today he stands as one of the foremost ambassadors of Venezuelan music, with a technique so dazzling that the word "virtuoso" comes up in almost any description of him. Marco is renowned for his daredevil agility; he can breeze through difficult polyrhythmic tunes, often at bullet-fire speed and high altitude. A critic from the New York City Tribune remarked that his breath control "must be the envy of every wind player from here to the next world." The late great saxophonist Michael Brecker called him "an incredible flutist and musician."
This newest collection, recorded mostly in Caracas, Venezuela, showcases some of the best contemporary music from Marco's country. Surrounding him are his Un Mundo colleagues – bassist Roberto Koch, Jorge Glem on cuatro (a four-stringed, ukelele-like Venezuelan guitar), and Manuel Rangel or Leonardo Granados (Marco's brother) on maracas – plus various guest players. Together they give an authentic glimpse into a branch of Latin music that gets too little attention in the U.S.