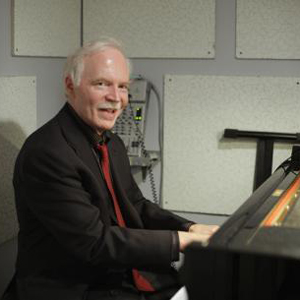 ROGER DAVIDSON
For Roger Davidson, music is a world without boundaries. Though commonly termed a classical artist, Roger has developed a fearlessly eclectic reach, both as a composer and pianist. "Music is for the world," says Roger, whose acclaimed catalog ranges from chamber, symphonic, and choral pieces to jazz, tango, Klezmer, children's music, a wide span of Latin and Brazilian projects, and most recently, a Solo Piano project – Temple of the Soul: Rhapsodies and Meditations for Solo Piano – an adventurous spiritual album that has received much critical acclaim. His recently published book of original Brazilian-inspired compositions, To Brazil with Love , is now distributed by Carl Fischer. A second Brazilian book, Saudade do Brasil, will be out later in 2016, followed by books of Roger's jazz and tango pieces as well as a large collection of his country dance music inspired by the British Isles. One of orchestral pieces, Meditation and Dance for Clarinet and Orchestra, was premiered and recorded by Richard Stoltzman on Mandala, a CD of Roger's orchestral music, and will be featured on an upcoming compilation of his music in all its genres.
Michael G. Nastos of All Music Guide termed him an "extraordinary" pianist devoted to "reaching for the inner soul." His remarkable flair for melody helps him cross stylistic lines with ease, which is apparent in Temple of the Soul. Roger says this, more than any previous album, embraces his musical past and is connected to his ongoing passion for sacred music, which manifested in 1982 with Unispace (for choir, organ, piano, and percussion), inspired by a United Nations conference of the same name on the peaceful uses of outer space. His sacred music recordings include One God, One World, Missa Universalis, and Universal Sacred Music, all of which include choral works representing his mission of writing and performing music that builds bridges among people of all faiths and celebrates our fundamental unity. In 2000, Roger created the Society for Universal Sacred Music (SUSM) as part of his lifelong commitment to expanding the repertoire of music that celebrates the unconditional love of God and the hope for universal peace.
Cross-cultural celebration is the theme of Soundbrush Records, the celebrated company that Roger founded. Soundbrush is the home of many of Roger's eighteen albums, including Journey to Rio, a double-CD of his Brazilian compositions, recorded in Rio de Janeiro with a band of top-flight Brazilian players.
In addition, the "Live at Caffe Vivaldi" series was created in 2014 to showcase Roger's exemplary talents as a pianist. Both Roger and the popular series are lauded in Inside Jazz Magazine and praised by Jazz Weekly's George Harris, who labeled him "one of the most lyrical and romantic pianists around." "Live at Caffe Vivaldi Volume 3," an album of solo piano performances by Roger at the Caffe over several years, follows two previous recordings: Vol 2, featuring the Roger Davidson Trio with David Finck and Adriano Santos, and Vol. 1, a duo with Pablo Aslan on bass.
International co-mingling is in Roger's blood. He was born in Paris in 1952 to a French mother and an American father; when he was one year old, the family moved to New York. He started playing piano at four, and taking violin lessons at eight. He has studied at St. Olaf College, earning a B.A. in German Language and Asian Studies in 1974, at Boston University where he earned a master's degree in composition in 1980, and then – at the suggestion of early baroque music scholar Sidney Beck – Westminster Choir College in Princeton, New Jersey, where Roger began writing choral music and earned a master's degree in choral conducting in 1985. In 1983 and '84, Roger took his first steps toward a professional jazz career when he twice attended the Stanford Jazz Workshop at Stanford University in California, studying under visiting teachers Stan Getz Dizzy Gillespie and James Moody. As a jazz pianist, Roger went on to be mentored by Helen Keane, who later produced his first jazz album, and to whom he dedicated the tribute album We Remember Helen (2012). JazzTimes has since called him an "impeccable player."
"It's been a great blessing that I've been able to do so many things well, and that they feel natural, as part of the global musical vocabulary I've developed," Roger says. "I feel a lot of empathy for all kinds of good music – music that really comes from the heart and that seeks to communicate passion and positive feelings to all people."
Roger and his Brazilian wife Nilcelia Davidson were ordained in May of 2015 as interfaith ministers. They currently live in the New York area with their three children.