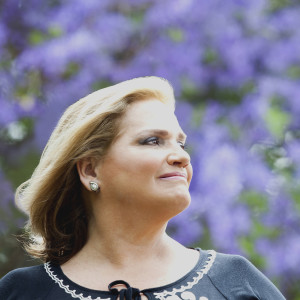 "Raízes is not the first time that I try to bring a Brazilian flavor to Jewish music and vice versa," says singer and songwriter Nicole Borger. "But it's the first time that I've tried, and I haven't seen anyone else do it, to translate Yiddish songs into Portuguese. I've seen Brazilian songs translated into Yiddish, but as a comic thing, as a parody, not seriously trying to get the poetry in a different language. But I am this mix — part Brazilian, part Jewish, part American — so I believe in fusion and I believe I express myself in this mixture."
Nicole Borger was born in São Paulo, Brazil, the daughter of an American father and Portuguese/German mother.
She started taking her first piano lessons at age six and later studied singing with teachers in São Paulo and Miami, FL. She also took lessons on percussion and interpretation.
Even as a child, she knew "music was my life." But when Nicole reached university age, at the time of the military dictatorship in Brazil, she decided to study law. Still, she continued singing, interpreting Jewish music, Ladino (Jewish-Spanish language) songs, the socially conscious Latin American Nueva Canción ("I was in love with the work of Mercedes Sosa and Violeta Parra," she says) and fado, roughly a sort of Portuguese blues. ("Maybe it's my mother Portuguese side but I love fado and I've sung and lot of fado in my life," she says.)
Meanwhile, Nicole also graduated with a Law Degree from the Catholic University of São Paulo, specializing on Economic and International Laws, at the University of São Paulo and later in Individual Taxation in the United States and the UK. She married, started a family and went on to become "one of the first women partners in Brazil at what was then one of the big 8 multinational auditing firms." But the price of her success was that she didn't have the time for music. "I stopped singing for 15 years — and this was burning me inside."
Once her children were grown up, however, she decided to go back to music, singing with a choir in Sao Paulo —which in time led to working with pianist and arranger Gabriel Levy who became her mentor. Soon after, she was out on her own, writing and performing her own songs. In 2001, she recorded and released Amar – Um encontro com Florbela Espanca, her first recording, in which she put music to the poetry of Portuguese poet Florbela Espanca (1894-1930). Also she went back to school for a degree in composition.
Her career since has included major performances such as "Shorashim" (Roots), a 2003 concert celebration of Jewish Music; appearances at the WOMEX festival in Seville, Spain; the Jazz and Blues Festival of Guaramiranga, in Ceará, Brazil and shows in Europe and New York in 2009.
Meanwhile, the success of Amar led other poets in Brazil to send her their work to be put to music. The result eventually became her second album, Singrar / Sailing songs (2005)
She followed it with Marias (2007), featuring a selection of songs written by Brazilian songwriters such as Antonio Carlos Jobim, Vinicius de Moraes, Milton Nascimento, Noel Rosa and Carlos Lyra as a tribute to women. "I'm always focused on women," says Nicole. "I'm not exactly a feminist but then again, I feel women are not given their proper value. For me being a woman was always a battle."
In 2008, Nicole appeared at "Klezfiesta" – Argentina's first Klezmer festival — and it proved a turning point in her musical career. As a result, she not only released Klezmer 4, an album featuring her klezmer band, but also inspired Nicole to create, two years later, the Jewish Music Institute of Brazil and launch KLEZTIVAL, an annual International Jewish Music Festival.
Also, in 2011 she released Klezmeriando, which added to her growing stature as a singer and songwriter in Jewish music.
Raizes, a collection of traditional and modern Jewish songs reinvented in various Brazilian styles and rhythms, reflects her desire to broaden the audience for Jewish music in Brazil and also help Brazilians to understand and enjoy the treasures of ancient and modern Yiddish songs.
Produced by Grammy-winning trumpeter, composer and producer Frank London, leader of the influential group The Klezmatics, Raizes was recorded in New York City, with an impressive ensemble including Brandon Seabrook (electric guitar), Cyro Baptista (percussion), Rob Curto (accordion), Michael Vinograd (clarinet), Jake Schulman-Ment (violin), Pablo Aslan (bass), Paul Myers (nylon guitar)as well as Lorin Sklamberg (vocals) and Isra-Alien (Gilad Ben Zvi and Oren Neiman, on guitars).
"This album is really who I am. I am singing songs that I love, in my own language, and with my own feel", says Nicole. "After so many years, singing so many genres, and doing a bit of everything, I believe I am finally able to show an important part of myself, putting together my two identities, of which I am passionate about: my Jewish roots and my Brazilian nationality".