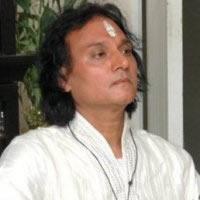 Born into a musical lineage, Kinnar Kumar Seen is the eldest son and disciple of the well-known musical authority, Acharya Lachman Singh Seen of the Punjab Gharana, from whom he learned tabla and sitar from an early age. He earned a Master's degree in sitar as well as the prestigious Sangeet Visharad in both tabla and vocal music. He has accompanied many great artists and received numerous accolades and awards internationally.
After moving to New York in 1984, Kinnar has persevered in spreading the love and appreciation for Indian music and culture. He has given numerous performances, lectures, and demonstrations at universities, colleges, and museums. These have included Princeton University, Harvard University, American Museum of Natural History, The Julliard School, University of Central Florida, the State University of New York at Stony Brook, Brown University, Pennsylvania State University and many others.
In New York, together with his wife Payal Seen, he opened a branch of the Sangeet Vilas, an institution founded by his father in Jalandhar in 1950. Following in his father's footsteps, he teaches according to the ancient guru-shishya system of learning. He lectures regularly in schools and universities and performs in concerts and music festivals throughout Europe and North America.