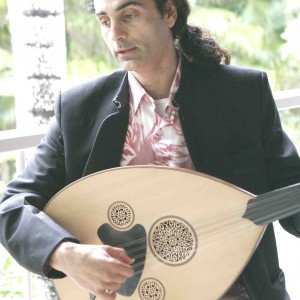 Kim Cunio , Heather Lee and the Ensemble of the Golden Age
Dr Kim Cunio is Australia's leading composer and interpreter of sacred traditional music. Within the last decade he has been commissioned to investigate the music of many sacred traditions by organizations around the world and in Australia, including the highly praised 'Art in Islam' exhibition at the Art Gallery of New South Wales. His most recent commissions have included The Sacred Fire: The Music of Hildegard of Bingen, and The Temple Project: The Thread of Life, a reuniting of Arabic and Jewish musicians (New York, 2007). Kim is musical director for the interfaith services at Pitt Street Uniting Church in Sydney, and, with his wife, soprano Heather Lee, regularly plays and sings at those services.
Heather Lee (MCA Voice), is an award winning singer and soloist who has performed in many of the leading venues and companies of Australia including the Victorian State Opera, Queensland Symphony Orchestra, the Sydney Opera House, and the Cameron Macintosh CATS tour of Australia and New Zealand. Heather has a rare ability to sing in many languages and styles, and has focused on both sacred traditional music and sublime western classical music in her career.