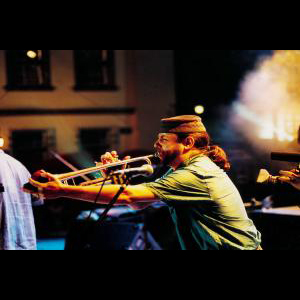 Frank is a Grammy award winning composer, trumpeter and bandleader. Critic Stephen Fruitman writes, "Frank London is new Jewish music(s)' heart, soul and yiddishe kop." Musicologist Joel Ruben called him "the person most responsible for pushing the klezmer revival in the world beat and fusion with rock and jazz", and Harvey Pekar said "London is a passionate intelligent soloist, one of the best jazz trumpeters to emerge since 1980".
He is featured on over 300 recordings, working with a wide range of artists including John Zorn, LL Cool J, Mel Tormé, Lester Bowie's Brass Fantasy, LaMonte Young, They Might Be Giants, Jane Siberry, Ben Folds 5, Mark Ribot, Maurice El Medioni, Gal Costa, Michael Tilson Thomas, and Itzhak Perlman. He has been featured at international festivals from the North Sea Jazz Festival to the Tokyo Festival of the Arts to the Lincoln Center Summer Festival. Celebrate Brooklyn, the Ancona Festival and the Krakow Festival of Jewish Culture have all made his work the special focus of their festivals.
London was commissioned to create new works for Krems, Austria's "Glatt und Verkehrt Festival"; Sejny, Poland's "Musician's Raft"; and "Todos Os Voces Do Mundo" in São Paulo, Brazil.
In the theater world, he was musical director for David Byrne and Robert Wilson's The Knee Plays, touring the world and selling out Carnegie Hall. With Glen Berger, he completed a psychedelic spy drama musical, On Words and Onwards. Green Violin, the tragic story of the Soviet Yiddish theater and its principal characters, Solomon Mikhoels and Marc Chagall, was featured at the Jewish Museum, Amsterdam Jewish Music Festival, in St. Petersburg, Russia and won the Barrymore Prize for best New Musical Score. Frank composed music for Tony Kushner's A Dybbuk, Vit Horejs' epic telling of the history of the Lower East Side, Once There Was a Village, John Sayles' The Brother from Another Planet, Pilobolus Dance Theater's Davenen, Great Small Works' The Memoirs of Glikl of Hamelin, and Min Tanaka's Romance as well as for the documentary films The Shvitz, A Cantor's Tale, and Divan (Winner, Best Soundtrack, Monaco Film Festival).