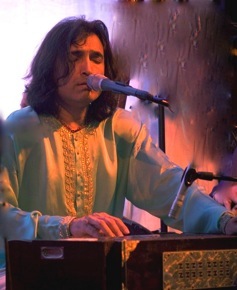 Deepak Kumar is a light classical singer and composer from the  colorful state of Rajasthan, India.
His work covers a wide spectrum of musical styles : ghazals (romantic poetry), bhajans (devotional songs),kirtan (call and response chanting) and classic film songs
He plays harmonium  and guitar, and is accompanied by tabla drums. Depending on the concert program, he may also add a full band, kirtan choir or dancers.
Deepak has performed in concert at many venues including : Ananda Ashram, Sivananda Ashram ( Bahamas),  Cornell University, Omega Institute, Amherst College, Haverford College, University of Pennsylvania, The Society for Universal Sacred Music and Painted Bride Art Center.
He has recently toured with Musifir, the internationally acclaimed Rajasthani Gypsy musicians and acrobats, and has performed with award winning "Danzactiva" in Puerto Rico and New York City.
Deepak  also teaches 'Yoga of Voice" classes and workshops and is on staff at the East West School of Music at Ananda Ashram, Monroe NY.