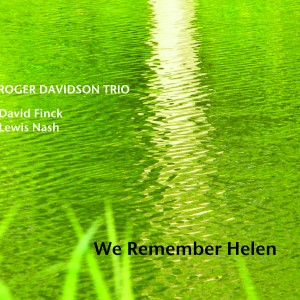 Buy Now
Roger Davidson, Piano
David Finck, Bass
Lewis Nash, Drums
In 2011, Davidson went into the studio to record his newest jazz CD. We Remember Helen is a salute to the legendary producer and manager Helen Keane, whose encouragement helped give Davidson the confidence to pursue jazz. In 1991, Keane — best known for her 17-year association with the great Bill Evans — produced Roger's first jazz album, Ten to Twelve. On We Remember Helen, Davidson is joined by two A-list jazzmen: bassist David Finck (who played on Ten to Twelve) and drummer Lewis Nash. They perform several exquisitely chosen jazz standards that Keane loved (including "Yesterdays," "Whisper Not," "How Deep Is the Ocean," and "What's New?"), along with originals that Davidson wrote with her in mind.
We Remember Helen is a testament to his fresh, lyrical touch and abundant heart; it's also a remembrance of a producer who changed the course of jazz, and of Davidson's career.
Classically-based but passionately devoted to popular music from all over the world, composer-pianist Roger Davidson has recorded prolifically, embracing tango, bossa nova, samba, sacred choral music, klezmer, and jazz. On All Music Guide, Michael G. Nastos called him "an extraordinary player" dedicated to "reaching for the inner soul."
Produced by  by Pablo Aslan
Executive Producer: Roger Davidson
Recorded and mixed July 2011 at Avatar Studios, New York City
Roy Hendrickson, engineer
Tim Marchiafava, assistant engineer
Mastered December 2011 at MasterDisk, New York City
Scott Hull, engineer
CD Design: Mariano Gil
Photography: Roger Davidson, Fran Kaufman
New York City Jazz Record Reviews We Remember Helen
Check out the August 2013 issue of New York City Jazz Record (available here) for a review of We Remember Helen.
"Davidson thought highly of Keane and his respect is evident on the highly engaging We Remember Helen." -Alex Henderson
theworldmusicreport.com
by Raul da Gama
This has lately been known as one that focused on Brazilian and Argentinean music lately; so this extraordinary homage to Helen Keene, Bill Evans' legendary producer—an album simply entitled We Remember Helen proclaims the other aspect of music that Mr. Davidson is exquisitely proficient in: jazz. Of course Mr. Davidson makes music, albeit in this trio setting, to appear to have a symphonic setting, by simply imparting to his pianism an orchestral sweep. Mr. Davidson is accompanied on his musical odyssey by bassist David Finck and drummer Lewis Nash, who miraculously keep up with his magical piano playing.
As a result this trio feels like it is a much larger ensemble, not the least because Mr. Finck is one of those bassists, who like Oscar Pettiford and Ray Brown is a phenomenal artist playing an instrument with melodic splendour, and, when called up on to wield his palette of colours, makes harmonies as if he were playing on a diaphanous canvas, daubing it with viscous bass lines in a myriad of hues and tones, matched only by the magnificent textures he seems to summon from his bass violin. And then there is Lewis Nash, who is much more than a drummer; a percussion colourist who paints with sticks brushes and mallets. Together with Mr. Finck and Mr. Davidson, Lewis Nash makes the rhythm of the music sound as if it were coming from a battery of percussionists providing the thundering and rumbling of the drums and the quieter swish and tinkles of the cymbals to accent the music.
This is side to Roger Davidson not often heard on record although his talent and technical wizardry is gloriously informed of dazzling runs and monumental arpeggios. Mr. Davidson turns melodies inside out when he solos. His phrases dash and sprint as if they were being made by towering Olympians. His soli are never linear, but leap and hurdle excitedly—with dampers fully expressed—in soaring parabolas, making magnificently rare musical architecture. Constructing edifices as he if he were building mighty geodesic domes swelling with music Mr. Davidson infuses his repertoire not only with deep and spiritual playing, but also with the heart of a mighty impressionist. It is for this reason that the classic repertoire is infused with the spirit of Bill Evans, and forever honours Mr. Evans' soul mate, Ms. Keene, with music that becomes at once emotional as well as epic in the grand sweep of its feeling and expression. "Beautiful Love" and "Waltz for Debby" are played in the image and likeness of Bill Evans, but in the singular and sweeping voice of Roger Davidson.
However, Mr. Davidson would never miss the opportunity for performing in his own rollicking evangelical style and there are some marvellous examples of this. "Soul Search," the funky treatment of a Biblical story, "Joshua Fought the Battle of Jericho" and the gospel-infused "Dance of Faith" are all charts that the exacting Ms. Keene might have loved for their epic sweep and grandeur. Finally there are the tender moments aimed directly at the heart of Helen Keene, were she to be in a prominent spot in the audience for the magnificent performance. The tender version of Benny Golson's "Whisper Not" is matched only by the sweet ambrosia of Mr. Davidson's own "A Tune for Helen" and "We Remember Helen"" and, in an uncanny sense, all of the emotion comes together in Jerome Kern's piece of great whimsy, "All The Things You Are" a chart tucked away at the virtual end of the set and certainly one well worth waiting for to wrap up this truly magical album.
Review by George W. Harris, Published Dec. 27, 2012
Pianist Roger Davidson has to have one of the most elegant and genteel touches around. He's put out a catalogue of Latin material that is second to none. This time out, he teams up with David Finck/b and Lewis Nash/dr to deliver a tribute to Helen Keane, a long time associate best remembered for her work as manager of legendary pianist Bill Evans. Here, he's brought together songs associated with Evans, as well as his own material and a few ringers.
His approach to the ivories is so graceful and mellifluous that it can be overwhelming in its beauty. His touch on "Yesterdays" or "How Deep is the Ocean" glides like Dorothy Hamill, while his take of "Early Autumn" flutters like a yellow leaf in October in Michigan. Even the spiritual "Joshua Fought the Battle of Jericho" comes across more romantic than causing the walls to come tumbling down. His treatment of Bill Evans' "Waltz for Debby" decries innocence with his crystalline tenderness to the piano. Wondrous material here.
IMPROVISATION NATION,  published Jan 21, 2013
Roger's wonderful jazz piano work has been gracing our pages for so long that he might as well be considered a "co-founder"; my most recent review of his trio work was in issue # 81; I've no doubt that we'll be hearing from him (as will you) for eons to come!  I was most impressed with the super-solid trio "togetherness" on pieces like "Whisper Not"… you'll find 14 other tunes to hit the "repeat button" for on your playlists, so you're in for a wealth of music that will ring in your ears for days (if not months) to come on this great CD.  My personal favorite piece, though, was the gospel-sounding "Dance Of Faith"… it doesn't get any better than this for high spirit!  I give Roger & crew a MOST HIGHLY RECOMMENDED, particularly for those who are in love with piano jazz.  "EQ" (energy quotient) rating is 4.99.    Get more information at Roger's website.      Rotcod Zzaj
JERSEY JAZZ, December issue
Review By Joe Lang,  Published, October 31, 2012
The genesis for 
We Remember Helen
 (Soundbrush – 1024) was a 1987 meeting between pianist 
ROGER DAVIDSON
 and Helen Keane, best remembered for her managing the career of Bill Evans during the last 17 years of his life.  Keane, who had known Davidson when he was a classmate and friend of her son during their junior high school days, attended a concert by Davidson, and was immediately impressed with his performance of an original classical piece for choir and piano.  They renewed their friendship, she became an important influence on Davidson, and helped lead him toward a stronger emphasis on jazz in his career, serving as producer for his first jazz recording session.  This album is dedicated to her memory, and her influence on Davidson and bassist David Finck who participated on Davidson's first jazz recording.  Davidson added the masterful Lewis Nash, a drummer with a list of credentials that place him among the elite percussionists in jazz, to fill out the trio.  The program has four Davidson originals, including two inspired by Keene, one original by Finck, one traditional song, "Joshua Fought the Battle of Jericho," and nine classic pop and jazz tunes, many of which were recorded by Evans.  This is a thoroughly enjoyable set by three excellent and empathetic musicians.  Davidson is a fine creator of melodies, so his originals fit seamlessly into the program.  Helen Keane would surely have been pleased with this nod of appreciation in her direction.  (
www.rogerdavidsonmusic.com
)
ALL ABOUT JAZZ.COM
DAN BILAWSKY, Published: October 20, 2012
The music business holds claim to more than its share of selfish, self-promoting, greedy individuals who built their fortunes on the backs of others but, within its ranks also exist a certain class of individual that truly looks out for the best interests of the music and the people who make it. Helen Keane, by all accounts, was one of the good ones.
Keane, who started out as an A&R scout for CBS and MCA, was best known as the guiding light that directed pianist Bill Evans' career from 1963 until his untimely passing in 1980. Her work in support of this now-iconic figure would have been enough to establish her as an important behind-the-scenes presence in the music arena, but her efforts didn't stop there. When she wasn't helping to shape the Evans legacy, during his lifetime and beyond, she produced records for artists like trumpeter Art Farmer, reed man Paquito D'Rivera and singer Chris Connor. She was also a champion for unsung women in jazz and she inspired many-a-musician to branch out into different stylistic realms; pianist Roger Davidson is one such artist. Keane's encouragement led to Davidson's first jazz recording—Ten To Twelve (Soundbrush, 2006)—which she happily produced. While she sadly passed before the record ever saw the light of day, Keane can be credited for lighting an eternal jazz flame in the heart of its creator.
Now, twenty years after Davidson and Keane teamed up, the pianist pilots an outing that honors Keane's memory. Davidson enlisted longtime bass companion David Finck, who played on the Keane-produced session, and classy drumming exemplar Lewis Nash to help him craft a tribute to Keane and, by default, Evans. Davidson gives Evans his due by performing material associated with ("Yesterdays"), or written by ("Waltz For Debby") this master, but he doesn't play à la Evans. Davidson has a more straightforward, this-is-me approach to the piano trio that runs counter to Evans' introspection and organic flow.
Swing serves as the main course during this fifteen track feast, but the side dishes add some flavor variety. "All The Things You Are" comes with Brazilian backing, the title track provides a taste of melancholy packaged in faux-spiritual fashion, a bluesy 12/8 feel underscores "Soul Search," and a New Orleans snare drum groove enlivens "Joshua Fought The Battle Of Jericho." "How Deep Is The Ocean" is capped off with a rhapsodic but controlled ending that takes it beyond the pedestrian, and "Dance Of Faith" comes off like music from a high-spirited prayer meeting.
Davidson hasn't created anything new or radical here, but he's lovingly crafted a program of well-performed material that highlights his piano handy work and heartfelt appreciation for Helen Keane. We Remember Helen is a highly agreeable, in-bounds trio affair that serves as a fitting tribute to a woman who championed jazz and the individuals who created it.
By Jack Goodstein,   Published October 17, 2012
As described in the liner notes to his new album, We Remember Helen, classically based pianist Roger Davidson is a man of many musical interests. In addition to an early passion for jazz, "Roger," we are told, "has recorded prolifically, embracing everything from sacred choral works to tango, bossa nova, and klezmer." It is the jazz pianist that is on display in this new album dedicated to well known jazz producer and manager Helen Keane, who managed the great Bill Evans from 1963 until his death and encouraged the young Davidson, a junior high classmate of her son, to pursue his interest in jazz, and later worked with him on a 1991 trio album Ten to Twelve, but died before its eventual release in 2006.
Like that album, We Remember Helen puts together a trio to play a collection of standards and original compositions. Rejoining the pianist is bassist David Finck; Lewis Nash takes over the drums--a formidable trio of professionals. This is an ensemble firmly rooted in the ground plowed by giants like Evans, Oscar Peterson, and their ilk-traditional straight forward jazz played with melodic style.
The album opens with two classics from the great American songbook: a strong extended version of the Jerome Kern, "Yesterdays" with a little quotation from "Lullaby of Birdland" and "What's New." Benny Golson's jazz standard "Whisper Not" features some nice solo work by Finck. "Beautiful Love," is a song, the liner notes explain, that came out at the height of the depression and didn't get much traction until it was later picked up by late modern jazz artists, most notably Bill Evans. Davidson says he plays it "the same basic way that Bill played it." Nash gets in some nice licks as well. "How Deep Is the Ocean" is a lyrical gem. I must say that there are passages in the Irving Berlin standard that are played with a touch of Gershwin.
Original Davidson pieces include the plaintive title song "We Remember Helen" played with tender emotional clarity, "A Tune for Helen," and a couple of old time Southern flavored jewels, a funky blues, "Soul Search" and a gospel tinted "Dance of Faith." Both offer a dynamic change of pace. A change echoed in the percussion driven "Joshua Fit the Battle of Jericho."
A David Finck original, "The Way He Captured You," together with "Charade," the Woody Herman classic "Early Autumn," and another Kern tune, "All the Things You Are" played as a bossa nova round out the album which closes with a final homage to Helen by way of Bill Evans' "Waltz For Debby." Davidson plays this last with a light lilting touch and Finck joins in with a bowed bass solo. It makes a sweet conclusion to a fine album.
A glance at Davidson's website makes clear how varied his musical interests are. There are a lot of albums in a lot of genres, and while variety is nothing to sneer at, after spending some time with We Remember Helen, you have to hope he will devote some more of his time and effort to his love of jazz.
Read more: http://www.seattlepi.com/lifestyle/blogcritics/article/Music-Review-Roger-Davidson-Trio-We-Remember-3957593.php#ixzz2A8sXggak
______________________________________________________
CD HOTLIST
by Rick Anderson
When I first saw the title of this disc I thought "Oh, how nice; a tribute to Helen Merrill." But no: it's a tribute to producer and manager Helen Keane, who is best known for managing the legendary Bill Evans during the last 17 years of his life, but who also had a formative influence on Roger Davidson. Here Davidson takes his trio through a lovely set of standards and originals, ending with a touchingly lovely take on the Evans evergeen "Waltz for Debbie." The whole trio plays very well, but this program is a real showcase for Davidson, who seems to have a bottomless well of musical ideas and presents them all with both energy and panache. Recommended.
___________________________________________________
CDINSIGHT
by: Joe Ross
We Remember Helen is a salute to the legendary producer and manager Helen Keane, whose encouragement helped give Roger Davidson the confidence to pursue jazz. In 1991, Keane — best known for her 17-year association with the great Bill Evans — produced Davidson's first jazz album, Ten to Twelve (Soundbrush Records, 2007).
On We Remember Helen, Davidson is joined by two A-list jazzmen: bassist David Finck (who played on Ten to Twelve) and drummer Lewis Nash. They perform several exquisitely chosen jazz standards that Keane loved (including "Yesterdays," "Whisper Not," "How Deep Is the Ocean," and "What's New?"), along with originals that Davidson wrote with her in mind. The new project will hit the street on November 6.
Roger Davidson was born in Paris in 1952 to a French mother and an American father. The family moved to New York when he was a year old. He started playing piano on his own at 4, and taking violin lessons at 8. Although he taught himself how to read and write music, Davidson learned to play through improvising, a practice that has served him well as a jazz pianist. He attended Boston University, studying with David Del Tredici and Theodore Antoniou among others, and earning a master's degree in composition in 1980. After graduating, he studied with early baroque music scholar Sidney Beck. It was at his suggestion that Davidson enrolled at Westminster Choir College in Princeton, New Jersey.
While at Westminster, he also began writing choral music which soon bloomed into the expression of a personal mission and in 2000, he founded the Society for Universal Sacred Music "with the mission of creating a repertoire of music to express the unity of God and especially His unconditional love for all humanity." Since then, the Society has become a global organization which has already commissioned new works and organized festivals and performances around the world.
After graduating, Davidson spent a summer in Germany, studying voice and teaching improvisation at the Lichtenberger Institute (near Darmstadt). Returning to New York, he unexpectedly reconnected with the late Helen Keane, jazz producer and longtime manager of pianist Bill Evans. Davidson had met Keane while he was a child. She was the mother of a schoolmate and friend. Keane had not only given Davidson his first Evans album, but also gave him a glimpse of another world.
"I was 10 or 11 she took me and her son to recording sessions. I remember we heard Woody Herman, and in another instance also [folk singer] Jo Mapes. Helen was also producing folk musicians then." The two lost touch with each other, but in 1987, Keane attended a concert by Davidson. "And after the concert she came up and said 'Nice to see you again. You played really well. How about jazz?'," recalls Davidson.
"Actually, I'd been listening to jazz since I was a child," says Davidson. "I loved improvisation and rhythm. I just didn't think I knew enough." And by the time Keane reappeared in his life, he had also attended the Stanford Jazz Workshop at Stanford University, Calif., twice: in 1983, when the main teacher was Stan Getz, and 1984, when it was led by Dizzy Gillespie. Keane introduced Davidson to bassist David Finck, and drummer Dave Ratajczak, "and it was like awakening a part of myself that hadn't been fully awake. I had learned by improvising and jazz is the best musical vehicle for that." As noted, Finck appears as bassist on the new album.
The informal sessions led to a recording. It was "a trial run," recalls Davidson, but, the 11 tracks recorded in 1991 were eventually released as Ten to Twelve by Soundbrush Records in 2006, the label Davidson founded in 1997. The name alludes to the initial concept of documenting projects involving visual arts and music. But since, Soundbrush has grown to include an impressive roster of hand-picked musicians from around the world and a broad, diverse catalogue that already has won the label a Latin Grammy. Davidson builds bridges with music and has remained increasingly intrigued by tango, Brazilian and Klezmer music, all styles that elicit, and demand, direct emotional responses.
His tango explorations as a composer were first documented on Mango Tango (1995), a recording "featuring different kinds of tango, not just Argentine." Since, he has also recorded Amor por el Tango (2002) and Pasión Por La Vida (2008), a duet with Latin GRAMMY winning Raúl Jaurena, a master of the bandoneón, the button squeezebox that is the quintessential instrument in tango. Jaurena won his Latin GRAMMY in 2007 for Te Amo Tango, a Soundbrush Records release.
Davidson has also had a long standing love affair with Brazilian music, sparked by hearing Stan Getz and Gary McFarland's Big Band Bossa Nova when he was still a child. He has recorded Rodgers in Rio (2005), a Brazilian-tinged take of Richard Rodgers's standards, Bom Dia (2007), which included some of his own songs, and Brazilian Love Song (2009).
Until We Remember Helen hits the streets, the pianist's most recent release is On the Road of Life, a collaboration with contemporary klezmer master Frank London and featuring virtuoso clarinetist Andy Statman and master accordionist and cimbalom player Joshua Horowitz.
Catch Roger Davidson's upcoming live appearances at the Caffe Vivaldi (2 Jones Street, NYC) on Wednesdays September 26 and October 3 at 7:15 p.m. It's an intimate and classy venue in which to hear Roger Davidson and other Soundbrush Records artists.
____________________________________________________
The Roger Davidson Trio has released a CD titled We Remember Helen. It pays tribute to Helen Keane who was a producer and manager who died in 1996. She persuadedDavidson to play jazz and he did. Jazz opened up a whole new world for him. He would later explore other genres including: Latin music, bossa nova and klezmer. On this latest project, Davidson is joined by David Finck on bass and Lewis Nash on drums.Davidson plays piano.
The disc has 15 songs and it runs a little over 67 minutes. Davidson wrote four songs on the CD and two of them are gospel recordings. They are the two best songs on the album: Dance of Faith and Soul Search.Another gospel tune is Joshua Fought the Battle of Jericho. It is a piano-drums duo featuring Roger Davidson and Lewis Nash. Most of the songs are slow tempo until you get to the previously mention gospel songs and Waltz for Debby. There are also some songs from the Great American Songbook including: Early Autumn and All The Things You Are.
The CD is filled with wonderful music and superb palying from Davidson on piano, Lewis Nash on drums and David Finck on bass. Nash has played with Sonny Rollins, Oscar Peterson, Betty Carter and Horace Silver. Finck has worked with Herbie Hancock, Dizzy Gillespie, Rosemary Clooney, Andre Previn and Michel Legrand. That is quite a diverse group. The trio all came together and made this a very enjoyable CD. It is one I'll be listening to again and again.
By Oscar Brooks
Gapplegatemusicreviews  published Jan 25, 2013
Producer and manager Helen Keane will be remembered. She will especially be so for her long association with Bill Evans. But she also encouraged pianist Roger Davidson to develop the confidence to keep going with the difficult pursuit of making a jazz living.
Roger remembers that help and the dynamic force Ms. Keane was on his We Remember Helen (Soundbrush 1024). It's a good trio outing with David Finck on bass, Lewis Nash on drums in a program of straightforward gems associated with Evans and/or with Helen in Roger's mind.
So "Waltz for Debby" is on the program, along with some well chosen standards, and a selection of Davidson originals well worth hearing. Roger favors a style that most certainly owes something to the Evans way: melodically complex and not all that bop-inflected, harmonically lush, generally lyrical. The trio has that interactive Evans Trio way also, with Finck and Nash very actively making a part of the whole.
It brings the Davidson trio jazz approach front and center. He is his own pianist, but will certainly appeal here to Evans afficionados.
posted by grego applegate edwards
Irving Berlinhttp://blogcritics.org/music/article/music-review-roger-davidson-trio-we/