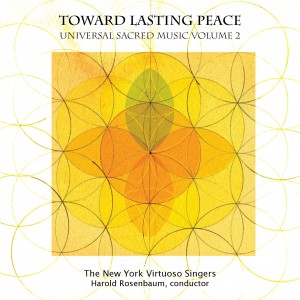 Buy Now
Universal Sacred Music Vol.2
Recorded at the 2008 and 2010 Festival of Universal Sacred  Music in New York City. These choral works were selected among hundreds  that were submitted for participation in the Festival. Conductor Harold  Rosenbaum is a leading choral conductor, renowned worldwide for his
exacting performances of a wide variety of choral repertoire. He leads The  New York Virtuoso Singers, a crack ensemble of top notch New York  professional singers.
Mission Statement:
The mission of the Society for Universal Sacred Music is to foster the creation and performance of music that celebrates the unity and unconditional love of God, and the fundamental Brotherhood and Sisterhood we all share as eternal children of God.