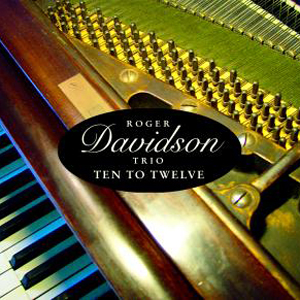 Buy Now
The story of this album starts with the late Helen Keane, whose place in Jazz history is secure as the producer and manager of Bill Evans. In 1987, she heard classical pianist/composer Roger Davidson performing one of his own concert pieces and encouraged him to play Jazz. Four years later, in 1991, Keane produced these 11 tracks with bassist David Finck and drummer David Ratajczak. Although Davidson has since released other Jazz recordings, this first one got "tucked away" until now.
Keane was right. Davidson is an impeccable player, and Finck and Ratajczak make sure that he swings. His composer's mind creates highly original interpretations of jazz standards, and he writes some credible jazz statements of his own. "Autumn Leaves" is twice as long as any track here because it is such a comprehensive examination, and Davidson finds a different meaning in each chorus. "I should Care" is also a very personal reading, faster and harder than expected.
In fact, everything Davidson does is hard with percussive assertion, even his own wistful ballads. This is a thoroughly satisfying recital, and one reason is the vivid recorded sound by Keane and engineer Ron Allaire. The world would be a better place if Helen Keane had been able to achieve sound like this for Bill Evans.
Jazz Times
March 2006 Vol. 36/No.2
MUSICIANS : Roger Davidson (piano) * David Finck(bass) Dave Ratajczak (drums)
Few pianists from the classical field have been brave enough to venture into the freewheeling world of jazz; fewer still have shown any hint of the rhythmic spontaneity and flights of imagination that jazz piano requires. One thinks of Andre Previn as the rare pianist who understands both styles well enough to cross over, but who else is there?
The legendary jazz record producer Helen Keane, who spent decades managing Bill Evans and other artists before she died in 1996, found in Roger Davidson a musician with that flexibility. This trio recording, produced by Keane in 1991 and never released until now, is evidence of what she found so promising in Roger's playing. By the time he made this album, Roger had already established himself as an uncommonly versatile American composer; that reputation has been growing ever since. His recorded works range from sacred choral and symphonic pieces to tangos. As a pianist, Roger is continually stretching himself in adventurous ways. Apart from playing piano in most performances of his own music, he keeps exploring the art of jazz piano, notably in his 2003 CD release Rodgers in Rio, in which he placed thirteen Richard Rodgers songs in bossa-nova settings.
Ten to Twelve was his earliest recorded foray into jazz. Even at that early stage of his development, Roger showed a flair for melodic improvisation, for thoughtful interplay with his sidemen (in this case, bassist David Finck and drummer Dave Ratajczak), and for composing catchy tunes, ripe for improvisation. Eight of the eleven songs are his own.
The project took root in 1987, when he was performing a concert piece of his, Unispace, in a Manhattan church. Helen Keane, whose son had gone to elementary school with Roger, was in the audience. Afterwards, Keane – a shrewd spotter of potential – told him: "You play really well. What about starting to play jazz?" Roger had just begun to write jazz tunes and study jazz piano; now he placed himself in Keane's hands. She introduced him to one of New York's premier bassists, David Finck, who has played with a staggering and eclectic array of artists, including Dizzy Gillespie, Andre Previn, Rosemary Clooney, Ivan Lins, Michel Legrand, Rod Stewart, Paquito D'Rivera, Jack Jones, and Phil Woods. But it wasn't until 1991 that the busy Keane arranged for Roger to record a demo tape with Finck. The third member of the trio was Dave Ratajczak, a drummer and percussionist whose resume includes soundtrack work on important films (Dead Man Walking, Brighton Beach Memoirs, The Pelican Brief), Broadway pit-band jobs (Crazy for You, City of Angels), and appearances with Gerry Mulligan, Audra McDonald, and Milt Hinton.
Given his classical orientation, was it hard for Roger to segue into jazz? "No, not at all," he says. "I've been improvising all my life. I learned piano by improvising. I've hardly taken any lessons from any teachers since I was four years old." Keane was so impressed with the results that she suggested expanding the demo into an album. "She was a master in the studio," Roger recalls. "She not only was on top of the technical aspects but actually inspired the spirit of the music. So she played a big role in the musical success of this recording. I wish she were still around,because there are many things I wish I were doing with her now."
The album stayed tucked away for years as Roger moved on to other projects. But he continued to nurture his relationship with jazz piano, particularly by studying with Harold Danko, a respected jazz pianist and teacher. Roger immersed himself in the work of the masters, including Bill Evans and Wynton Kelly. "Thelonious Monk is an influence as well," he says.
It seemed a shame that this special recording had never seen the light of day. "For years people told me, 'You have to put this out, it sounds really good.' I decided to listen to those voices. So here we are, putting it out fourteen years later."
Keane guided the selection of songs, which includes two standards and a jazz classic. "I Should Care," one of the great torch songs of the World War II years, was written by lyricist Sammy Cahn and two of that era's finest arrangers, Axel Stordahl and Paul Weston, for a now-forgotten film, Thrill of a Romance. The words are about unrequited love, but Roger gives it a breezy feel with his tuneful improvising. After David Finck's witty, swinging solo, the trio falls into a swinging groove at the end.
In one of Roger's most lyrical originals, "Sweet Memory," his playing is at its tenderest, so as not to blow the mist off that memory. He maintains his delicate touch down to the song's wistful closing. "I wasn't thinking of any person in particular when I wrote that," he says. "The feeling of the tune made me think of that title, as if I was nostalgically thinking of either an old relationship or an old place I'd been to. Any way it sparks people's imaginations is fine with me."
David Finck suggested "Bernie's Tune," which was first heard as a duet between Chet Baker and the song's composer, Gerry Mulligan, when they teamed in Mulligan's historic 1952-1953 quartet. "David is a good friend, and the main bass player I've ever played with," says Roger. "His playing is consistently musical and in tune, and there's a lot of passion; he really plays from the heart. I always have the feeling that he likes to be a supportive bass player. He's not afraid of playing down low. He really understands the role of the bass."
"Ballad for a Future Day" is a ruminative, bittersweet eleven-o'clock number of Roger's invention. "It was written in July 1991, right after I'd met my future wife," he explains. "We hadn't even met yet; we'd fallen in love over the telephone, essentially. I was daydreaming that someday we'd get married. And I was already writing music about it. The future day finally came about a year later. I hired a jazz trio to play a lot of my tunes at the wedding, and this was one of them."
Two French songs here have special relevance for Roger, who was born in Paris in 1952. "Autumn Leaves" first appeared in 1947 under its original title, "Les feuilles mortes." It was written by the Paris-based film composer Joseph Kosma and screenwriter Jacques Prevert. Johnny Mercer penned the familiar English lyric. "It's one of my favorite tunes," says Roger. His arrangement has a classical sense of structure, with each chorus given a different feeling – thoughtful, buoyant, playful. Despite the up tempo, Roger handles this ballad of lost love with gentleness. He states the melody with warmth, and always keeps it in mind as he solos. His touch is light, flowing, and melodic; as a composer he shows an innate respect of great melodies. Dave Ratazcak follows his lead with his fluid, restrained drumming. Trading phrases with him, Roger cleverly employs alternate chords and bop-influenced figures.
"Meet Me in Paris" is Roger's lighthearted, French-flavored invitation to his birthplace. "I didn't write it in Paris, but I was thinking of Paris," he says. As ever, Roger comps sensitively behind the bass solo, while Dave Ratajczak's playing evokes a light-footed soft shoe. Roger's "Water Lilies" has a soft, impressionistic feel; he and the other musicians give this delicate song plenty of open space. The title, he says, "is just a fantasy; that's what I was thinking of after I wrote the tune."
Roger wrote "Brazilian Dream" in 1980, near the beginning of his jazz experimentation. "I had been fascinated by Brazilian music since the '60s," he explains. "This was one of my earliest Brazilian-influenced compositions." It captures the blithe, airy feeling of early-'60s bossa nova. The trio's nimble performance – which includes some delightful interplay between Roger and David Finck – is augmented by the presence of a percussionist, Charlie Descarfino, who adds some extra sparkle to two tracks.
The bluesy "Pour Me Another" finds Roger in a more aggressive mood, enhanced by David Finck's gritty low-register bass solo. "'Pour Me Another' has words," notes Roger, "and the words came first. They were written by a lyricist named Harvey Fisk that I worked with for a few years, back in the late '80s, when I wrote that song. It's a song about a fellow who goes to a bar, very unhappy, and wants to find a friend to drink with. I tried to inject some humor into it so that it didn't become a depressing song."
The medium-tempo "Steady Love" has an easy, loping ease, due partly to Dave Ratazcjak's relaxed drumming. "Dave is a wonderful drummer," says Roger. "He plays with a really lively spirit, a lot of passion and enthusiasm. It's a joy to work with him."
The album closes with its title tune. "Ten to Twelve" is a reflective piano solo that sounds like an improv. It has an end-of-the-night jazz-club feeling, when all is quiet and people are attentive. The title refers not just to a time of night but to a technical characteristic: most of Roger's melody employs only ten of the twelve notes in the scale. At the very end, the other two appear.
Hearing this album so long after it was recorded, Roger was left with a sense of pride. "I felt myself starting to have more confidence as a leader as I went," he says. "It may not be as strong as it is now but it was budding." Ten to Twelve stands as a high point in this fearless musician's evolution.
-- James Gavin, New York City, 2005
[James Gavin, a contributor to the New York Times and Time Out New York, is the author of Deep in a Dream: The Long Night of Chet Baker, published by Knopf.]