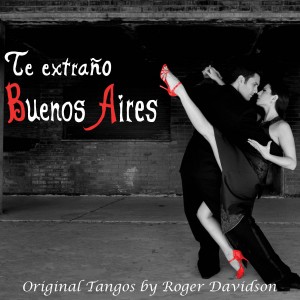 Buy Now
The eyes of a visitor change everything — how we look at places we thought we knew so well, how we understand gestures learned long ago, how we deal with the certainties that have always defined what home is.
Roger Davidson is no ordinary visitor to tango. He is a skillful pianist and a prolific and adventurous composer. Both as an interpreter and writer, Davidson has followed his passions into a broad range of styles — from jazz, sacred choral music and tango, to klezmer and bossa nova. He has recorded three albums of tangos. Mango Tango (2000) and Pasion Por la Vida (2009) featured his own compositions. Amor Por El Tango (2004) included tango standards, originals and tango arrangements of Cole Porter's music.
But for Te Extraño Buenos Aires, he set up a challenge to all involved — including himself.
He entrusted his music to his longtime collaborator, Argentine bassist and producer Pablo Aslan, and a group of tango players and arrangers in Buenos Aires, the world's capital of tango. There were no specific demands or even instructions. Instead, they would encounter his music and interpret it and re-create it as they saw fit — the insiders watching their reflection in an outsider's mirror.
All compositions by Roger Davidson (Musica Universalis – BMI)
Produced by Pablo Aslan
Executive Producer: Roger Davidson
José Luis "Pepe" Motta, pianist/arranger on 1,3,8,11,15
Andres Linetzky, pianist/arranger on 2,5,7,9,12
Abel Rogantini, pianist/arranger on 4,6,10,13,14
Ramiro Gallo, violin
Nicolás Enrich, bandoneón
Pablo Aslan, bass
Recorded in Buenos Aires, Argentina, April 2013
Perhaps it's my imagination, ignorance, or both, but it seems to me that of all the Latin American dance genres—the bossa nova, the rhumba, and the samba—the tango has never really captured the attention of jazz artists with quite the same zeal. Of course even if true, there are exceptions, and certainly one important exception is the pianist/composer Roger Davidson. With three albums of tango music under his belt, now comes Te Extraño Buenos Aires, a collection of 15 of his original tangos, and the first of his recordings on which he is not playing.
Pointing out that composers want their music to be played by as many hands as possible, for this new album recorded in Buenos Aires, his music was entrusted to the cream of local musicians who clearly knew what to do with it. The 15 songs were divided between three Argentinian
pianist/arrangers: Andrés Linetzky, Abel Rogantini, and José "Pepe" Motta. Violinist Ramiro Gallo, bandoneonist Nicolás Enrich, and bassist Pablo Aslan, the album's producer, complete the ensemble. Each of the pianists was given the opportunity to take the music in his own direction while remaining close to Davidson's tune. In effect, Davidson's lyrical music is given three different voices on this one album.
The result is a gorgeous blend of melody and rhythm, a blend in tunes like "No Importa," which opens the set, "Si Lion de Toi," and "Tango Triste," which are likely to get even those with two left feet up on the dance floor. A song like "Perdida" has a definite jazz vibe; a song like "Alicia" is arranged in the classic tango style. Indeed most of the album seems to take that more classic approach to the genre, and it is not to be sneered at. While this musical approach is not particularly adventurous and retro in feel, it is lush and full-blooded; it is music that excites.
I'm convinced pianist Roger Davidson must have been kidnapped by South American gypsies as a child. He puts out some of the best latin material, and it can come from Brazil or like here in Argentina. He writes his own tangos on this disc, and it would make Carlos Gardel proud, as he teams up with Ramiro Gallo/violin, Nicolas Enrich/bandoneon and Pablo Aslan/b for 15 passionate dances. Some, like "Alicia" are bel canot arias, while at other times the and goes languid and longing as on "O Te Quiero." Some jagged rhythms make for some shifty feeto on"Si Loin de Toi" while its easy to slide and sway during "No Importa" and "Tango Para Ella." Gallo can go pizzicato on "Recuerdo De Un Amor" or bow like a caravan leader on the sweet and agonizing "Fin De Semana." During the whole time, Davidson's touch is luscious, lusty and right on target , and Enrich squeezes out passion like seeds out of a grapefruit. You won't sit still on this one!  George W. Harris
American pianist-composer Roger Davidson had created tango albums before, but for his new one he serves only as composer, having handed the production duties to Argentine bassist-producer Pablo Aslan, who recruited three of the Buenos Aires tango scene's top pianist-arrangers to realize the compositions. Pianists José "Pepe" Motta, Andrés Linetzy, and Abel Rogantini cover a wide canvas that includes dramatic traditional-style tango (as in Linetsky's work-up of "Tango Triste," with its big tango-show gestures), arty "nuevo tango" à la Astor Piazzolla (as in Motta's "Recuerdo De Un Amor"), and tango-jazz (Rogantini's "O Te Quiero").
Some of the pieces have melodies so just-right I couldn't help thinking "Isn't this a standard?" Others are more free-flowing. But all are executed with hot skill and warm emotion by the pianists joined by Aslan on bass, Ramiro Gallon (violin), and Nicolás Enrich (bandoneon). The 15 tracks, five by each arranger, blaze together with one broadly satisfying glow to light up themilonga, the concert hall, and the living room alike.  Jon Sobel
http://www.seattlepi.com/lifestyle/blogcritics/article/Music-Review-Jazz-Crossover-Albums-from-Roger-6061831.php
O's Place Reviews:
O's Notes: Te Extraño Buenos Aires is a rich sample of original tangos all composed by pianist Roger Davidson. This is Roger's 4th album of tango music but on this one he enlists three Argentinian pianists to play. José Luis "Pepe" Motta, Andres Linetzky and Abel Rogantini each contribute five arrangements (and play piano) on the CD. The piano is prevalent but surrounded by the requisite instruments for tango: Ramiro Gallo (violin), Nicolás Enrich (bandoneon) and producer Pablo Aslan (b). The results are fantastic! The American composer plus the master bassist/producer plus Argentine tango professionals equals another winning effort from Davidson/Aslan.
osplacejazz.com
AXS:
"Roger Davidson's 'Te extrano Buenos Aires' celebrates tango through middle men"
Composer and pianist Roger Davidson recorded plenty of tango before. Mango Tango from 2000 jumped into a wide variety of tango sources. Amor Por El Tango (2004) brought Cole Porter's tunes into the tango mix of originals and new arrangements. Pasión Por la Vida (2009) paired the jazz and Sacred music artist with Latin Grammy-winning bandoneonist Raúl Jaurena.
Davidson, who is also expert in other styles of music, like bossa nova and klezmer, knows tango very well. He's so well-versed, that for his latest tango album, Te extraño Buenos Aires (Sound Brush Records), he left 15 of his new, original compositions to trusted musicians in the genre and from Argentina.
Producer Pablo Aslan is an Argentinian bassist who's worked with Davidson on prior recording projects. Aslan is also a well-respected Latin Grammy and Grammy nominee who wisely assigned Davidson's original tango to other Argentinian musicians worthy of the challenge, and with the original composer's wish for other voices in mind.
"One of the things Roger wanted was to hear other pianists play his music. But at the same time, these are pianist-arrangers, all three of them," Aslan explained in a press release. The pianist arrangers are Andrés Linetzky, Abel Rogantini, and José Luis "Pepe" Motta, each with his own style and able to convert Davidson's music into unique arrangements that maintained the integrity of the Buenos Aires tango.
As a producer, Aslan also brought on supporting young, authentic Buenos Aires musicians tasked with breathing subversive passion into this original tango music: violinist Ramiro Gallo and bandoneonist Nicolás Enrich, with Aslan on bass.
With the grand design of Roger Davidson in mind but without Roger Davidson actively playing a role here, it was up to producer Aslan to divvy up the compositions and creative direction for the arrangements. The "main thing I told the guys about interpreting Roger's music was to stay close to the tunes," Aslan continued, from the release and the liner notes by Miami-based music critic Fernando Gonzalez. "That's the whole point on these songs. Roger has a highly developed sense of melody and structure. He is a very lyrical writer. And in every genre he writes, he writes very lyrical tunes. His big influences are people like Michel Legrand and American composers like Cole Porter that he knows so well. Invariably, his tunes are very nice to play."
One of the perks of letting go of the control and leaving the nuts and bolts of the recording in capable hands? Roger Davidson rediscovered delightful surprises around every bend in his own original music. He even said that the arrangements and performances of his original music far surpassed what he could've done.
"I did not have a preconceived idea on how they should play these pieces and I knew Pablo would keep them close to the tunes. I trusted him," Davidson affirmed. "These musicians came up with a lot of ideas that were different, and sometimes better, than mine."
Linetzky's version of "Fin de Semana" most surely must've been one of those superior arrangements Davidson spoke of. The swoon and sway of this song are heightened by the primitive beats that sound as if a musician decided to suddenly slap on the side of his violin or a nearby piece of hollowed-out cherry wood, succumbing to the emotion of it all.
The choice to limit the amount of instrumentation played wisely into the authenticity of the Argentinian tango, as well as the urgency of the momentum, clearing the decks for only what's important. The piano, violin, bass, and the accordion-like Spanish bandoneon are all that's needed to play up the single-minded seduction, yearning, and all that succumbing to passions.
The tango as a dance and music itself is single-minded in focus; why not let the instrumentation be so.
Yet, what these musicians do in the memorable, truly original arrangements of Roger Davidson's original Buenos Aires tango is the stuff of late-night magic.
Put simply, turn down the lights, turn up the volume, and feel such passion from the first playful, pliable chord of "No Importa" to the last, reluctant tango embrace of the illicit title track.
Quotes from the press release and album liner notes provided by Fernando Gonzalez of Jazz With An Accent.
THE WORLD MUSIC REPORT
Mr. Davidson's album shows him to be a musician with an ear for instrumental colour and in his works it is refreshing to hear what might be described as "non-Argentinean" approach to the form. The writing is springy and graceful; the melodic lines clear and athletic, textures uncluttered; the lineage is certainly Argentinean, Astor Piazzolla in particular is paid homage to, as—to a certain extent—is Anibal Troilo, in this remarkable record, Te extraño Buenos Aires, a collection of fifteen tangos arranged by three pianists, José "Pepe" Motta, Andrés Linetzky and Abel Rogantini. This record might easily be the finest Mr. Davidson has made among all of his earlier tributes to Argentinean music. The work of all of these arranger/pianists is subtly different. All of the songs are impressive; even majestic, and suggest beautifully coloured landscapes that are brought to fruition by magnificent use of violin, bandoneon and the impeccable bowing of Pablo Aslan's bass. "Ton Coeur en Flammes" best captures the spirit of the tango. It is just over five minutes in length, but it is felt that it could certainly be expanded into a much longer piece , so engaging is the material and so fascinating the colours produced by these instruments. There is clearly much for Roger Davidson to say in the field of the tango and José "Pepe" Motta, Andrés Linetzky and Abel Rogantini are the men to transmit the message of Mr. Davidson and this devastatingly beautiful music.
http://theworldmusicreport.com/2015/01/09/features/extended-reviews/art-and-artistry-of-the-tango/
TANGO REPORTER