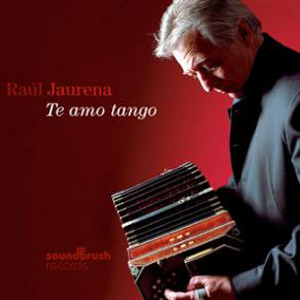 Buy Now
Winner of the 2007 Latin Grammy for Best Tango Album, Te Amo Tango features the talented Sinopus String Quintet from Uruguay, pianist Octavio  Brunetti and vocalist Marga Mitchell. The album is a showcase of Raul Jaurena's talent not only as a bandoneon player but as a composer and arranger. The recoding includes eleven original compositions, and Jaurena's bold arrangements of music by Uruguayan tango legends Oldimar Caceres and Edelmiro D'Amario.
Raul Jaurena, bandoneon
Octavio Brunetti, piano
Sinopus String Quintet:
Alejandra Moreira, violin
Lya Perez, violin
Stella Maria Gonzalez, viola
Lucrecia Basaldua, cello
Sergio Mouro, bass
Marga Mitchell, singer
Produced by Pablo Aslan, Angel Gil Orrios, and Raul Jaurena
Review Courtesy AllAboutJazz.com
By Samuel Chell, November 15, 2006
Despite the title, this album is not necessarily limited to lovers of tango. Nor should it be dismissed by listeners who normally prefer music emphasizing improvisation. Raúl Jaurena, regarded as one of the best of the bandoneon players, is likely to win more than a few converts to the tango with this richly expressive, expertly produced session.
Joined by a string quintet from his native Uruguay, along with pianist Octavo Brunetti and vocalist Marga Mitchell, Jaurena is listed not only as musical director on the date but also as arranger for all fourteen compositions, eleven of which are his own. Listeners familiar with the dazzling variety and brilliant compression of a Jelly Roll Morton or Raymond Scott three-minute miniature masterpiece are likely to recognize many of the same characteristics in the ensemble cohesion and collaborative interplay on each of the tracks.
Not that it's music of great intricacy or even sophistication. The constant contrasts in tempo, texture and dynamics, while undeniably affecting, are also extreme. But what the music lacks in complexity and urbanity, it makes up for in highly charged drama or--taking seriously the definition of the word as "music with drama"--irresistible and compelling melodrama.
The melodic burden is shared by the three primary musical sources--string quintet, piano, and bandoneon (Mitchell's contributions on four of the tracks are less vocal "features" than a fourth melodic voice). Even when the melody is being relayed from one source to the next, another motive is usually occurring, producing a richly-textured polyphony. As a result, the sections during which a single instrument is featured, unaccompanied by countermelodies or chords, acquire special intensity. Nothing is more spellbinding than the moment on "Guruyense" when Jaurena's naked instrument hands off a sustained melody note to solo violin so seamlessly and imperceptibly that the listener is momentarily uncertain about which instrument is being played.
The ensemble sound, even when full, is varied, ranging from hushed, ethereal interludes to passages played with all-out passionate intensity, occasionally the maelstrom of separate melodic currents yielding to the forceful stream of all instruments sounding in unison as the flood of emotions, especially on "Espera," builds to a feverish pitch. The variety extends to the rubato sections and the double-time pizzicato passages that spell the otherwise relentless tango rhythm. Finally, the incisive punctuations to the rhythm--whether produced by the slappings and scratchings of bows or by Brunetti's left hand (elbow?) on the detuned bass of the piano--are a constant reminder of the essentially physical, sensuous nature of the music.
---
O's Place Jazz Newsletter
Sept. 26, 2006
O's Notes: It is time for the pomp and circumstance of tango when you engage this CD. The dynamics and expression are very dramatic and help the listener visualize an energetic and daring performance. There are also beautiful Spanish vocals from Marga Mitchell on several of the songs. The performance is animated and easy to engage in.
D. Oscar Groomes
---
Roberta on The Arts
This CD is a remarkable selection of mostly original compositions for listening to or dancing Argentine Tango. Raúl Jaurena is a renowned bandoneonist in the international, mainly New York tango community, and he has created edgy, enticing music that allows for the most simple or complex tango dance ornamentations currently in vogue. Marga Mitchell's searing vocals add depth and drama to several tracks.
Notable tracks:
#2 – Danza Para un Bandoneón /Bandoneón Arrabalero – Composed by R. Jaurena and Deambroggio-Contursi. This slow, surreal tango is led by Jaurena's passionate, percussive bandoneón. The quintet of strings is obviously live, so refreshing to hear. Brunetti creates a waterfall of piano notes, and Marga Mitchell enters mid-track, with her rich, resonant voice, a seasoned performer.
#4 – La Pirulita – Composed by R. Jaurena. This "milonga", a fast tango, with its upbeat, sassy mood, as compared to the melancholia of the tango, is charming and characteristic of Jaurena's extensive experience playing for the tango community. The strings add an ethereal texture, as an ensemble, or solo, and the slapping of the bass is a signature percussive effect.
#9 – Espera – Composed by R. Jaurena. The melody of this song is heart-rending and romantic. Jaurena captures the essence of the tangueros and provides a catharsis for listening or dancing, with inherent drama in Espera, or waiting.
---
Global rhythm jan 2007
No Tango record would be complete without a rendition of "La Cumparista," which is probably the genre's best-known tune. Listeners, however are advised to look beyond that song. This Uruguayan bandoleón player has a lot more to offer, as he wrote or co-wrote most of the songs on this disc. Particularly worthy of attention is "Danza Para Un Bandoleón/Bandoleón Arrabalero," a suite in which the strings, piano and orchestra engage in ann extremely dramatic exchange that serves as an introduction to the beautiful vocals of Marga Mitchell, who urges the player to cure her heartbreak with some sad, sad music. "Tatoneando" showcases violinist Lya Perez's talents in a beautiful solo that becomes a duet with Jaurena. Equally impressive is the closing Tune, "New York Gotan," an upbeat ode to the city where the musician now lives and serves as musical director of the Thalia Theater in Queens. -Ernest Barteldes.
---
Tango Reporter Oct 2006
El bandoneonista uruguayo radicado en los EE. UU., Raúl Jaurena, por su trayectoria, calidad y solidez instrumental es uno de los bandoneonistas de mayor demanda en el país, ya sea para integrar conjuntos tanto de tango como de jazz, clásicos, e en secciones de grabacíon comosolista. Los temas de este compacto fueron grabados durante una actuacíon en el Thalia Spanish Theatre de New York respaldado por el quinteto uraguayo de cuerdas Sinopus, el pianista Octavio Brunetti y la cantante Marga Mitchell. Presentando un programa, en su mayoría con composciones del mismo Laurena, se destacan sus temas Tatoneando, Guruyense, Prometedora, y Con el corazón al Sur de Eladia Blazquez.
I met Raul Jaurena, the great Uruguyan bandeonist in 1988 in New York. We were both in the city for a few months, he from Venezuela, where he had been living for some years, and I was on leave from UCLA where I was completing my Master's degree. We had been referred to the same tango bandleader, an Argentine expatriate who was in those days the main organizer of tango shows In NY. We were both hired for the same production, and met at the first rehearsal in a Colombian club in Queens. We immediately hit it off: he, the veteran tanguero, was pleasantly surprised to hear that a young musician shared his passion for tango.
That was the start of a partnership that lasted for over 10 years. When we both settled in New York City for good a couple of years later, we formed a quintet, New York Buenos Aires Connection. The name of the band was mine, the music was his and Piazzolla's. With this concert group we started touring the US and soon encountered the growing tango dance world. It was then, in the mid 90's, that we started another project, the New York Tango Trio. With these bands, and in many impromptu groups, shows, accompanying singers, in recordings, nightclubs, milongas, festivals, all over the US, in Europe, in Russia, and in his native Uruguay, Raul and I played hundreds of gigs together, traveled many miles, and forged a solid friendship. To me the most memorable music experience was when we played two long tenures in New York cafes, improvising our way through the tango repertoire. On any given night, a song could take a multitude of forms, changing tempos, accents, becoming melancholic where it had been aggressive, forcefully rhythmic where it was at other times languid and tender. The art of spontaneous reinvention is the territory of jazz music. No wonder Jaurena's tango and New York got along so well.
From Raul I learned that tango is a lifelong love. His stories took me back to Montevideo, when Raul was a teenager and was initiated into the tango life. He had learned the bandoneon from his father, and the night, la noche, taught him the rest. Raul spoke frequently of his years with the great Uruguayan pianist Cesar Zagnoli, imitating Zagnoli's gestures, evoking with passion the intricate syncopations of the trio, the interpretations, and the numerous anecdotes of their long career together. Through Zagnoli, Jaurena learned the swagger of canyengue, that essential element of tango swing. Throughout the years of work, countless nights in innumerable cabarets, tours, recordings, concerts, Zagnoli and his trio kept the music alive by reinventing every nuance and detail, night after night, as if it were improvised for the first time. The key was to keep the music fresh, and that is the source of the most subtle of interpretative styles: the basics of the music are on the page, the rest, the "human element" comes form the musician, and it must be supplied in each and every moment of the piece.
In Zagnoli's band, Raul reached musical maturity as a bandoneonist. But there is something of a gypsy in Raul's character, and so he moved on. He left Uruguay, and started an itinerant career that took him all over Latin America. He worked in Buenos Aires, the tango Mecca, and eventually settled in Venezuela, where he worked for many years before moving to New York. During those years he continued to work as a bandoneonist, but also made his mark as an arranger and composer, working with tango ensembles, accompanying some of the best tango singers, and arranging and performing with symphonic orchestras.
Since moving to New York, Raul has become the most in-demand bandoneonist in the US, with frequent trips around the world, performing with artists such as Paquito D'Rivera, Giora Feidman, the Frankfurt Symphony, Pablo Ziegler, and the Montevideo Philharmonic. He is featured artist in international stages as soloist with symphonic orchestras, performing his own arrangements for bandoneon and orchestra, and his own compositions, such as the Duo Concertante for Bandoneon and Clarinet. At the center of Raul's music is his bandoneon. It is expressive and impressive, with its cascading series of notes, runs, effects, accents and syncopations, initiating the forceful pull of rhythm and the abrupt changes in dynamics. It is also the most compelling conductor. To the sensitive ears of his musicians, it is like a baton that inspires them to follow him in an almost physical pull. Raul's tango quiets down to a whisper and surges to a gigantic roar, and it pulls the whole orchestra along. Tango is nothing without contrast, and Raul knows this all too well.
When he is not touring the world with his bandoneon, Raul continues to direct his own groups in New York. He is featured annually at the Thalia Theater in Long Island CIty, where he is the music director. The recording on his CD is the product of one of his most successful seasons at the Thalia, when he invited the talented string quintet Sinopus from Montevideo, and featured the prodigious pianist Octavio Brunetti and the sumptuous singer Marga Mitchell. For this edition of the show, Raul featured his own compositions, along with a few compositions by his Uruguayan peers Oldimar Caceres and Edelmiro D'Amario.
Having known Raul for so long, having heard his music, worked under his direction, and understood his passion for tango, I feel that this recording is the culmination of his decades of work as a tango interpreter and creator. An album of his compositions and interpretations, with a carefully selected group of young musicians, eager to follow every nuance in interpretation, any sudden shift of dynamic and tempo, written or unspoken, implied or explicit. Interpretation and creation, all rolled up into the single moment in which each note exists, one instrument following the other, as only tango can do. As only a master of this unique art can do.