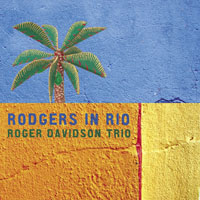 Buy Now
"Brazilian legendary drummer Paulo Braga joins David Finck and Roger Davidson in the trio's ode to Richard Rodgers. "With a decidedly different twist on this program of favorite Richard Rodger tunes, pianist Roger Davidson turns them into gala Sambas and Bossa Novas. Celebrating the work of this popular songwriter, he explores each melody with a light, rhythmic syncopation.
The original melodies remain at the forefront of his emphasis, as he interprets each song with gaily with a bright, positive glow….. The pianist has created a souvenir postcard to honor the life of a great popular composer – with candid reflections from Rio."
Roger Davidson Trio - RODGERS IN RIO:  Obviously, this is a celebration of Richard Rogers's music, & what better style to do it than Brazilian?  Roger plays piano, & is joined by David Finck on bass & fantastic Paulo Braga on drums... & they kick on this great little CD.  If you're looking for strange & "out there" jazz, you'll have to move on to another rack, please... this is jazz with a "fun" spirit, & though light at heart, all th' players convey a wealth of knowledge of how to play jazz that has "meat on it's bones".  The recording is sleek, & there's a great foldout jacket in the tray liner that gives you even more insight to the recording.  Davidson's keyboard touch on track 3, "Some Enchanted Evening" will make you fall in love with his playing right away... it's my favorite cut on the album, with very tight integration between all members of the trio, but appropriate focus on Roger's smooth keyboard style.  Didn't hear any originals on this one, & I imagine that's just because it's a tribute... would LOVE to hear some on the next CD, though, Roger.  This is a jazz recording that will bring the "carnival" spirit into your heart... it gets a HIGHLY RECOMMENDED from our ears.  Contact through the label site, at www.soundbrush.com.

Dick Metcalf, aka Rotcod Zzaj

---
In this relaxed and very pleasing set, Roger Davidson offers some Latin-tinged takes on classic music from the pen of Richard Rodgers. Sometimes solo, sometimes in duo with bassist David Finck, and also in a trio with percussionist Paulo Braga, Roger pays respectful tribute to the composer, while simultaneously displaying his own inventiveness. Among the songs Roger has selected are 'My Romance', 'Lover', 'If I Lovd You' and, appropriately enough, 'The Sweetest Sounds'. This music has been around long enough to be considered timeless; Roger's treatment will help ensure that it continues to live formany more years.
Bruce Crowther
---
CADENCE MAGAZINE
August 2005, Vol 31, No. 8
With a decidedly different twist on this program of favorite Richard Rodgers tunes, pianist Roger Davidson turns them into gala Sambas and Bossa Novas. Celebrating the work of this popular songwriter, he explores each melody with a light, rhythmic syncopation. The original melodies remain at the forefront of his emphasis, as he interprets each song gaily with a bright, positive glow. Performed in solo piano, piano/bass duo and trio format, these Richard Rodgers chestnuts remain cool and collected. They're sweet songs performed in a relaxed manner.
"Edelweiss" flows into a waltz flavor close to the original, reminding us that some music in universal. Tradition, after all, carries strong memories. As the trio performs "The Sweetest Sounds", they put a Blues feeling into their Bossa Nova treatment of its theme. Drummer Paulo Braga, who toured with Antonio Carlos Jobim for over 15 years, gives the piece a soft and gentle demeanor. Davidson is at his best on this song, exploring each delicate nuance with a relaxed feel. Elsewhere, the Brazilian rhythmic connection pervades with a light Latin foundation. "Lover" pours forth gently with a street dance air, while "Surrey" marches forcefully along crowded avenues in celebration of Mardi Gras or some other gala occasion. David Finck stretches out on the latter with a superb bass solo that stirs the emotions. He's followed by an equally creative drum cadenza that whips up a rhythmic storm. Davidson closes the session with a lovely solo piano interpretation of "Oh, What a Beautiful Mornin'" that, like "Edelweiss" departs from the album's Brazilian theme and adheres solely to the original intentions of its composer. The pianist has created a souvenir postcard to honor the life of a great popular composer – with candid reflections from Rio.
Jim Santella
When the Richard Rodgers centennial arrived in 2002, so did the celebrations: gala concerts, revivals of the shows he scored with Lorenz Hart and Oscar Hammerstein, tribute albums, memorial broadcasts and TV shows. By now, one would think that Rodgers's soaring melodies have been reworked in every possible way.
It took a pianist who is new to the jazz world to make these songs sound fresh. He did it by combining them with the bossa nova – that pulsating, sensual, jazz-inflected sound, born in Brazil around 1958. Roger Davidson fell in love with it as a child in the '60s, when he heard Stan Getz's best-selling bossa-nova records; soon he also discovered the subtle rhythms of João Gilberto and other bossa guitarists. But his interest in Brazilian jazz went on hold when he became a composer of choral and orchestral works, performed everywhere from London to upstate New York, where he now lives.
Now comes this CD, the product of one of his long-unfulfilled dreams. Roger may be steeped in the classical world, but you'll hear no "formal" restraint on Rodgers in Brazil. The sheer joy of making music is everywhere present in these very appealing performances, which have all the sparkle of a caipirinha sipped at the beach. Even songs as sentimental as Edelweiss and With a Song in My Heart sound breezy and upbeat, which is just what Roger intended. It's a spirit that evokes Rio in the early '60s, when the bossa-nova trios of Milton Banana, João Donato, and Walter Wanderley entertained in hip oceanside bars.
Roger found two musicians who know that style well. Paulo Braga, who toured for fifteen years with Antonio Carlos Jobim, is one of the most important Brazilian drummers of the last four decades; look through the discographies of Milton Nascimento, Elis Regina, Gal Costa, Djavan, and numerous other musical giants of Brazil, and you'll see his name again and again. He also records with the stars of American jazz, including Joe Henderson, Lee Ritenour, and Pat Metheny. David Finck is a chameleon of the standup bass, equally expert at accompanying Ivan Lins, Paquito D'Rivera, Andre Previn, Dizzy Gillespie, Linda Ronstadt, Rosemary Clooney, and Sinead O'Connor.
Roger himself has had too few chances to play publicly, largely due to all his other musical pursuits. "So many friends and colleagues of mine focused on one thing, and advanced far," he says. "But I didn't put all my eggs in the same basket – they've been spread out over many baskets."
And many places. Roger was born in Paris of a French mother and an American father. The family moved to New York when Roger was one. But he absorbed French, English, and later German with the ease that would mark his years of musical study. Roger earned a masters degree in composition from Boston University, and another in choral conducting from Westminster Choir College in Princeton, New Jersey. Interested in the voice's healing properties, he enrolled in vocal classes at the Lichtenberger Institut in Germany.
Starting in the late '70s, Roger began several parallel careers: he composed sacred choral music, ran an acclaimed chamber orchestra in Boston, and taught piano and composition. All the while, he kept groping for a musical identity of his own.
He discovered one through Helen Keane, the mother of his best grade-school chum. She was also the manager and record producer of Roger's favorite jazz pianist, Bill Evans. Roger and Helen had fallen out of touch until 1987, when she came, unannounced, to a Manhattan church to hear a performance of one of his choral works. Roger was the pianist. He recalls her comment afterward: "I love your playing – now let's talk about jazz."
With her friend David Finck as his coach, Roger eventually recorded an album-length jazz demo, produced by Helen. She didn't live long enough to produce an actual CD, but her encouragement launched Roger's relationship with jazz. He explored several strains of Latin jazz on a previous CD, Mango Tango. Now, with Rodgers in Brazil, he brings together Brazilian rhythms, classic showtunes, and jazz.
Roger admits he didn't know much about Richard Rodgers before this project, but the songs attracted him immediately. "Melody in general, either as a composer or player, is at the top of my list," he says. The more he explored these tunes, the more he found them "wonderful to improvise on. There are many different things you can do with them. A lot of musicians have discovered that. There's a very good reason why they're such well-loved tunes. My Romance is very special to me. I first heard it done by Bill Evans. It's a lot of fun to play. Probably the most difficult tune to play technically was Lover. The chromatic descending progression is very similar to bossa nova. But I like all these tunes. I can't really single out one."
Here again, David Finck proves himself to be an uncommonly melodic bassist (just hear his solo on Climb Ev'ry Mountain); what's more, his time is so solid that he makes any artist feel secure. "The rhythmic interaction really clicked; also the feeling that he was always there whatever I was doing," explains Roger. Paulo Braga is as much a master of his instrument as any of the legends who have hired him. "It was a wonderful experience playing with him," Roger says. "This was the first time I'd played with a Brazilian musician. It helped a lot to put me in that groove and to feel that the music was coming alive the way I wanted it to."
These days, Roger is busier than ever – partly because he and his wife, Susan de Camp, an oboe and English horn player, bore twins in 2000. Roger was then forty-eight. "Since I turned fifty," he says, "I see there isn't as much time left over as there used to be. I'm realizing what I seem to be good at, and I'm deciding what's most important to me. I'm also planning as much as I possibly can for the next number of years. I want to do a lot of work. I have such a backlog of original music that I want to have recorded and performed."
He plans to continue this trio, plus to maintain one of his life's callings: composing sacred choral pieces "of a universal nature," as he calls it. "The texts may come from Christianity or another religion, but they are so configured as to represent the universal truth about God, not the limited view that is too often presented by particular religions.
"But there's a quality in a lot of what we call secular music, including jazz, that is very universal and speaks to the heart. To me it's not an intellectual game, it's not about imitating anybody. It's important to me to really make music from the heart." That's what you'll hear on this album.
-- James Gavin, New York City
[James Gavin, a contributor to the New York Times, is the author of Deep in a Dream: The Long Night of Chet Baker, published in 2002 by Knopf.]