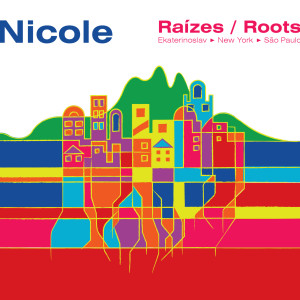 Buy Now
EKATERINOSLAV – NEW YORK – SAO PAULO
Nicole's Raízes is a recording that reveals its secrets unhurriedly. There is a deceptive simplicity in a collection of songs in various Brazilian styles and rhythms. But to those who know Jewish music, many of these melodies and stories will soon begin to sound specially familiar. Just as for those who love Brazilian music, some of the sounds and grooves that felt so comfortably well-worn are not quite what they seemed.
Produced by FRANK LONDON
MUSICIANS:
Nicole, vocals
Pablo Aslan, bass
Cyro Baptista, percussion
Rob Curto, accordion
Paul Meyer, nylon string guitar
Brandon Seabrook, mandolin and electric guitars
with Special Guests:
Lorin Sklamberg, Isra-Alien (Oren Neiman & Gilad Ben Zvi), Renato Thoms , Michael Winograd, Jake Shulman-Ment, Frank London, Danny Blume
INTERVIEW JEWISH FORWARD June 25, 2015
Music Review: Blogcritics
by: Jack Goodstein
Raizes/Roots, the June release from vocalist Nicole, describes itself as "Jewish music re-imagined as Brazilian song." It is an apt description of this celebration of her musical roots. Those of us who grew up spending vacations on the Borscht Belt in New York's Catskills will immediately recognize familiar melodies, here wrapped neatly in bossa nova and other Brazilian rhythms. And while there is surely a pleasure in that recognition, there is perhaps a more significant pleasure in the musical transformation breathing new life into these memories.
"Dois Musicos," for instance, is Nicole's "re-imagining" of the title song of the very successful 1936 musical comedy Yidl Mitn Fidl (Yiddle with a Fiddle). "Com Saude," which opens the album, is a bossa nova take on "Abi Gezunt," from the 1938 film Mamele. Interestingly, both are classic films starring the delectable Molly Picon. These are beloved songs that, in their original arrangements, would likely have a limited audience today. Yet in the hands of Nicole and her assemblage of talented musicians, they may well have a more popular appeal.
The songs, translated and adapted into Portuguese by the singer, also include verses in Yiddish, "so people," she is quoted in the liner notes, "could know how the original sounds." Along with popular songs from the musical cinema, the album includes versions of traditional melodies like "Bulbes," here called "Batatas," and "Ontem," a reworking of the Chassidic song, "S'Iz Nito Kein Nekhtn (There Is No Yesterday)," as well as new work like Nicole's composition "Passarinho," a lullaby based on a poem by Abraham Goldfaden.Nicole
Special guest artists include clarinetist Michael Winograd, who contributes some evocative solo work on "Chuva" as well as a bit of klezmer on the romping "Nova Danca." Frank London adds some inventive trumpet work to the haunting anthem, "Cantando Por Um Mundo Melhor (Singing for a Better World)." The bulk of the work is handled by a quintet featuring Pablo Aslan on acoustic bass, Rob Curto on accordion, Vyro Baptista on percussion, Paul Meyers playing nylon-string guitar, and Brandon Seabrook on mandolin and electric guitar.
Yiddish melodies in Brazilian dress, world music melded with Latin jazz—Raizes/Roots is an album that deserves your attention.
__________________________________________________________________________________________
CD Review: Midwest Record
NICOLE/Raizes-Roots:  Rather than find the jazz in Jewish prayers or doing klezmer versions of Christmas carols, Nicole takes songs that go back to Jewish movies as far back as the 30s and sends them to Brazil having them mostly come back as pretty authentic sounding sambas, particularly if you can't speak or understand Yiddish.  Recorded in New York with real cats like Pablo Aslan keeping things in line, this set gives multi-culti a new vector that you can even imagine being heralded in Brooklyn.  Check it out, particularly if you want to try out a samba hora.
CHRIS SPECTOR, Editor and Publisher
_____________________________________________
CD Review:  http://blueceej.tumblr.com/post/117710588177/nicole-roots-raizes-soundbrush-records-2015
By CJ Shearn
Jazz is truly a global music that absorbs traits from other styles, yet the music remains always identifiable. The beautiful thing about the genre, is seemingly disparate non related cultural elements that can be blended together to create something fresh and utterly thought provoking. Vocalist Nicole Borger provides an intoxicating mix of traditional Jewish folk songs with Portuguese lyrics and Brazilian rhythms on "Raizes/Roots" (Soundbrush Records, 2015) her fifth album as a leader. Borger was born in Ekaterinoslav, Ukraine, relocated to New York City and finally Sao Paulo, Brazil. Music was a passion for her always, though she took a different path in college to study law, as time passed her career choice and true passion was music, and while living in Brazil she joined a choir. At the age of 40, she decided to pursue a degree in composition.
On this new album, Borger reconciles her love of traditional Jewish music with her passion for Brazilian music and surrounds herself with a flexible group of musicians including bassist Pablo Aslan, one of the leading exponents of blending jazz and tango, Danny Blume on guitar, and the versatile Cyro Baptista on percussion whose resume has run the gamut from playing with everyone from Herbie Hancock, to the Silk Road ensemble with cellist Yo Yo Ma. What results, is an intriguing combination of Brazilian styles of all colors with traditional Jewish songs. The album opener "Com Saude", a reworking of "Abi Gezunt" a traditional Yiddish folk song from the 1938 movie "Mamele" takes the listener on a journey right away with its floaty guitars and Nicole's behind the beat phrasing. "Bataatas" one of the albums' most more memorable tracks utilizes Baptista's berimbau in combination with her warm, velvety voice for simultaneously strange, wonderful texture and hypnotic mood. The extremely unique thing about this collection of music is she includes a Yiddish verse amongst the original Portuguese lyrics, so that listeners familiar with the original tunes can make a connection. For sure, anyone familiar with alto saxophonist/composer John Zorn's reworkings of Jewish music in his "Book of Angels" (Tzadik) may find much to like here.
Nicole Borger has created a very likeable and continually fascinating body of music on this album that finds unity amongst the tradition of Jewish music being mixed with different styles, and with that unity it is her hopeful wish to promote music that brings people together regardless of difference. Like drummer Jaimeo Brown's powerful east meets west, electronics, spiritual and secular driven "Transcendence" (Motema, 2013) Nicole Borger finds her own unique way of adding something different to the jazz lexicon, in an era where everything is truly connected.
Rating: 8/10
_________________________________________________
CD Review: O's Notes
Raízes is billed as Jewish music re-imagined as Brazilian song, a rather interesting concept. The songs have dual identities; Yiddish tunes housed in Brazilian samba and bossa nova and could capture the hearts of both audiences. Nicole does a fine job with the lyrics supported by a fine team of musicians that includes Pablo Aslan on bass, percussionist Cyro Baptista and Brandon Seabrook on mandolin and guitar. Nicole (an American) was one of the first female partners in a Big 8 accounting firm residing in Brazil. She followed her passion for singing and blended her roots and experiences into a modified art form, an appreciable effort highlighted by "Chuva" and "Ontem".
D. Oscar  Groomes
O's Place Jazz Newsletter
http://www.OsPlaceJazz.com
 Portuguese Notes
ENROLE PARA BAIXO
Scroll down
__________________
Nicole's Raízes is a recording that reveals its secrets unhurriedly. There is a deceptive simplicity in a collection of songs in various Brazilian styles and rhythms — the warm, inviting bossa nova lounge sound of "Com Saúde"; the open air, baião nordestino flavor of "Dois Músicos" and the playful, high energy frevo of "Nova Dança." But to those who know Jewish music, many of these melodies and stories will soon begin to sound specially familiar. Just as for those who love Brazilian music, some of the sounds and grooves that felt so comfortably well-worn are not quite what they seemed.
"Com Saúde" is actually a fresh version of "Abi Gezunt," a Yiddish standard, written for the 1938 film "Mamele;"  "Dois Músicos" is a smartly Brazilianized take of the title song of "Yidl Mitn Fidl," a 1936 romantic musical comedy considered the most successful Yiddish film of all time; and in "Nova Dança," actually "Der Nayer Sher," a popular 1940s Yiddish song, the clarinet alludes to both, choro and klezmer music.
Raízes is a recording of Jewish music re-imagined as Brazilian song.
Recorded in New York with a band of musical polyglots, as adept with Brazilian styles as with Jewish music, it includes a few Yiddish "standards," traditional songs (such as "Batatas" a reincarnation of "Bulbes;" and "Ontem," better known to many as "S´Iz Nito Kein Nekhtn," a Hassidic song); and new pieces (Nicole's "Passarinho, " based on "Shlof Mayn Feigele" a poem by Abraham Goldfaden ).
There is a long tradition around the world of blending Jewish music with local styles. But this is neither a novelty record nor a lab experiment. If anything, Raizes plays as a natural summation of Nicole´s family's path from Ekaterinoslav, now Dnipropetrovsk, in central Ukraine, to New York City, to São Paulo, Brazil.
In Jewish history, her story is hardly unique. That's part of what makes Raízes special.
At what point distances are no longer measured in miles but in memories? How do you hold to your roots while, be it to celebrate the new place or just for survival, you create a new version of yourself, in a new language?
Raizes is a celebration of roots and re-invention.
Even as a child, she knew "music was my life." But when she reached college age, and following her parents' advice, Nicole decided to study law. She graduated, married, started a family and went on to become "one of the first women partners in Brazil at what was then one of the big 8 multinational auditing firms." But she also didn't sing professionally for 15 years.
"It was burning me up inside," she says.
Eventually, she joined a choir in Sao Paulo and started singing again. Soon after, she was out on her own, writing and performing her own songs — and at the age of 40, she went back to school for a degree in composition.
Her first album, Amar, for which Nicole wrote music to texts by Portuguese poet Florbela Espanca, was released in 2001. Since, and while continuing her own songwriting, she also explored, on stage and on record, Brazilian music, jazz, Latin America´s socially conscious Nueva Canción and Jewish music.
She also underscored her commitment to preserving and promoting Jewish music and use it "as a flag for peace and coexistence among peoples" by co-founding and producing Kleztival, the first international festival of Klezmer and Jewish music in Brazil. Launched in 2010, it's now an annual event.
Raizes is Nicole's fifth recording. She did her own adaptations and translations to Portuguese but, she notes, also made it a point to include, in every song, verses in Yiddish "so people could know how the original sounds like." The doors, here, open both ways.
It´s also a gesture that speaks to an idea at the heart of Raízes: let's reinvent ourselves, let´s find a common language — but let´s not lose sight of our roots.
Fernando González is a writer, critic and editor based in Miami. www.fgonow.com
________________________________________________________________
Raízes, de Nicole Borger, é um álbum que revela seus segredos sem pressa. Há uma simplicidade enganadora em uma coleção de canções que reúne vários estilos e ritmos brasileiros: o cálido e convidativo som da lounge-bossa nova de "Com Saúde"; o alegre sabor do baião nordestino "Dois Músicos", e o vibrante e divertido frevo "Nova Dança". Mas para aqueles que conhecem música judaica, muitas destas melodias e histórias logo soam familiares. Assim como para aqueles que amam a música brasileira, alguns dos sons e ritmos que já confortavelmente se enraizaram em seus interiores não são exatamente o que parecem ser.
"Com Saúde" é, na verdade, uma versão atualizada de "Abi Gezunt," um clássico judaico, escrito em 1938 para o filme "Mamele";  "Dois Músicos" é uma esperta e abrasileirada versão da música que dá título a "Yidl Mitn Fidl," uma comédia musical romântica de 1936 e considerada a película com temática judia mais bem-sucedida de todos os tempos; e "Nova Dança" é, em realidade, "Der Nayer Sher," uma popular canção iídiche de 1940, onde o clarinete claramente remete a dois mundos: música de choro e klezmer.
Raízes é um disco de músicas judaicas transformadas em canções brasileiras.
Gravado em Nova York com uma banda de músicos poliglotas, como uma adaptação para estilos brasileiros de canções judaicas, traz em suas faixas alguns clássicos iídiche, canções tradicionais (tais como "Batatas", uma reencarnação de "Bulbes" e "Ontem", mais conhecida por muitos como "S´Iz Nito Kein Nekhtn", uma canção hassídica); e novas peças, tais como "Passarinho", composta por Nicole e baseada em "Shlof Mayn Feigele", um poema de Abraham Goldfaden.
Há uma longa tradição em todo o mundo de misturar música judaica com estilos locais. Mas este não é um disco de novidades nem um experimento de laboratório. Se for para dizer alguma coisa neste sentido, Raízes resulta num somatório natural da jornada da família de Nicole de Ekaterinoslav (agora Dnipropetrovsk), na Ucrânia central, até a cidade de Nova York e daí para São Paulo.
Na história judaica, esta trajetória é quase única. Isso é parte do que faz Raízes tão especial.
Em que ponto as distâncias já não são medidas em quilômetros, mas em memórias? Como se apegar às suas raízes ao mesmo tempo em que se comemora uma nova morada ou apenas a sobrevivência? Você cria uma nova versão de si mesmo, em um novo idioma?
Raízes é uma celebração das raízes e ao mesmo tempo reinvenção.
Ainda quando criança, ela sabia que "a música era a minha vida". Mas quando chegou à idade universitária e seguindo o conselho de seus pais, Nicole decidiu estudar direito. Ela se formou, se casou, começou uma família e se tornou "uma das primeiras sócias no Brasil no que era então uma das oito maiores multinacionais de auditoria do mundo". Nicole não cantou profissionalmente por 15 anos.
"Aquilo estava me queimando por dentro", conta Nicole.
Eventualmente, ela entrou para um coral em São Paulo e começou a cantar novamente. Logo depois, estava trabalhando em voo solo, escrevendo e executando suas próprias canções — e aos 40 anos, Nicole voltou à universidade para cursar composição.
Seu primeiro álbum, Amar, para o qual ela musicou os textos da poeta portuguesa Florbela Espanca, foi lançado em 2001. Desde então, e enquanto continuava escrevendo suas próprias composições, ela também explorava, no palco e em gravações, a música brasileira, o jazz, a socialmente consciente Nueva Canción latino-americana e a música judaica.
Ela também ressaltou seu compromisso com a preservação e a promoção da música judaica e utilizou seu trabalho "como uma bandeira da paz e da convivência pacífica entre os povos", ao co-fundar e produzir o Kleztival, primeiro festival internacional de música klezmer e judaica no Brasil. Lançado em 2010, agora é um evento anual.
Raízes é o quinto álbum de Nicole Borger. Ela fez suas próprias adaptações e traduções para o português, mas observa que também fez questão de incluir, em cada canção, versos em iídiche "para que as pessoas pudessem saber como o soa o original". A porta, aqui, abre para os dois lados.
É também um gesto que fala de uma ideia no coração de Raízes: vamos reinventar a nós mesmos; vamos encontrar uma linguagem comum, mas não perder de vista nossas raízes.
Fernando González é escritor, crítico e editor baseado em Miami. www.fgonow.com
Com Saúde ( Abi Gezunt) – A very important life message that only very few are really aware of: you do not need wealth, status or power to be happy. Being healthy and keeping it simple, life can be a true blessing.
Passarinho (Shlof Mayn Feigele) – A sweet lullaby. Words that all mothers sing to their babies: "Sleep my little bird, may a guardian angel protect your crib and give you good dreams".
Quem Que Sobra (Ver Vet Blaybn) – Such a powerful poem about faith in God! Who or what will remain after all is gone? A tear drop, a pearl, a trace of sea foam on a sandy beach, bits of clouds on a bush? One thing is sure: the holy spirit will remain at the end of times.
Batatas (Bulbes) – This song was probably just a mockery of how dull life can be when all you eat most of the time is potatoes. From Sunday to Sunday all they ate in Eastern Europe, when times where rough, were potatoes. But this song always made me think of the surprise on the faces of immigrants arriving at a tropical country like Brazil, with it´s sunny beaches, the colors, the increadible abundance of different fruits, vegetables, smells and sounds.
No Escuro (In Der Fintster) – A passionate and delicate love song. In the darkness, I see you small hands, I hear your voice, and I feel you near me.
Ave Dourada (Goldene Pave) – Another lullaby/love song, but more dreamfull, enigmatic and with great poetic images of a golden peacock that can be seen flying around us, where I am the violin and you are the bow.
Chuva (Ven Der Regn Zipt in Droysn) – When rain falls outside and hit the windows, it is nice to have a drink with friends. But loneliness is hard, especially when my loved one are not with me, and only your image and memories of the past are keeping me company.
Dois Músicos ( Yidl Mitn Fidl) – Behind simple, naïve lyrics lies a message of hope. A song of courage to face the adversities of life.
Talvez (Zol Zayn) – Maybe I build castles in the air, maybe there is no God after all. Life is so beautiful in our dreams. When we are dreaming, the skies are bleuer than bleu. Maybe, I do not know which way to go, maybe my ship never reaches the shore, but of one thing I am sure: I will always travel on a sunny road.
Ontem (S'iz Nito Keyn Nechten) – Yesterday is gone, tomorrow is not here yet, all we have is the present moment, let´s not spoil it with worries. Have a drink and enjoy because, who knows if we will have it in the next life?
Cantando Por Um Mundo Melhor (Singing For a Better World / Sholem Lid) – The lyrics say everything: "If my voice were louder, if my body stronger, I would tear thru the streets, shouting: "Peace, peace, peace!"
Nova Dança (Der Nayer Sher) – Come fiddler, play the new tune so we all can dance. When we dance life is great, we celebrate, we set worries aside and everybody is happy.