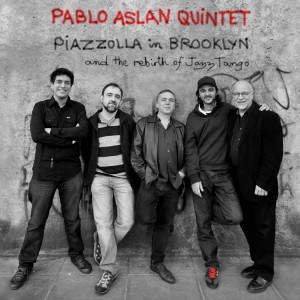 Buy Now
Gustavo Bergalli, trumpet
Nicolas Enrich, bandoneon
Abel Rogantini, piano
Pablo Aslan, bass
Daniel "Pipi" Piazzolla, drums
In 1959, Astor Piazzolla, then living in New York City, assembled a quintet of studio musicians and recorded Take Me Dancing. It was to be the birth of jazz tango. Instead, it was a commercial failure and, in Piazzolla's mind, an artistic abomination. Piazzolla in Brooklyn, recorded in Buenos Aires by New York based Argentine bassist Pablo Aslan and his Argentine quintet, all fluent in jazz and tango, reclaims the music of Piazzolla's cursed album.
Arrangements by Astor Piazzolla
Transcribed by Pablo Aslan, Nicolas Enrich, and Abel Rogantini
Re-arranged by Pablo Aslan
Recorded in Buenos Aires May, 2011
Produced by Pablo Aslan
DOWNBEAT    **** (4 Star)
There may be odder ambitions than wanting to remake what Astor Piazzolla considered the worst album of his career, but give bassist Pablo Aslan credit: at least he did the job right. The story begins in 1959, when the Argentine tango giant was working as a session musician in New York.  Working with a half-dozen or so jazz and Latin session players, he arranged an assortment of jazz standards and original tunes in a style that tried to apply a bebop twist to a tango-based pulse.  But the rhythm work was mechanical and there wasn't another solo voice for Piazzolla to play off of, making the end result – released on Tico Records as Take Me Dancing! – utterly undeserving of it exclamation point.
Aslan, an Argentine bassist and composer with a strong background in both jazz and Tango Nuevo, recognized both the potential and failings of Take Me Dancing! And does an excellent job of rescuing Piazzolla's original combination of bandoneon, piano, guitar and percussion but allowing room for improvisation by all the players, not merely the leader.
As such, Piazzolla in Brooklyn easily lives up to the composer's early imagining of jazz tango.  Nicolas Enrich's bandoneon is nearly as supple and inventive as the master's, and deftly evokes the mannered melancholy of the film ballad "Laura", while Gustavo Bergalli's lithe, authoritative trumpet lines bring a bop-pish brashness to the Piazzolla-ized "Lullaby of Birdland".
But drummer Daniel "Pipi" Piazzolla – Piazzolla's grandson – is the most important link here, for as his playing moves easily between a loping jazz drove and a taut tango pulse, he bridges the gap between jazz and tango in ways the original album never imagined.
If this is the musical equivalent of speculative fiction, let's hope Aslan brings us more.
- J.D. Considine
JAZZ TIMES
In 1959, according to the liner notes to Piazzolla in Brooklyn, the 38-year old Argentinean tango master Astor Piazzolla, then based in New York, assembled a band and recorded an album called Take Me Dancing! whose intent was to bridge jazz with his own favored genre.  By all accounts, even his own, Piazzolla failed miserable, artistically and commercially, and he never revisited the idea.
Bassist Pablo Aslan, also originally from Buenos Aires and long a New York resident, has built a career of fusing the two worlds that his inspiration couldn't. On this latest release, he is determined to finish the job his mentor started:  Piazzolla in Brooklyn (which title, aside, was recorded in Buenos Aires) resurrects and updates the music of the long-out-of-print original, and this time it's no flop.
For the project, Aslan, rather than call on established jazz players, uses his own Argentinean quintet, bandoneon player Nicolar Enrich, trumpeter Gustavo Bergalli, pianist Abel Rogantini and drummer Daniel ""Pipi" Piazzolla (grandson of the legend).  All but two of its 10 tracks (animated back-to-back runs through George Shearing's "Lullaby of Birdland" and Johnny Mercer's "Laura") were written by Piazzolla, among which is one simply called "Oscar Peterson".  Reducing the core group to trio – bandoneon and trumpet sit it out – Aslan pays tribute, via Piazzolla, to another master, not so much by co-opting the iconic pianist's style as molding it to expound upon his concept.
Bergalli and Enrich more than make up for that brief hiatus throughout the rest.  They lock in tightly on tracks like "Something Strange" and the appropriately titled "Counterpoint" and, with Aslan's crisp and distinct bass lines, the young Piazzolla's razor-sharp timing and Rogantini's vibrant melodies , allow Astor Piazzolla's misfire to come to fruition more than a half-century later.
- Jeff Tamarkin
"This record is a triumph not only because Pablo Aslan pulls off a miracle, but also because he sets a fifty-year-old grudge right; something that can only please the resident spirit of the great Astor Piazzolla who started it all in the first place."  Raul da Gama   (READ THE ARTICLE)
MORE REVIEWS:
lucidculture
jazzhistoryonline
allaboutjazz.com
chipboaz.com - Album of the week
Masterpieces spark new work. Piazzolla in Brooklyn was inspired by a dreadful recording.
Take Me Dancing, a 1959 jazz tango album by New Tango master Astor Piazzolla, was dreadful. Astor Piazzolla said so.
Still, Pablo Aslan was curious. An Argentine-born, Brooklyn-based bassist, bandleader, and producer, Aslan has been a pioneer in jazz tango, working on his own ideas for the past 20 years. His 2009 recording TANGO GRILL looked at jazz tango through a traditional tango keyhole, earning him GRAMMY and Latin GRAMMY nominations.
"I had heard all the infamous stories about this recording, so when I saw Take Me Dancing in a record shop in Buenos Aires, I snatched a copy," he says. "And it played exactly as Piazzolla had said: it was awful."
There was little jazz and a simplified, clunky Piazzolla played to a güiro-and-bongo beat.
But then Aslan read a critical reevaluation of Piazzolla's career (Diego Fischerman's study "Piazzolla El Mal Entendido," The Misunderstood Piazzolla) and the comments about Take Me Dancing intrigued him into giving it an open-minded second listening.
What he heard then inspired Piazzolla in Brooklyn.
"The themes and the ideas were very strong and original, but some of them just went by too fast," he says. "I felt there were many places where the music could be opened up and developed further. That was the Eureka moment, when I realized that the material in this record had a potential that just needed to be unleashed."
The transcriptions of the original arrangements by Piazzolla for nine of the pieces in Take Me Dancing became the road map for Piazzolla in Brooklyn. And for the journey, Aslan not only had Piazzolla as a guide, but also something that el maestro didn't have: a group of musically bilingual players (including Piazzolla's grandson, drummer Daniel "Pipi" Piazzolla), as knowledgeable and comfortable with the vocabulary, syntax, and rhythms of tango as they are with jazz.
The Piazzolla of Take Me Dancing was a musician desperately juggling artistic ambitions and subsistence needs. He was back in New York City, where he had spent most of his childhood, but now with a wife and two kids, and looking for a fresh new start for a sputtering career. ("La Calle 92," the only track here that is not from Take Me Dancing, plays like scene setter. It's a piece by Piazzolla titled after the street where he and his family lived during this period.)
He pushed and probed, but with modest success. His most ambitious gambit was "a new rhythm called J.T. (jazz tango)," Piazzolla wrote in a letter dated June 1958 that Aslan found in his research. "This rhythm has been well liked because I play jazz melodies with a modern tango rhythm. It's the only way to break in the U.S.A."
The pearl of this work was supposed to be Take Me Dancing, a recording of both originals and jazz standards interpreted by his Jazz Tango Quintet, comprising electric guitar, vibes, piano, and bass, plus small percussion. Dominican bandleader, musician, and producer Johnny Pacheco, who would go on to develop salsa and cofound the influential Fania Records, was one of the percussionists in the Take Me Dancing sessions. "I had no idea who [Piazzolla] was," Pacheco told me. "I was doing a lot of studio work those days and they called me because I could read music. Everything was written down. It was tango with rhythm, and he improvised in jazz [style]."
"It was the first time I had ever heard a bandoneón played in that style," he recalled. And Piazzolla, "had this expression of happiness in his face because everything he had written, he was hearing. These were the best studio players around. As for me, it was a feast."
In August 1959, in another recently unearthed letter, Piazzolla writes his friend that "The recordings are marvelous, and if the company really tries, they will sell well."
In fact, Take Me Dancing sank without a trace. Piazzolla would later sour on the whole experience, and go on to denounce the quintet as "a monstrosity," and Take Me Dancing as an artistic "sin." In those recordings, he once said, "I sold my soul to the devil."
Daniel Piazzolla, a musician himself, remembers asking his father about Take Me Dancing "seven million times, and the conversations always ended the same way: with him yelling at me, 'don't bust my chops with that piece of shit, that crap, that black stain in my story.' "
Yet for all its shortcomings, real and exaggerated, an argument can be made that Take Me Dancing had a subtle but lasting impact on Piazzolla. Still, while he would go on to collaborate with exceptional jazz musicians such as Gerry Mulligan and Gary Burton, Piazzolla never went back to jazz tango.
As it turned out, that was left to another Argentine New Yorker, one raised in Buenos Aires but educated on Miles, Coltrane, and Mingus, as well as Salgan, Pugliese, and Piazzolla.
"Astor Piazzolla has been a model for my own development, but I also had systematically avoided his music," Aslan told me. "I always felt it was too strong and defined, and his own interpretations very rarely have been surpassed. But in Take Me Dancing I found a place where I could create my own world and actually interact with him."
That place is Piazzolla in Brooklyn. It's not a remake and it's not nostalgia. It's not even a tribute. Rather, it's a continuing conversation among musicians, across fifty odd years of music, shared stories of displacement and deeply personal searches.
It's a thank you note to a favorite teacher, long gone: your lessons were not lost on me, on us.
It has all been worthwhile -- and we are carrying on.
Fernando Gonzalez
Fernando Gonzalez is an independent writer and editor based in Miami Beach, FL.