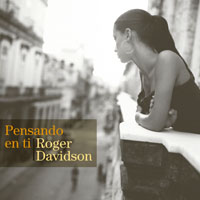 Buy Now
With its dreamy melodicism and throbbing percussion,the bolero may be the most romantic of all South American dances. Roger Davidson, the versatile, feverishly prolific composer-pianist, has assembled some of the most outstanding Latin music recording artists to make this album inspired by his love of boleros and rumbas. The group includes Cuban-born, Miami-based drummer Ignacio Berroa, a master of the bolero who among his extensive credits, plays on Charlie Haden's two recorded salutes to the bolero, Land of the Sun and the Grammy-winning Nocturne; Pernell Saturnino, one of the premiere percussionists in Latin jazz, who has recorded with David Sanchez, Paquito D'Rivera, and Gilberto Gil; David Finck who has been firstcall bassist for Dizzy Gillespie, Ivan Lins, Rosemary Clooney, Glen Campbell, among countless others; Marco Granados, the Grammy-nominated Venezuelan flutist; Kenny Rampton, a New York-based trumpeter who is a member of  the Lincoln Center Jazz Orchestra; Francisco Pancho Navarro, the Argentine guitarist who is a tango specialist with an across-the-board flair for Latin music.
Pensando en Ti presents original boleros and rumbas played by a sizzling first-rate band.
"These are the sounds of romance, suited well for a relaxing night with with a glass of your favorite spirits and the object of your romantic desire." - Dan McClenaghan allaboutjazz.com
"The album is a virtual soundtrack of the Cuban experience and represents the sound of music coming out of the many shops and cafes of Havana." - Michael P. Gladstone allaboutjazz.com
"A New York 50´s ambiance would be apropos to describe the feel of this recording of rhumbas and boleros performed by an exquisite group of latin stylists." - John Gilbert ejazznews.com
---
By Tom Ineck
A classical pianist with an eclectic interest in world music and Latin dance, Roger Davidson brings off this collection of boleros and rumbas with aplomb and sufficient authenticity to silence all doubters.
It certainly helps that Davidson has surrounded himself with superb musicians, including drummer Ignacio Berroa and bassist David Finck, in addition to flutist Marco Granados, guitarist Francisco Navarro, trumpeter Kenny Rampton and percussionist Pernell Suturnino. Together, they create the irresistible rhythmic drive and melodic romanticism inherent in these Latin song forms.
Recorded like a jazz album rather than a classical session, the mood is relaxed and the arrangements are uncomplicated, giving the musicians plenty of space to express themselves. For example, Navarro delivers a stunning guitar solo on the bolero "Somos Novios," by the famous bolero composer Armando Manzanero. "La Gloria Eres Tu," by Jose Antonio Mendez, has the muted trumpet passing the melody to the flute, then to Davidson at the piano. The flute and guitar improvise the introduction to "Mi Amor."
Osvaldo Farres' "Tres Palabras (Three Words)" was a rare hit for the bolero genre back in 1946, when the English version, retitled "Without You," with lyrics by Ray Gilbert, was sung by Andy Russell in the animated film called "Make Mine Music." Here it is accelerated to a rumba tempo, getting the respectful treatment with Davidson stating the theme, followed by an open trumpet passage and a stately piano solo.
Another classic of the genre is "Mi Dolor," a tango written in 1931 by Carlos Marcucci. Here it is transformed into an intoxicating bolero for piano and guitar. Both bassist Finck and trumpeter Rampton (on muted horn) take exhilarating solos on the uptempo "Rumba Feliz," with Rampton delivering an especially dazzling statement before Davidson wraps it up with a nice piano solo.
Davidson owes melodic and stylistic allegiance to Bill Evans, expressed here in his version of Armando Manzanero's "Esta Tarde Vi Llover," which Evans recorded in its American version, "Yesterday I Heard the Rain."
Davidson himself penned nine of the 14 tunes here, proving his affinity for the rumba and bolero. The similar song forms provide the perfect vehicles for his lyrical keyboard style.
---
AAJLA
… wistful trumpet, caressing the hypnotic piano and drum work, elicits images of dimly lit dance floors. None of the songs are over played or rushed; this is music to be imbibed slowly, as is any romantic evening. Dim the lights, grab your partner, and sway across the floor. - George W. Harris
Roberta on The Arts
This is a seductively enchanting CD with "must-hear-again" danceable tracks, also well suited to easy listening and romantic dinners. Every track in this recording is unique, with Davidson's compositions, plus those of his Latin American favorites.
Swing2Bop.com
Another fine example of this pianist´s wholly admirable embracing of the music of Latin America..