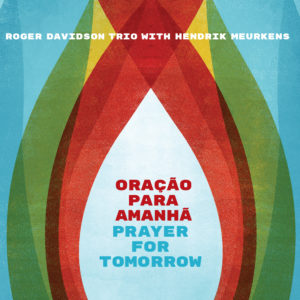 Buy Now
Oração para Amanhã (Prayer for Tomorrow)
The album is the first by Davidson's new trio, with stellar Brazilian musicians based in New York. The first-call rhythm section of Eduardo Belo (bass) and Adriano Santos (drums) is joined by another mainstay of the New York Brazilian jazz community of artists, harmonica and vibraphone extraordinaire Hendrik Meurkens, as featured soloist.
These recordings came about after the trio played several engagements in and around New York City. Recorded over several nights at NYCs famed Zinc Bar, a haven for Brazilian jazz, the musicians rejoice in each of Roger's original compositions.
All compositions by Roger Davidson (Musica Universalis Publishing – BMI)
Roger Davidson, piano
Eduardo Belo, bass
Adriano Santos, drums
With Hendrik Meurkens, vibraphone and harmonica
Recorded live at Zinc Bar, New York City, May and October 2016
Executive Producer: Roger Davidson
Artistic Producers: Roger Davidson, Pablo Aslan
Associate Producer: Alexandra Aron
Recorded by Luis Bacque
Raul Da Gama - LatinJazzNet.com
Three things occupy the mind of Roger Davidson: spirituality, the romance of music, and Brasil. This might not necessarily be in that order but certainly Oração para Amanhã, One God, One World, and Universal Sacred Music for Chorus and Missa Universalis suggest that the veracity of that fact is beyond reproach. It bears mention that on the latter three albums Davidson focusses almost exclusively on the sacred elements of music. Remarkably, however, on Oração para Amanhã all the sources of his inspiration come together in a wonderful fashion.
Roger Davidson has written all of the music for Oração para Amanhã. He usually writes most if not all his music. Davidson is a fine composer, whose work is deceptively simple: melodies with almost linear, lyrical lines flowing one into the other, like ripples chasing each other in a pond after the stone has caused a stir. Arrangements are also simple, seemingly suggested more than written note after note, after note. Rhythms are not wildly challenging, perhaps the only drawback of his compositions. But Davidson is too clever to let the pulse of his music get dreary. To stay on top of things he employs the finest virtuoso musicians – on Oração para Amanhã
I think that the absence of a Brasilian percussion to augment Santos' battery of drums is further proof of the elasticity of Davidson's rhythms. Santos more than takes care of business in that department. Eduardo Belo is a fine bassist who brings the deepest tonal colours to life with the visual and especially tactile quality of a velvet surface through intertwined threads, strands, or the like, that make up a marvellous canvas. And Hendrik Meurkens drives the melodies, transforming them into something quite magical, whether he is working them on his vibraphone or his chromatic harmonica. However, make no mistake: this is Roger Davidson's album from start to finish and what a fine album it is indeed.
Track list – 1: September Samba; 2: Sonho da Tarde; 3: Oração para Amanhã; 4: Rio de Janeiro; 5: Saudades; 6: Tarde Sonhadora; 6: Amor Brasileiro; 7: O Trem da Vida; 8: Saudade do Brasil; 9: A Escada; 10: Três Estrelas; 11: O Verão.
Personnel – Roger Davidson: piano and producer; Eduardo Belo: bass; Adriano Santos: drums; Hendrik Meurkens: vibraphone and harmonica; Pablo Aslan: additional artistic production; Luis Bacque: recording, mixing and mastering engineer.
____________________________________________________
Ernest Barteldes
Pianist Roger Davidson and German-born harmonica player/vibist Hendrik Meurkens both have a close relationship with the music of Brazil, and it's a thrill to hear them coming together for "Oração Para Amanhã (Soundbrush), a live recording made at New York's Zinc Bar featuring all-original music by Davidson. Backed by Eduardo Belo (bass) and Adriano Santos (drums), the disc kicks off with "September Samba," an uptempo tune featuring Muerkens on vibes. Muerkens then goes to his harmonica to lead on "Sonho da Tarde," a complex tune with a low-key feel . "Oração Para Amanhã" is definitely a love letter to Brazil, and both musicians treat the music with the respect it deserves, using American jazz tendencies to enhance the sound, but never to take it away from where it belongs.
__________________________________________________
Norman Vickers
http://jazzpensacola.com/vickers/
Roger Davidson is a pianist/composer who records on his own label—Soundbrush Records. After listening to these dozen Latin tunes, I went to his website and learned that he performs various types of music.  This CD with his regular trio, bassist Eduardo Belo and drummer Adriano Santos has vibraphonist and chromatic harmonicist Hendrik Meurkens.  These are all original compositions by Davidson.
On further reading, I learn that Davidson's wife is Brazilian and that Davidson has some twenty-plus recordings on his own label.
The tunes are melodic and rhythmic and typically Latin.  Meurkens plays equally well on vibes or chromatic harmonica.   This CD was recorded live at Zinc Bar, New York City, in May and October 2016.
____________________________________________________
CHRIS SPECTOR, MidwestRecord.com
http://www.midwestrecord.com/MWR1235.html
ROGER DAVIDSON TRIO  with Hendrik Meurkens/Oracao Para Amanha:  Recorded live in his fave home away from home, trusty piano man Davidson shows his on going love for Brazil with a set of recent compositions and the addition of harmonica whiz Hearkens who also brought along his vibes for a banging good time.  Recorded live and making feel like you are there, this cheery set delivers more smiles per mile than anything else you could play in the car.  Well done.
____________________________________________________
http://jazzquad.ru/index.pl?act=PRODUCT&id=4699
By Leonid Auskern
Google Translate
Not for the first time listening to the music of Roger Davidson, I already had the opportunity to see the hot love of this jazz pianist and composer from New York to Latin music and, in particular, to the music of Brazil. The new album of his trio is composed entirely of author's compositions written in the spirit of Brazilian jazz, with names in Portuguese, and only the title of the album is duplicated on the cover in two languages, English and Portuguese: "Prayer for Tomorrow." Pacifist name speaks for itself and does not need additional comments. But the composition of the ensemble, which in May and October 2016 on the site of the popular in New York club Zinc Bar live album was recorded, requires some explanation.
Drummer Adriano Santos I heard on the album Live at Caffe Vivaldi - Volume 2 released in 2015. This time he composed the rhythm group of the piano trio together with bassist Eduard Belu. They are both Brazilians, representatives of a large musical diaspora from their country in modern Babylon, as New York is rightly called sometimes. Here, Roger Davidson picked up another partner, whose name was not accidentally placed on the cover of the album along with the trio's title: it's a very good vibrator and just an outstanding jazz performer on the harmonica Hendrik Merkens. Most importantly, the German musician is also in love with the music of Brazil, like Davidson himself, delicately feels it and performs beautifully, in which the listeners of Oração Para Amanhã can see almost every track.
Masterfully possessing secrets, both samba and bossa nova, two whales of Brazilian jazz, Roger Davidson presented a dozen compositions, different in mood, sad and cheerful, but equally conveying the characteristics of Brazilian music. A sensual elegiac sadness permeates every note of Sonho Da Tarde, Saudades, Amor Brasileiro, carnivalistic frenzy permeates the melodies of Rio De Janeiro, A Escada or Tarde Sonhadora. Merckens on both his instruments broadcasts these feelings to the listener at the highest level, but I would not call him a pronounced frontman of the quartet. Here the contribution of each and that sound, which the musicians create collectively, is important. At the same time, I will note Santos's solo in Rio De Janeiro, and the excellent dialogue between Davidson and Merckens in the title play, and the roll call of the harmonica and double bass in A Escada. In a word, the hour of immersion in Brazilian exotics is provided to listeners!
_________________________________________________
All About Jazz - review by Roger Farbey
Roger Davidson was born in Paris in 1952 to a French mother and American father. The family moved to New York when he was one and he started playing the piano when he was four. He took a Master's degree in composition in composition in 1980 and another in choral music in 1985. Initially he was steeped in classical music but twenty five years ago, as the result of attending the Stanford University Jazz Workshop, he started playing jazz and his first trio album was Ten To Twelve recorded in 1992. Now with well over twenty albums to his name, this is the first with a new trio and featured soloist Hendrik Meurkens, the German born virtuoso of the vibraphone and harmonica.
Oração Para Amanhã was recorded live at the Zinc Bar, New York City on several nights in May and October 2016. The venue is a haven for Brazilian music of this type, a genre in which Davidson specialises. The allegro opener "September Samba" sees guest star Hendrik Meurkens on vibraphone with piano and vibes stating the memorable melody line. "Sonho Da Tarde" employs a similar construction to Antonio Carlos Jobim's "How Insensitive" thus rendering it almost familiar but exuding its own intrinsic charm. The appropriately lively "Rio De Janeiro" comes as a contrast to its more sedate predecessor "Oração Para Amanhã."
On the dulcet "Amor Brasileiro," Meurkens lyrical harmonica playing recalls that of the late Toots Thielemans. But more often than not the mood is upbeat and Samba-rich such as evidenced on "O Trem Da Vida" and there are piano-focussing numbers too such as "Três Estrelas" where Davidson is heard playing solo. Meurkens's masterly harmonica is also heard on "A Escada" and the closer, the vibrant "O Verão." Overall this is a satisfying set of Davidson-composed Latin tunes which is pushed up a notch by the presence of the redoubtable Meurkens.
"This album is a collection of my most recent compositions, recorded with my trio at one of my favorite venues in New York City. I am constantly inspired by the music of Brazil, and by having the chance to play with some of the best Brazilian musicians. This new crop of compositions are inspired directly by my travels in Brazil —and by my beloved Brazilian wife, Nilcelia Davidson.
In this recording my trio is joined by the German vibraphone and harmonica virtuoso Hendrik Meurkens. I love the way he gets to the emotional core of my compositions with his unique sound, and how he blends with the rhythm section. Eduardo and Adriano are a joy to play with, and add a great deal to every performance.
Although there are many challenges to recording live, I believe there is no substitute for the spontaneity and interaction of a live band, and for the emotional feedback of playing in front of an appreciative audience. And having Luis Bacque as our recording engineer is a guarantee that the sound will be top quality, so it puts us in the best of both worlds!
The title tune, Oração Para Amanhã, is a prayer for a more peaceful and more unified world. We live in a contentious world, where factions are drawn according to outmoded and divisive beliefs. It is time for us to create a world in which we all live as one spiritual family.
The other tunes on this album are reflections of various aspects of life, inspired by my love for Brazilian music and culture."
ROGER DAVIDSON