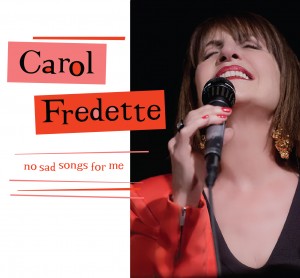 COMING February 2014
Carol's follow-up to her stunning EVERYTHING IN TIME (SR 1016) is a collection of witty, knowingly romantic songs. Produced by bassist David Finck,
with a crack rhythm section and stellar soloists, the album is a tribute to the joy of love and music.
Don Albert
03/06/2014 08:49:51

Jazzaholic by Don Albert: Lauren Kinhan will be a new name to many people, even though she spent the last two decades with New York Voices.

This is particularly so in South Africa, where we rarely see a CD of the group because they are not released here.

Her new solo CD is also not available in SA so one has to buy it on the internet.

From the outset I must say her Circle In A Square is excellent and a lesson in contemporary singing, composing and lyrics. All the tracks have cameo solos from the likes of Randy Brecker trumpet, Joel Frahm soprano and tenor sax, Romero Lubambo guitar, Donny McCaslin tenor sax, Chuck Loeb guitar and Andy Ezrin piano. Mention must be made of the two bassists Will Lee on three tracks, especially "Bear Walk" and David Finck who is top drawer on the other eleven. Even the wordless "Chasing The Sun" is fresh as she uses her voice like a frontline horn with an original view to scatting. I also enjoyed the tango "Chaussure's Complex" with Gary Versace on accordion. For more info www.laurenkinhan.com

In complete contrast is vocalist Carol Fredette, who is an important singer but hardly known outside of New York. She's a master of the American Songbook type singer with the sophisticated hipness of the Big Apple. Her CD is titled "No Sad Songs For Me" named after the song title composed by bassist David Finck, who not only plays on the CD but he also wrote the arrangements and produced it. Just take any track they're all top class with the emphasis on class, from pulsating Latin rhythms to swing with outstanding soloists from the three pianists Hilio Alves, Dario Eskenazi and Andy Ezrin, Davis Mann sax, flute and alto flute, Tony Kadleck trumpet, Michael Davis trombone, Bob Mann guitar, David Finck bass and Kevin Winard drums and percussion. I'm so glad she has taken the song "You'd Better Love Me" out of mothballs. Other tunes on this 14 track album includes "The Best Thing For You", "This Is Always", "Dancing In The Dark" and "Long Ago And Far Away." For more info www.carolfredette.com or wwwsoundbrush.com

Now what's with Cape Town? They had a wonderful jazz venue in the Mahogany Room, it was even mentioned in Down Beat. I have a cousin from New Orleans holidaying in Cape Town who asked me where to go, I told him the obvious, the Mahogany Room. He called me back and said it had closed down. I asked a few people in CT what had happened and never really got a straight answer.

Normally the Capetonians jump up and down praising everything in CT, even the wind, but this time it was, as they say in Yiddish, everyone was 'Shtoom' (Keep quiet or mum's the word.)

Now I see suddenly the venue has surfaced as Straight No Chaser (great name. Thanks Thelonious). No reason why the change of name, no information or if it's the same ownership or not. Nothing, just BAM "We are now open please like our FB page." No encouragement that it will be there next month or next week, why can't they say something like we went through a rough time, it's now sorted xyz has taken over and the manager is abc and we are ready to groove again, as from now?

With the way jazz venues open and close silence is not the way to go.

Don Albert is a saxophonist and jazz journalist. He spent 12 years with The Star Newspaper on the Tonight! section writing about jazz. Currently he writes jazz CD and book reviews for Financial Mail and is the South African Correspondent for Downbeat (USA) and Jazz Journal International (UK). He has presented radio programmes on jazz and served awards.as judge at prestigious competitions. He has also won numerous awards.

It's been a while since I reviewed a CD from Carol – but she's got that jazz vocal stuff right on DOWN!  Her opener on this 13-song vocal adventure, "

I Am In Love

" is the best female jazz vocal I've heard (yet) in 2014 – & since there are thirteen full-blown songs, you're bound to find something you can pick as a favorite for your playlist!  The peppy & upbeat "

You'd Better Love Me

" will floor you & have you dancing 'round the room all night.  It was actually the swingin' vibe on "

Havin' Myself A Time

" that won my vote for personal favorite (but like I said, with that many tracks, you may find a different fave).  If you just love smokin'-hot female jazz vocals, you'll agree with me when I say it's MOST HIGHLY RECOMMENDED… gets an "EQ" (energy quotient) rating of 5.00 (the very top) – which means it also gets the "PICK" of this issue for "best female jazz vocal work".  Get more information at 

Carol's website

.       

Rotcod Zzaj

Jack Goodstein

Carol Fredette - No Sad Songs For Me 

Songstress Carol Fredette, veteran of the New York jazz scene, is out February 11 with her new album, a 14-tune collection called No Sad Songs For Me. Working with an all-star group of local musical talent, she puts her own stamp on classics from the likes of Irving Berlin, Cole Porter, and George Gershwin, in reliably cooking arrangements by bassist David Finck. Among the album's highlights are the title song, a Finck original, Antonio Carlos Jobim's "Chovendo Na Roseira," and her take on "No Regrets," a tune made famous by Billie Holiday, which closes the set.

C. Michael Bailey, February 10, 2014

We last heard from vocalist Carol Fredette on her first Soundbrush recording,Everything in Time (2009). Her repertoire was replete with, ..."Light latin jazz, humid islands, and secure mainstream treatments." Fredette remains fairly true to this mix of styles on No Sad Songs For Me, specifically addressing all songs of upbeat content, if not tempo. The singer calls upon much the same band as on the previous recording, specifically pianists Helio Alves, Dario Eskenazi and Andy Ezrin.

It is notable that No Sad Songs For Me is executive produced by Pablo Aslan andRoger Davidson, two names closely associated with Latin jazz and bossa nova, styles that potently inform Fredette's repertoire here. Fredette is serious about the title and title tune for this recording. It is surprising she included Jobim's "Double Rainbow" and not his "No More Blues." These songs are upbeat and the universal mood of this recording is supercharged positive.

Fredette commands Bob Merrill's "It's Good to be Alive" and Irving Berlin's "The Best Thing for You." The former she treats as a delicate ballad and the later Latin-infused and simmered on high heat, Kevin Winard's percussion being particularly effective. The Cahn-Van Heusen chestnut "To Love and Be Loved" is gently rendered as a perfect cocktail hour ballad. Fredette's support is solid and competent, providing the singer an environment for her pristine vocal delivery of this most attractive recital.
Acousticmusic.com
by Mark S. Tucker
Don't take the CD title, No Sad Songs for Me, too literally, friends, 'cause Carol Fredette knows how to lay out a nightcub blueser with the best of 'em…although, in cases like You're Getting to be a Habit with Me, she can go from coy to curious to wistful to seductive to sparkling with ease. More, her vocal range covers a moody Kurt Weill-ish Marianne Faithfull low end to a balmy Peggy Lee and chipper Helen Reddy mid-range; it all depends on how she interprets the moment in the song. Having worked with Bucky Pizarelli, Chuck Loeb, Claudio Roditi, Steves Kuhn and Swallow, and a host of other high notables, it ain't like she doesn't know her way around a music sheet nor how to supply what wasn't written as well, the key to real jazz.
Bassist David Finck arranges everything around Fredette's voice as she fashions her way via various musical architectures, floor plans, and finials, and he did so absolutely dead-on, measuring each accompanying musician against the highest possible output for the most sparing input. Even when swingin', as in I Am In Love, the economy of atmospherics allows each soloist (first trombone, then voice and guitar, then piano, and so on) a clear path among fellow musicians until the band falls together right beneath Carol's emphatics on rhyme schemes, afterwards flowing like a river to the sea, Helio Alves' pianistics a gentle mist of spring rain.
"She's as good as they come!" remarked Stan Getz, who knows from music and then some, and there's indeed a very classic glow in No Sad Songs. Whether it's muted, husky, smoky, saucy, or just liltingly larksome, the listener is transported by her back to the days of Chet Baker, when coolness pervaded the fingersnapping milieu of the 50s as it attempted to slow the hurtling rush towards the '60s and dwell a bit longer in a Tin Pan Alley that had happily been infiltrated by the hip 'n jive set. No Sad Songs for Me is precisely a case in point.
CD Review: Amazon.com
"Witty, conversational, and swinging, devoid of self-indulgent gymnastics, and high on interpretive insight! Salty and smart, Carol Fredette hits you between the eyes, but also reaches your heart. A spirited and positive set of songs, performed by master musicians who know how to have fun.  Produced by bassist David Finck, this album is a wonderful set of songs in the Swing and Brazilian styles.
Jersey Jazz , February issue
Joe Lang
 No Sad Songs for Me (Soundbrush – 1028) is a welcome new entry from vocalist CAROL FREDETTE.  She has been one of the most undeservedly under-recorded jazz artists in recent years, and any new chance to enjoy her vocal artistry at the push of a button is a great plus for lovers of the hip vocalizing.  For this album, she has a terrific cast of players including pianists Helio Alves, Dario Eskenazi and Andy Ezrin, bassist Dave Finck, who also produced and provided arrangements for the sessions, drummer/percussionist Kevin Winard, reedman David Mann, trumpeter Tony Kadleck, trombonist Michael Davis and guitarist Bob Mann.  The 14 song program includes a wide ranging selection of tunes from broadly familiar songs like "You're Getting to Be a Habit with Me," Dancing in the Dark" and "Long Ago and Far Away," to ditties that are less often performed, but stand tall beside the major standards, gems such as "I Am in Love," "The Best Thing for You," "You'd Better Love Me," "This Is Always" and "You Better Go Now," to some terrific songs that are rarely heard including "It's Good to Be Alive," "To Love and Be Loved," "Havin' Myself a Time" and "No Regrets."  Finck wrote a new tune for the album, the title number, "No Sad Songs for Me."  No matter whether she is getting to the heart of a ballad or swinging her forever off, Fredette respects and finds the essence of each lyric that she sings.  Her voice is full of warmth and intimacy, lending a feeling of knowing worldliness to her singing.  Vocal jazz at the highest level of execution requires a combination of musicality, timing, phrasing, creativity and intelligence.  Carol Fredette has an abundance of these ingredients, and they all shine through on No Sad Songs for Me.
CHRIS SPECTOR, Editor and Publisher
JERSEY JAZZ