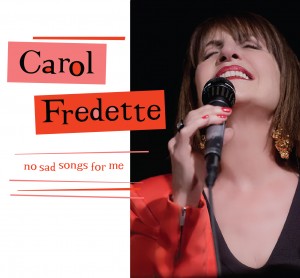 Buy Now
Carol's follow-up to her stunning EVERYTHING IN TIME (SR 1016) is a collection of witty, knowingly romantic songs. Produced by bassist David Finck,
with a crack rhythm section and stellar soloists, the album is a tribute to the joy of love and music.  "Fredette suggests a potent blend of Elaine Stritch's gin-soaked sophistication and Diana Krall's smoky warmth. In other words, she exudes style and substance."  Christopher Loudon, Jazz Times
JazzTimes, April 2014
To find a theme for her latest album, veteran vocalist Carol Fredette needed only to look at her living room wall. There hangs a poster for the 1950 film 
No Sad Songs for Me 
starring Margaret Sullavan. Fredette and Sullavan seem kindred spirits: exceptionally gifted artists, masters of subtlety who remain vastly under  appreciated. Sullavan staunchly refused to be victimized. Indeed, she became infamous in Hollywood as the only actor able to intimidate tyrannical MGM pasha Louis B. Mayer. Across more than four decades, Fredette has sung her fair share of torch songs about romantic victims. No more, she decided. With David Finck, in his third session as her producer and bassist (and first as arranger), she chose 14 tunes that offer more empowered and optimistic views of life and love.At this point in her career, Fredette suggests a potent blend of Elaine Stritch's gin-soaked sophistication and Diana Krall's smoky warmth. In other words, she exudes style 
and 
substance. Backed by a Finck anchored sextet, she travels from a sizzling samba treatment of Cole Porter's "I Am in Love" to the breezy 
adieu 
of "No Regrets." Though her plucky playlist includes chestnuts both familiar and rare, the standout is the Finck-penned title track, a delightful survivalist anthem.
Jersey Jazz, February 2014
"No Sad Songs for Me (Soundbrush – 1028) is a welcome new entry from vocalist CAROL FREDETTE.  She has been one of the most undeservedly under-recorded jazz artists in recent years, and any new chance to enjoy her vocal artistry at the push of a button is a great plus for lovers of the hip vocalizing.  For this album, she has a terrific cast of players including pianists Helio Alves, Dario Eskenazi and Andy Ezrin, bassist Dave Finck, who also produced and provided arrangements for the sessions, drummer/percussionist Kevin Winard, reedman David Mann, trumpeter Tony Kadleck, trombonist Michael Davis and guitarist Bob Mann.  The 14 song program includes a wide ranging selection of tunes from broadly familiar songs like "You're Getting to Be a Habit with Me," Dancing in the Dark" and "Long Ago and Far Away," to ditties that are less often performed, but stand tall beside the major standards, gems such as "I Am in Love," "The Best Thing for You," "You'd Better Love Me," "This Is Always" and "You Better Go Now," to some terrific songs that are rarely heard including "It's Good to Be Alive," "To Love and Be Loved," "Havin' Myself a Time" and "No Regrets."  Finck wrote a new tune for the album, the title number, "No Sad Songs for Me."  No matter whether she is getting to the heart of a ballad or swinging her forever off, Fredette respects and finds the essence of each lyric that she sings.  Her voice is full of warmth and intimacy, lending a feeling of knowing worldliness to her singing.  Vocal jazz at the highest level of execution requires a combination of musicality, timing, phrasing, creativity and intelligence.  Carol Fredette has an abundance of these ingredients, and the all shine through on No Sad Songs for Me."
By Joe Lang
"...It is notable that No Sad Songs For Me is executive produced by Pablo Aslan andRoger Davidson, two names closely associated with Latin jazz and bossa nova, styles that potently inform Fredette's repertoire here. Fredette is serious about the title and title tune for this recording..." Read article 
By C. Michael Bailey
"The fact that Carol Fredette's CD is going to be a rare treat is suggested by its very first track, the lesser-known Cole Porter gem, "I Am in Love." As arranged with ingenuity and class by bassist/producer David Finck (who also wrote the wry title track), this jubilant samba makes one thing clear from the jump: that this high-level group swings like crazy, but in the cool and masterful way that doesn't require knocking over the furniture...." Read article

By Dr. Judith Schlesinger
 In Tune
"Dan Singer from New York City turns the spotlight on some overlooked singers of the past and some bright newcomers, all of which are Singer's Singers."
Oh boy talk about sizzling! Carol Fredette is known for her extended jazz and scat filled treasures. But they don't show up here. Instead she turns the temperature way up on 14 varied short quality-laden songs. You'll be truly taken with her hotter than hot take on Porter's "I Am In Love". What a dazzler! She comes out rocking with a Latin beat on "The Best Thing For You" (Berlin.) and the result is exactly that. The eight piece band here is franticly busy with a delightful torrid super-fine beat. "You'd Better Love Me" (Martin/Gray) is another swing filled rocker as Carol belts it out some surprising highs and lows. Her natural emotional filled delivery is superb. This one of a kind version of "You're Getting To Be a Habit With Me" (Dubin/Warren) might not be appropriate for the radio. Yet her slow reading of the lyrics will have you listening more closely than usual saying to yourself, "Did she really mean that in that way?" Wow! Some heat wave. Plus, Bob Mann has a unique guitar solo here. "Dancing InThe Dark" (Schwartz/ Dietz) has a wonderful pulse filled piano solo by Andy Ezrin that propels Carol's thrillingly swift extremely new pleasant satisfying musical technique.  It's certainly a fine popular standard biscuit. I never expected Carol Fredette would tone down her treasured jazz/scat manner. Yet she successfully does so here. Bravo!
By Dan Singer
"Songstress Carol Fredette, veteran of the New York jazz scene, is out February 11 with her new album, a 14-tune collection called No Sad Songs For Me. Working with an all-star group of local musical talent, she puts her own stamp on classics from the likes of Irving Berlin, Cole Porter, and George Gershwin, in reliably cooking arrangements by bassist David Finck..." Read article
By Jack Goodstein
"Carol Fredette has a rich and husky voice, and focuses on expression and mood with a snappy and flexible team. A rotating piano bench of Dario Eskanazi/Helio Alves and Andy Ezrin teams up with David Finck/b, Kevin Winard/dr, Bob Mann/g, David Man/woodwinds, Tony Kadleck/tp and Michael Davis/tb for lively standards and samba..." Read article 
By George W. Harris
"...She's a master of the American Songbook type singer with the sophisticated hipness of the Big Apple..." Read article
"It's been a while since I reviewed a CD from Carol – but she's got that jazz vocal stuff right on DOWN!  Her opener on this 13-song vocal adventure, "
I Am In Love
" is the best female jazz vocal I've heard (yet) in 2014 – & since there are thirteen full-blown songs, you're bound to find something you can pick as a favorite for your playlist!"  
Read article
"Don't take the CD title, No Sad Songs for Me, too literally, friends, 'cause Carol Fredette knows how to lay out a nightcub blueser with the best of 'em…although, in cases like You're Getting to be a Habit with Me, she can go from coy to curious to wistful to seductive to sparkling with ease. More, her vocal range covers a moody Kurt Weill-ish Marianne Faithfull low end to a balmy Peggy Lee and chipper Helen Reddy mid-range; it all depends on how she interprets the moment in the song..." Read article
By Mark S. Tucker
Soundbrush has now released this new set, No Sad Songs For Me, on which Carol brings her lovely vocal sound, rich and creamy, to a delightful selection of songs loosely linked by feelings of lost love. Among these are You'd Better Love Me, Dancing In The Dark, Long Ago And Far Away, You Better Go Nowand To Love And Be Loved. Yet, as the album title indicates, Carol does not approach the theme negatively; rather, she highlights the message of the song with which she closes the album: No Regrets. Read Article
By Bruce Crowther