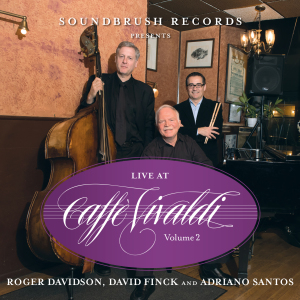 Buy Now
In 2012, we started a regular Wednesday night performance series at the venerable Caffe Vivaldi in New York City's Greenwich Village. This intimate venue was a place where our recording artists could present new material, revisit old material and interact with each other in different musical combinations. The timeless cafe has now become our informal home and what has transpired has been extraordinary. In 2013 we started to record these performances. Here are Soundbrush Records' artists, anchored by pianist, composer, and Soundbrush founder Roger Davidson, captured in the immediacy of live music making.
THE ROGER DAVIDSON TRIO
Roger Davidson, piano
David Finck, bass (except tracks 10, 11,12)
Pablo Aslan, bass (tracks 10,11,12)
Adriano Santos, drums
Produced by Alexandra Aron
Recorded, Mixed and Mastered by Luis Bacque
Photography by Nan Melville
Graphic Design by Marie Coons
Recorded live at Caffe Vivaldi, NYC 2013-2014
---
Vol. 2, which features the trio and a dozen original Brazilian pieces by Davidson plus "Garota de Ipanema" by Jobim. The Caffe Vivaldi is in Greenwich Village and has become the home bass of the Trio. Pablo Aslan returns to perform on three of the tracks here.
All the selections are worth hearing, and support the Brazilian idiom as probably the most interesting jazz/world music in the world today. The recording quality is also very high and natural-sounding.  John Henry
_________________________________________________________________________________________________
Ecco il secondo volume delle registrazioni effettuate al Caffé Vivaldi di New York, in pratica ogni mercoledì notte a partire dal 2012 diventato la casa del pianista Roger Davidson e dei suoi amici e sidemen. La musica cambia rispetto al Volume 1 perchè Davidson presenta le sue canzoni brasiliane, insieme ancora al bassista Pablo Aslan su tre brani ed a David Finck sul resto dei titoli ed il batterista brasiliano Adriano Santos. La fornazione del trio funziona egregiamente su queste composizioni di Davidson ispirate ai ritmi carioca. Non poteva però mancare uno standard di Antonio Carlos Jobim: a rappresentare il grande compositore c´è Garota de Ipanema, famosa bossa nova portata al successo da Astrud Gilberto e Stan Getz. Roger Davidson è un pianista che conosce bene i ritmi del jazz, ma non mai nascosto la sua passione per i ritmi sudamericani, per il tango, la rumba o la bossa nova. C´è molta poesia in queste esecuzioni, prendiamo ad esempio lo struggente assolo di contrabbasso all´archetto su Celia di David Finck. Oppure il pianoforte di Davidson, capace di immettere un poco di swing in questi ritmi ma soprattutto abile a comunicare con la sua musica intensa. Il batterista brasiliano Adriano Santos sa usare bene i ritmi della sua terra, estroverso ma dietro gli altri, in completa sintonia nell´ambito del trio. Il pubblico applaude mentre la musica scorre, ma anche ora, su disco, ci si lascia coinvolgere facilmente dalla saudade che sprigiona. Fra le composizioni più interessanti ci sono Spring Samba e Oração Para o Amor, resta però il fatto che Davidson riesce ad esprimersi con molta proprietà di linguaggio sui ritmi del Brasile ed il disco è una di quelle cose un pò speciali che ricorda un paese con molto rispetto per la sua cultura.  Vittorio Lo Conte
_________________________________________________________________________________________________
JAZZQUAD (in Russian
HERE
)
Translation:
The second album from the series of recorded concerts, created in New York's "Cafe Vivaldi", takes place in the artistic area of Greenwich Village. Since 2012, every 
Wednesday
 the pianist and composer Roger Davidson plays at this cafe, and since 2013, he also sells records created at these concerts, under his own Soundbrush Records label. We have already presented the first album of this series, containing the collected records of Davidson and the Argentenian bassist Pablo Aslan, to our readers.
You can hear Aslan in the new album as well, but here his bass sounds only in three compositions (Brisa Morna, Spring Samba, and Ocean Breeze). In all other cases, Roger Davidson plays as part of his standard trio, which includes bassist David Fink and drummer Adriano Santez. The musical content of "Live at Cafe Vivaldi, Volume 2" differs from its previous edition. The reviews for Volume 1 have already spoken about the wide diversity of Roger Davidson's musical taste and special love for Latin music. If Volume 1 (done with Agrentenian Pablo Aslan) has Tango accent, then Volume 2 is focused entirely on Brazilian music. The 13-piece program includes Jobim's famous "A Garota de Ipanema" and 12 other numbers, composed by Davidson himself. What can we say about them? As previously mentioned, one will detect a strong academic background in Roger's play. He's not hiding this in his new album, either. Even though a whole set of music pieces clearly labelled with Portuguese titles and some of the names refer to Samba (Spring Samba, Dream Samba), Davidson wisely chooses not to copy Brazilian masters' manner. There is no replication of the way Brazilian grands play Samba and Bossa Nova here. However, there are Brazilian intonations and the spirit of Brazilian music, fortunately fused with jazz. Symbolically, the final track of Volume 2 is titled "To Brazil with Love". This love runs a red thread through the new concert disc of Roger Davidson's trio.
_________________________________________________________________________________________________
In der Bar werden Geschäfte gemacht und Verbrechen verabredet, Ehen angebahnt und gebrochen. Einsame Herzen wandern für eine Nacht in ein fremdes Bett und im fahlen Licht des plüschigen Ambientes finden Blicke und Hände an versteckte, gefährlich verführerische Orte. Die Band nimmt alles und nichts davon wahr. Der Mann am Bass hat den besten Überblick, doch er ist mit den Gedanken woanders, Briefmarkensammlung, Fotomotive, Spielzeugeisenbahn. Der Schlagzeuger denkt, rackert und arbeitet knifflig simple Takte aus, die er mit Jazzbesen und leisem Ton dem Pianisten unterhebt. Der wiederum denkt nur in Noten, in Tasten und Pedalen, in Tönen und Melodien. Und wenn ein Gedanke einmal ausrutscht, dann nur, um zum Wein zu greifen und ein paar Tropfen zu schlürfen.
Und während die liebeshungrige Verbrechermeute am Abend dem Barbesitzer das Einkommen verbessert, fahren sanftmütige Jazzperlen in den Raum. Brasilianische Klänge, mal temperamentvoll und lasziv, dann erotisch und prickelnd, oder verträumt und nachdenklich. Hier soliert der Bassist, dort der Pianist, sogar der Schlagzeuger darf ein paar Takte anheben und ausleben. Es geht nach "Ipanema", dass Antonio Carlos Jobim die notwendige Würdigung erfährt, doch überwiegend ist der Pianist die zentrale Figur im musischen Geschehen. Es sind seine Songs, die das Publikum verführen, über Schmeichelei und Schüchternheit anmutige Klänge streuen, dass die Blicke sich ertragen, dulden und herausfordern. Der Pianist kennt dies alles schon lange. Die Bar ist sein Leben, hier ist sein Arbeitsplatz, hier komponiert und probiert er. Und seine Mitstreiter, mit klarer Tendenz zur illustren Stille, unterstreichen das tonale Plätschern und Perlen, auf dass dieser Abend, vielsprechend begonnen, so erfolgreich wird, wie zahllose zuvor und - hoffentlich - zahlreich sich anschließende weitere.
___________________________________________________________
Roger Davidson has made many great recordings, composed many soundtracks and kept his audiences smiling. Live at Caffè Vivaldi, Volume 2 continues his love affair with Brazilian music. Roger teams up with drummer Adriano Santos and either David Finck or Pablo Aslan on bass for this live set, one of the Wednesday night series in NY's Greenwich Village venue. These are first call musicians who deliver a super performance. They are all Soundbrush Records artists, a label founded by Davidson, a special musical talent.
D. Oscar  Groomes
O's Place Jazz Newsletter
http://www.OsPlaceJazz.com