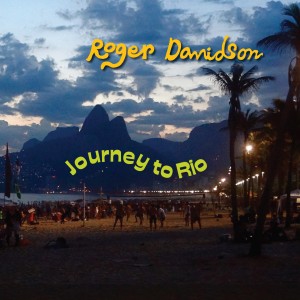 Buy Now
Like many Americans, Roger Davidson discovered the bossa nova through the recordings of Stan Getz, and since then, the sounds of Brazil have been especially close to his heart. In four previous CDs – Brazilian Love Song, Bom Dia, Rodgers in Rio, and Bingo – he brought his unique spin to the music of a country that, remarkably, he had never visited. In October 2011, that changed.
Accompanied by his producer, the Argentine bassist and bandleader Pablo Aslan, Roger took his first trip to Brazil. Most of his eight days there, which he spent in Rio de Janeiro, were occupied by six recording sessions. Roger arrived with a hundred of his Brazilian compositions to choose from; the songs he recorded – in addition to several new ones he composed in Rio – comprise these two CDs.
Original compositions by Roger Davidson (Musica Universalis, BMI)
Roger Davidson, piano
Marcelo Martins, tenor and soprano sax, flute
Gilmar Ferreira, trombone
Leonardo Amuedo, guitar
Ney Conceiçao, electric bass (CD1 tracks 1,2,9 – CD2 tracks 1,2,4,7,8,12)
Sergio Barrozo, acoustic bass
Rafael Barata, drums (CD1 tracks 1,2,9 – CD2 tracks 1,2,4,7,8,12)
Paulo Braga, drums
Marco Lobo, percussion
Executive Producer: Roger Davidson
Producer: Pablo Aslan
Associate Producer (USA),: Alexandra Aron
Associate Producer (Brazil): Luciana Pegorer and Marcelo Pera (Delira Musica)
Assistant (Brazil): Ugo Perrota
Recorded October 2011 at Zagamusic Studios, Ipanema,  Rio de Janeiro, Brazil
Engineer: Roger Freret and Alexandre Moreira
Mixed by Roy Hendrickson at Avatar Studios NYC
Mastered by Scot Hull, Masterdisk
Photography: James Gavin (cover)
Photography: Guarim de Lorena
Video: Fuzo Productions
Liner Notes: James Gavin
Portugese Translation:  Susan Pereira
CD Design: Mariano Gil
Journey to Rio (Soundbrush – 1026) has a title with more than one meaning.  Pinaist/composer ROGER DAVIDSONhas had a lifelong love affair with the music of Brazil, and has been composing tunes influenced by this attraction for most of his career.  It was not until about two years ago that he finally had the opportunity to make a trip to Rio where he recorded this two-disc set of 28 original compositions with a stellar band of Brazilian musicians.  Davidson, the players and his music found an easy, natural confluence, and the results are impressively cohesive.  The musicians are Davidson on piano, Marcelo Martins on reeds, Gilmar Ferreira on trombone, Leonardo Amuendo on guitar, either Ney Conceiçao on electric bass or Sérgio Barrozo on acoustic bass, Rafael Barata or Paulo Braga on drums, and Marco Lobo on percussion.  Davidson's compositions have strong melodies that lend themselves to improvisation, and his musicians are adept at taking them to pleasurable places.  Davidson's Journey to Rio is a trip worth sharing.  (www.soundbrush.com)
"ROGER DAVIDSON/Journey to Rio: We always look forward to a new Davidson release because you can palpably hear that honing his chops and expanding his vision is a never ending task that he doesn't look at a chore. When you own your own record company, you get the say so to put out a double album of your Brazilian fascinations as recorded in Rio with a bunch of top contemporary Brazilian cats making a joyful noise. Reminiscent in vibe to the pockets in Sergio Mendes' A&M albums where they would let him have a one-for-me track where he kept it real, except expanded to a double album, this is the kind of glorious set Scott Adams could devote a whole show to. Spirited stuff that keeps it's edge and never becomes tourist/gift shop music, it's real and inviting at the same time. Gringos, start your engines, Davidson has already done the work for you. Well done."
Soundbrush Records is proud to release pianist Roger Davidson's new album, Journey to Rio. Recorded in Rio de Janeiro, the project features a wide range of top-flight Brazilian musicians and was produced by Pablo Aslan, the gifted Argentine bassist.
For Roger Davidson, music is a world without boundaries. Both as a composer and pianist, he has a fearless reach. Though often termed a classical artist, Davidson has explored tango, klezmer, Latin music, and jazz in recent years, however he has always held the multifaceted sounds of Brazil especially close to his heart. His long-standing passion for Brazilian music has resulted in several albums, including Bom Dia (2007) and Brazilian Love Song (2009). His latest, Journey to Rio, is a double-disc release showcasing 28 original Brazilian compositions.
Having traveled the world to learn about all styles of music, international synergy is in Davidson's blood. Born in Paris to a French mother and American father, his family relocated to New York shortly after. Davidson began playing piano at the age of four, ultimately discovering the bossa nova recordings of Stan Getz at age 10 through his babysitter playing Getz' Big Band Bossa Nova. "That was the start of my lifelong love affair with Brazilian music. I thought it was beguiling, uplifting, sexy, relaxing, and very melodic. It made me want to go to Brazil to find out where the music came from." Nearly fifty years later, he found out.
In October 2011, accompanied by Aslan, Davidson took his first trip to Brazil with the intention recording this project. "I've been living with the music for forty years," he says, "so it was almost like a homecoming." Most of his eight days there, which he spent in Rio de Janeiro, were occupied by six recording sessions.
Journey to Rio features deeply emotional Brazilian love songs alongside Davidson's French inspired compositions. These compositions enforce a sense of rooted emotion that melds Davidson's vast life experiences of international culture with the modern expressions of Brazilian jazz. With Davidson melody always comes first. "Any music has to start with a strong melodic line," he asserts. Like Debussy with his Preludes, Davidson gives his compositions titles that evoke scenes suggested by the music. They focus largely on love and nature, the prevailing themes of the bossa nova. Meanwhile, he pays more than passing respect to the moody, pulsing sound he heard on those Getz bossa records.
The sessions include two respected bassists: bossa nova veteran and acoustic player Sérgio Barrozo and electric bassist Ney Conceição, who was a longtime collaborator of João Bosco. The resulting line-up of trombonist Gilmar Ferreira, soprano and tenor saxophonist Marcelo Martins, percussionist Marco Lobo, guitarist Leonardo Amuedo, and alternating drummers Paulo Braga and Rafael Barata showcases some of Rio's finest musician.
Roger Davidson may be more commonly referred to or referenced as a classical artist despite the fact the upcoming release Journey To Rio is his fifth recording to take on some dynamic Brazilian originals coupled with his French inspired compositions. To aid further authenticity to this impeccable recording the brilliant Argentine bassist Pablo Aslan takes on the role of producer with that special brand of flair and panache that pushes this release to a remarkable display of texture, color and vibrant nuances that characterize the sound of Rio.
A strong sense of melody and lyrical flow is the overwhelming key to success for this two disc set that spotlights the classic bossa records made famous by the great Stan Getz. A tight ensemble cast that performs with a relentless groove allows for a spatial context of a warm open ended sound that makes room for the ensemble cast to stretch out when necessary but never overwhelming the listener with one singular voice. The group dynamic takes center stage and is as captivating as it is organic.
While Brazilian music goes far deeper than just the classic bossa sound, Davidson creates his own hybrid of French and Brazilian inspired harmonies in "Je m'en Souviens" which weaves a simple melody between piano and soprano saxophone. "Soir Bresilien" is a solo piano work that borders on the cinematic with the right amount of French influence to keep things interesting. The somewhat conceptual nature behind this recording is the global aspects of jazz as an international musical language and the positive energy that ensues when music is played from the heart and with a genuine passion that transcends labels, genres, and a variety of other self imposed limitations.
Roger Davidson continues to channel his passion for Brazilian music into a globally inspired multi-cultural feast for the senses!
4 Stars
Roger Davidson's 2013 studio album, Journey to Rio, features the pianist's exploration of the music of Brazil. Produced by Argentine bassist Pablo Aslan, Journey to Rio features a broad mix of Davidson's original compositions that mix bossa nova with his own interests in classical, jazz, and French sounds. Joining Davidson here is a stellar group of musicians including saxophonist Marcelo Martins, trombonist Gilmar Ferreira, guitarist Leonardo Amuedo, drummer Rafael Barata, percussionist Marco Lobo, and others.
Journey to Rio is Jazz Week's highest charting debut this week!
http://lucidculture.wordpress.com/2013/06/16/rogerdavidson/
Friday night at Zinc Bar, pianist/composer Roger Davidson led a first-class New York-based Brazilian jazz band in a romp through tunes from his lavish new double cd, Jounrey to Rio, just out from Soundbrush. Davidson has had a lifelong affair with Brazilian music, culminating with a two-week jaunt there where this album was recorded with an all-star cast including saxophonist Marcelo Martins, trombonist Gilmar Ferreira, guitarist Leonardo Amuedo and a multitude of percussion. Davidson alluded that the cast onstage – including David Finck on bass, Luis Bonilla on trombone, Paul Meyers on guitar, plus Ivan Renta on tenor and soprano saxophones, Adriano Santos on drums and Marivaldo doe Santos on percussion.n – would be equally at home playing the compositions, and they were.
At the keys, Davidson favors big block chords, stairstepping chromatics and insistent octaves to anchor the sound, filling a role much like a rhythm guitarist in a rock band. He plays that role strongly and nonchalantly and is generous with solos, allowing plenty of space for contributions from individual members. Bonilla's rippling, minutely glistening, jeweled attack, rapidfire glissandos and ever-present good humor kept the crowd on the edge of their seats. Renta alternated between balmy tenor lines and jauntily spiraling soprano work over the hypnotic, clave-powered river from the corner with the percussion. Meyers' nimble, spikily crescendoing solos were as sympatico as his strong, resonant chordal propulsion: he made a smooth but powerful engine to the percussion's unstoppable wheels.
The funniest moment of the night was Davidson's one-note samba, where the horns played that note in perfect almost-deadpan unison while Davidson worked equally tongue-in-cheek permutations on a single chord before introducing variations on the theme, such that it was. A couple of duets by Meyers and Davidson provided a summery, sometimes wistful contrast. Bonilla fired off a long shower of sparks that elevated a showy cha-cha above the level of parade-ground theme, while Davidson's own gleaming, noctnnal work lit up an unexpectedly saturnine, anthemic bossa number, soprano sax trading off with Bonilla's plaintive resonance. Much as most of the song titles were love songs, an upbeat pulse and warm sixth chords dominated the show, Davidson switched up the moods, somsetimes almost imperceptibly, from song to song. And there was delicious, celebratory cake at the end of the concert, baked for the occasion by Finck's daughter Olivia. She may have music in her bloodlines but she has a bright future as a pastry chef if she feels like it.
Davidson has also enjoyed great success with klezmer and Balkan music, notably on his previous album On the Road of Life, a collection of originals in those styles. Ultimately, considering how effortlessly he moves between seemingly dissimilar styles, his future may be in writing for film. Somewhere there's a mystern/adventure narrative set somewhere in the tropics that would benefit magnificently from what Davidson's been up to lately.
http://www.tomhull.com/ocston/notebook/latest.php
Pianist, American but b. 1952 in Paris, France; has 18 albums since 2000, mostly Brazilian themed although a couple take on other Latin idioms. This was recorded in Rio de Janeiro on his first visit to the country, with Pablo Aslan producing and a raft of Brazilian studio musicians. Marceo Martins offers a few fine sax solos and a lot of flute, which flutters delicately over the piano rhythm -- which no matter the accompaniment is central.
http://blogcritics.org/music-review-roger-davidson-journey-to-rio/
In the liner notes to We Remember Helen, the Roger Davidson Trio's jazz tribute to Helen Keane (the woman best known for managing pianist Bill Evans), composer Davidson is touted as a man of many and varied musical interests. Check his website; the prolific musician divides his music not only into jazz, but concert music which he sub-divides into orchestral and chamber music, choral music and art songs, klezmer, tango, and Brazilian as well. As if to make sure we don't forget the latter, the pianist is out this month with Journey to Rio, a new two-disc set of Brazilian music to go along with his four previous CD's—Brazilian Love Song, Born Dia, Rodgers in Rio, and his album of children's songs, Bingo.
Davidson put together a stellar cast of Brazilian artists for it—Marcelo Martins (tenor and soprano sax, flute), Gilmar Ferreira (trombone), Leonardo Amuedo (guitar), Sergio Barrozo (acoustic bass), Paulo Braga (drums), and Marco Lobo (percussion). The release also features the electric bass of Ney Conceicao and Rafael Barata on drums on nine of the tracks.
If you like gorgeous, lush melodies played against exotic Latin rhythms, you'll want to travel along on Davidson's journey. James Gavin's liner notes explain, "As always with Roger, melody comes first." He goes on to cite the composer: "Any music has to start with a good tune." If nothing else, Davidson has put together an album with 28 fine tunes; each new melody is more infectious than the last.
The set features melancholy love songs like "Love Across Time," written when he was separating from his wife. Languorous bossa novas like "Moonlight Bossa" and the aching "Sonho do Amor" also appear on the album. There are lively sambas as well as "Memories of Deborah," a darker memorial to a friend's wife who died of cancer.
The release also has some songs written in chorinho style, which is a fast, syncopated musical genre that (according to the liner notes) originated in 19th century Rio, to which Davidson adds a touch of ragtime. His "Minha Alegria" sounds like Scott Joplin in Brazil. And through them all, the common thread is striking melody.
Whether he is taking a witty look at classic Antonio Carlos Jobim as he does in "One Samba Note," or adding some of the flavor of his French roots to the Brazilian spice in tunes like "Embrasse-Moi" and "Je  m'en Souviens," he is intent on stretching the forms—pushing genres in new directions. It is never jarring. These are not radical transformations. At its best, it is innovation with a subtle touch.
D. Oscar  Groomes
O's Place Jazz Magazine
O's Notes: Pianist and composer Roger Davidson plays a wide varsity of music including classical, Klezmer, jazz and Latin. He has recorded four Brazilian based albums prior to this release. Journey to Rio celebrates his first visit to Brazil and his 5th bossa nova based recording, a 2-disc set with all original tunes. He is surrounded by some of Rio's finest musicians who help Roger create a warm relaxing set. The best tunes are passionate ballads like "Gateway To Love" featuring Marcelo Martins on tenor sax. There are many more, enough to make you feel like you are on Copacabana sands!
"Brazil may be having political problems now, but bossa nova remains the country's heart and soul—particularly for those who don't live there. Pianist Roger Davidson was down at Zagamusic Studios in Ipanema in October 2011 and recorded a two-CD album—Journey to Rio (Soundbrush)—with Brazilian musicians. It's a perfect recording. You put on both CDs and the next thing you know you're transported to another place and time as the music envelops you."
For Roger Davidson, music is a world without boundaries. Both as a composer and pianist, he has a fearless reach; though often termed a classical artist, Roger has broken out of that box by delving into tango, Klezmer, Latin music, and jazz. But the sounds of Brazil are especially close to his heart. In four previous CDs – Brazilian Love Song, Bom Dia, Rodgers in Rio, and Bingo – he brought his unique spin to the music of a country that, remarkably, he had never visited. "It was a quirk of fate, I guess," he explains. "I was going to do it a number of times, but other things kept taking precedence."
In October 2011, that changed. Accompanied by his producer, the Argentine bassist and bandleader Pablo Aslan, Roger – who lives in upstate New York – took his first trip to Brazil. "I've been living with the music for forty years," he says, "so it was almost like a homecoming." He didn't go solely as a tourist, however. Most of his eight days there, which he spent in Rio de Janeiro, were occupied by six recording sessions. Roger arrived with a hundred of his Brazilian compositions to choose from; the songs he recorded – in addition to several new ones he composed in Rio – comprise these two CDs. Remarkably, he also found time to give a concert at Sala Baden Powell, the concert hall in Copacabana; and to play a show at the Maze Inn, the popular jazz club/bed and breakfast in a favela above the neighborhood of Catete. On other nights, he dined with two bossa nova masters, Carlos Lyra (one of the true pioneers of the music) and the younger Marcos Valle.
Like many Americans, Roger discovered the bossa nova through the recordings of Stan Getz, whose single of "The Girl from Ipanema" – featuring João and Astrud Gilberto and the song's composer, Antônio  Carlos Jobim – had made all those artists, and the bossa nova itself, world-famous. In 1963, when Roger was ten, he heard his babysitter playing Getz's Big Band Bossa Nova. "I wanted to know what that music was," he recalls. "She showed me the cover, and that was the start of my lifelong love affair with Brazilian music. I thought it was beguiling, uplifting, sexy, relaxing, and very melodic. It made me want to go to Brazil to find out where the music came from."
Nearly fifty years later, he found out. Staying at a hotel near the beach, Roger soaked up the posh Carioca atmosphere. His surroundings, he says, "definitely suited the music I'd been hearing all my life. The gentle lilt, the beauty of the sea, the friendliness of the people. I found that I played Brazilian music better in Brazil."
Much of that was also due to the gifted musicians assembled for the sessions. They're among the best instrumentalists in Rio, and Roger took advantage of their presence by giving all of them ample room to shine. Two respected bassists divided the sessions. Acoustic player Sérgio Barrozo's career stretches all the way back to the bossa nova era, and has encompassed work with many of the legends of bossa and MPB; electric bassist Ney Conceição was a longtime collaborator of João Bosco and is a recording artist in his own right.
Trombonist Gilmar Ferreira, who leads the Rio-based samba group Banda de Gafieira, has a cloudless tone and impeccable breath control. Reed virtuoso Marcelo Martins plays soprano and tenor sax and flute on these recordings; the Bahia-born Marco Lobo is an in-demand percussionist in Rio. Leonardo Amuedo, a guitarist of rare eloquence and taste, is heard on five tracks, while drummer Paulo Braga – Roger's collaborator on a string of CDs and sometimes onstage – has played with a stellar array of Brazilian greats, among them Elis Regina, Jobim, Milton Nascimento, and César Camargo Mariano. Alternating with Paulo is Rafael Barata, an award-winning drummer with a similarly sprawling list of associations.
"They're all rock-solid, amazing musicians," says Roger. The tightness of the ensemble work and the comfortable grooves belie the fact that the sessions began with no written arrangements and minimal rehearsal. "The music was worked out in the studio day by day," Roger notes. "I didn't even know exactly what tunes I was going to record. We talked about the form before we recorded. I'm not obsessed with writing out every note. I'm an improviser. Playing with other good improvisers, you reach greater heights of inspiration and spontaneity. I want to leave open space for other musicians to find their own voice within my tunes. Everybody had wonderful input. We were a real team."
As always with Roger, melody comes first. "Any music has to start with a good tune," he asserts. Like Debussy with his Preludes, Roger gives his compositions titles that evoke scenes suggested by the music. They focus largely on love and nature, the prevailing themes of the bossa nova. Meanwhile, Roger pays more than passing respect to the moody, pulsing sound he heard on those Getz bossa records.
You'll hear it in Love Across Time, one of the most heartfelt pieces here. Roger wrote it as he and his wife were separating. The song, he says, expresses "a love that transcends unhappiness. Even if we aren't together, there will always be a constant love that carries across time." The arrangement tells that story, as soprano saxophone and trombone play alone, then in counterpoint, then, finally come together in unison. Roger's emotional piano lays the foundation. In Onde Está o Amor? (Where Is Love?), Gilmar Ferreira states the theme with no embroidery and much feeling; then he and Roger explore it with the same sort of melodic improvising that make the Getz albums so appealing. Paulo Braga's playing is gentle as a whisper, yet carries the song forward with a sure touch.
Moonlight Bossa has the airy, languid sound for which the bossa nova is famous. Ferreira, Marcelo Martins, Sérgio Barrozo, and Roger all sparkle on their own; so does Paulo Braga, who gives the song a burst of energy when he doubles the time. "That was a spontaneous idea that we had in the middle of the tune," says Roger. Leonardo Amuedo is the star of Sonho do Amor (Dream of Love), a throbbing bossa with an ache of saudade, the Portuguese word for a sometimes indefinable yearning. "I was definitely thinking intently of Brazil in this tune," says Roger. "It's like 'Onde Está o Amor' – it's a longing for a love you don't have." First Kiss is one of Roger's loveliest tunes. It drifts along at a sensual medium tempo, while spotlighting all the soloists, who play with their silkiest touch. In Gateway to Love, Martins plays alto with a cool, moody approach à la Getz; Roger's piano solo ups the song's passion.
The most intimate tracks are the duets. Olhos de Ouro (Eyes of Gold) teams Roger with Leonardo Amuedo for a spacious dialogue in which silence is the third partner. The song is so titled, says Roger, because to him it "evoked a beautiful girl with maybe golden eyes, or a gold shimmering aura." The single-note lines in his solo remind one of the piano style of Jobim, whose playing was the ultimate example of less-is-more. The slow bossa Amantes para Sempre (Lovers Forever) is a showcase for the expansive, lyrical trombone playing of Ferreira, who states the theme then takes it apart with some of his prettiest improvising.
Noite Triste (Sad Night) recalls a whole body of Brazilian songs in which the night holds melancholy and unrest. "It is a sad tune, " explains Roger, "but also very typically Brazilian. I'd heard many Brazilian tunes that sounded like that and I came up with my own original one in that style." His stately opening solo sets a haunting mood; then Marcelo Martins enters with his breathy, intimate flute-playing. In Viagem (Voyage), Martins joins him on soprano sax. "This song is one of the deeper ones, I think," says Roger. "It isn't necessarily about a physical voyage; it can be an internal voyage or an emotional one." The mournful theme carries the performance, and both musicians stick close to it in their solos.
Other songs here serve as snapshots of Brazil. Morning Breeze is a cool, slinky bossa nova that Roger composed in his hotel room in Leblon. "I had a view of the sand and the waves," he says. The arrangement starts quietly, then bursts forth as though the day were breaking; Ferreira, Marcelo Martins (on tenor sax), Sérgio Barrozo, and Roger all have the chance to break loose. Bridge to Bahia evokes the brighter side of a state in the northeast of Brazil, where African and Brazilian culture meet in the most soulfully percussive music to be found anywhere in the country. Roger wrote the song in 1992 with the harmonically probing jazz pianist Joanne Brackeen in mind. The piece is a wide-open tune meant for improvisation, as he and several of his colleagues show. Sunset unfolds at a lazy, late-afternoon pace, with a sense of impending darkness. "I don't remember the emotional circumstances in which I wrote the tune," explains Roger. "They had nothing to do with a sunset, but that doesn't matter." Together, Martins (on tenor) and Ferreira make a sensual sound.
Not only Brazil but France, his birthplace, was on Roger's mind throughout these sessions. In several cases, he brought the countries together musically. Roger composed the wistful Je m'en Souviens (I Remember) years ago. "I never intended for it to be a Brazilian tune at all," he explains. "But when I played it for a friend, he said, you have to do this in Brazil. The Brazilians also seemed to think it was a Brazilian tune." Piano and soprano sax intertwine here with utter simplicity. Soir Brésilien (Brazilian Evening) is a piano solo with a quiet grandeur and a French flavor. "It also has a Brazilian character in the harmony and melodic ideas," notes Roger. Embrasse-moi (Kiss Me) features the delicate interplay of Roger and Leonardo Amuedo, whose playing breathes together. "That's more a French-sounding tune than a Brazilian one, but it is a bossa nova," observes Roger.
Bossa may be Brazil's most famous musical export, but it's not the only one that Roger presents here. He wrote Summer Walk in New York in 2009. "It ended up as a chorinho," he says, referring to the fast, syncopated, improvisational music that originated in 19th-century Rio. Roger adds a ragtime influence. Scurrying briskly, the song truly evokes the busy movement of feet along a city sidewalk. Minha Alegria (My Happiness) is one of the songs he composed in Rio; it has the same chorinho and ragtime quality. O Jogo (The Game) is one of his favorite originals – a compact, sprightly statement that he has recorded before. "The first time I performed it live, the drummer was Portinho," says Roger, "and he told me it was a maxixe" – a Carioca style sometimes called the Brazilian tango. Desejo de Amanha (Tomorrow's Dream) takes the album into the realm of modern Brazilian jazz. The track is both brisk and airy, thanks to the featherweight drumming of Rafael Barata and the gentleness maintained by all the soloists.
Among the many ballads in this collection are two that are especially meaningful for Roger. O Unico Amor (The Only Love) is a richly melodic piece, performed with great expressiveness by Roger and Marcelo Martins on tenor. At the time he wrote it, explains Roger, "I was thinking about how it feels to have one love above all. It was a pretty deep feeling that inspired the tune."
A few years back, a close friend of Roger's lost his wife to cancer; Roger wrote Memories of Deborah as a gift to both the friend and Deborah's family. A dark, aching bossa nova, it spotlights Roger and Marcelo Martins (on soprano) in a performance that touches on many turbulent feelings.
Balancing the darker moments on these CDs are a host of songs that spotlight Rio at its most playfully irreverent. Samba Três is a romp that experiments with time. "That one was wild!" says Roger. "In the first two lines the phrases are in three measures. Then they go to four, and come back to three." The tune is a platform for Roger's improvising and for some of the tightest and most swinging horn work on the album. Another samba, O Gato (The Cat), has the jauntiness of a children's song; Roger, Gilmar Ferreira, and Marcelo Martins glide through their solos with the nimblest of ease. "I was actually thinking about hippopotamuses when I wrote the tune, but I thought, a hippopotamus doesn't move that swiftly," says Roger. "You can hear the meow at the end."
He wrote One Samba Note in 1983 as a new spin on Jobim's early classic, "One Note Samba." Explains Roger: "I wanted to write a song on one note; of course it depends on the harmony to make it into a tune. I couldn't call it 'One Note Samba,' even though Jobim's tune is only on one note at the beginning. You can tell we had a lot of fun playing it."
For another of his sprightliest sambas, Roger wanted a Brazilian female name, and he chose Zilda – even though he knows no one by that name. The title song, Journey to Rio, keeps the party going. Ferreira and Martins (on soprano here) state the rollicking tune in perfectly synchronized unison, then Roger and Martins solo at racing speed. The finale gains a distinctly Brazilian touch through Marco Lobo's use of the cuíca – the squeaky-sounding friction drum that plays both rhythm and pitch.
Roger wrote To Brazil with Love an hour before his show at Sala Baden Powell. This ruminative piano solo stands as his valentine to a place that instantly felt like home to him. "I felt that my internal rhythm slowed down in Rio," says Roger. "There was a quality of life that seemed to be less stressed. It felt more natural to me than New York. It affected my playing in a really positive way. It made me start to feel that maybe I've been living in the wrong place."
- James Gavin, New York City, 2012
[James Gavin is the author of Deep in a Dream: The Long Night of Chet Baker and Stormy Weather: The Life of Lena Horne.]