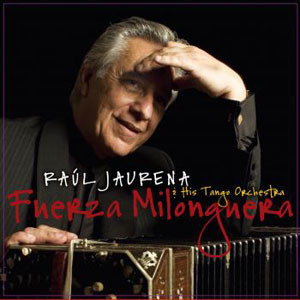 Buy Now
Raúl Jaurena is one of the world's premier performers of the bandoneón, the button squeezebox that is the quintessential tango instrument. His Soundbrush recording Te Amo Tango, which featured many of his own innovative New Tango compositions, won a 2007 Latin Grammy Award. It was followed up by  Pasion por La Vida, a duet recording with pianist and composer Roger Davidson and featuring eighteen of Davidson's original new tango compositions. On Fuerza Milonguera, Jaurena, now leading his Tango Orchestra, keeps moving forward as he glances back, exploring the roots and traditions of tango through new and classic compositions.
Produced by Pablo Aslan
All arrangements by Raul Jaurena
Recorded in Montevideo, Uruguay
Bandoneon: Raul Jaurena, Miguel Trillo, Jose Lagreca, Nario Recoba
Violin 1: Alejandra Moreira, Violin 2: Gastón Jerónimo, Viola: Mariana Mastrogiovanni, Cello: Gerardo Moreira, Bass: Sergio Mouro
Piano: Alvaro Agopian, Guitar: Julio Cobelli
Vocals: Marga Mitchell
Domiciliado en la Gran Manzana, el uruguayo Raul Jaurena es uno de los maestros mas cotizados del bandoneon, instrumento primordial e indispensable del tango rioplatense (a pesar de su presunto origen germanico). Producido por el sobresaliente bajista argentino Pablo Aslan y grabado en Montevideo durante el verano del 2008, el tercer proyecto de Jaurena para el sello Soundbrush presenta una combinacion de composiciones añejas y contemporaneas, cuyos distintos arreglos (elaborados exclusivamente por Jaurena) evocan el apasionado estilo orquestal del tango clasico de los años 50, aunque es preciso agregar que tales piezas son interpretadas de una manera refrescante y emotiva por los participantes uruguayos. Todo lo cual reafirma la posicion de Jaurena como uno de los exponentes del tango de nuestros tiempos.
Reviewed by Luis Camargo
Latin Beat Magazine LBMO.com
___________________________________________________
Raul Jaurena, 'master of the tango', has put out one of our favorite albums this week: Fuerza Milonguera [Soundbrush Records]. A native of Montevideo, Uruguay, and current resident of New York, Jaurena makes the traditional sounds of the tango he was brought up with — he's played since age eight –  sound their most haunting, bewitching and memorable, adding elements of influence Astor Piazzolla's 'tango nuevo' to create a lively and modern take on the music of the bandoneon. Getting his practice in various tango ensembles throughout 1960′s/'70′s Uruguay, Brazil, Chile, Ecuador and Venezuela, Jaurena has gone on to compose for the Irene Hultman Dance Company in New York and to be nominated for, and win, Grammys in both the United States and South America. His latest release is a lively and heartfelt combined effort of the talented bandoneones, Juarena, Miguel Trillo, Jose Lagreca and Nario Recoba, with piano, violin, viola, cello, bass and guitar flourishes added throughout.
http://sonicdiet.wordpress.com/2010/11/03/raul-jaurena-and-his-tango-orchestra/
_______________________________________________________
Simply One of the Best Tango Collections Out There!
Raúl Jaurena, born in Montevideo, Uruguay, is already a legend among tango aficianados, having won a Latin Grammy for this infamous recording 'Te amo tango' in 2007, and rises to new heights with this absolutely superb recording of some of his own compositions as well as those by other famous tango composers. Raúl Jaurena, the man that Astor Piazolla once called one of the greatest bandoneon players ever - has established a unique connection to his instrument: 'Genuine, open, touching, with stunning technical brilliance his play has enriched and added an important facet to modern tango interpretation'.
But words of praise from critics and fellow compatriots seem secondary to the real experience of hearing this album of everything the tango is about. These works are played with big band sound alternating with the sensuous vocals by Marga Mitchell that remind us that the tango is after all about seduction. Jaurena's ensemble includes a total of four Bandoneones (a form of concertina instrument best known in Argentina and Uruguay, for those who may not know), piano, two violins, viola, cello, bass, and guitar -a combination of instrument that can sound both festive and intimate. It has been said about Jaurena's skills with his instrument: 'Is the bandoneon a living creature? It may seem so....In the hands of a skilled musician it starts to grumble and whine, to breathe and to sing its heart out. Few people can play it like Raul Jaurena - he literally embraces it and elicits from it the whole range of emotions that this unique instrument is able to evoke.' Few could say it better. The sound of this recording made in Uruguay in June, 2008 and is brought to us courtesy of Soundbrush Records with all the dignity and quality this superb music deserves. Just try not to leap onto the dance floor once this recording begins. Highly recommended on every level.
Review By Grady Harp, November 2010
http://www.amazon.com/Fuerza-Milongnera-Raul-Jaurena/dp/B00452J56E/ref=cm_cr-mr-title
________________________________________________________
On his newest project, Fuerza Milonguera, premiere bandeonist Raúl Jaurena showcases why he is considered a master of tango and of his chosen instrument, the bandoneón.
(Raúl Jaurena, Miguel Trillo, Jose Lagreca, Nario Recoba – bandoneón; Alvaro Agopian – piano; Alejandra Moreira, Gaston Jeronimo – violin; Mariana Mastrogiovanni – viola; Gerardo Moreira – cello; Sergio Monro – bass; Marga Mitchell – vocals; Julio Cobelli – guitar)
It is one thing to master an instrument and the music it is associated with. It is another to become a premier performer and an acknowledged star of the music an instrument is linked to. That is the position held by Uruguay-born, New York City-based Raúl Jaurena, a maestro of the bandoneón - a type of concertina popular in Argentina and Uruguay, that is an essential ingredient in the orquesta tipica or tango orchestra.
Jaurena became well-known when he won a 2007 Latin Grammy Award for his Soundbrush recording, Te Amo Tango, which featured many of his innovative New Tango compositions. On Jaurena's latest project, the superbly recorded Fuerza Milonguera, the bandleader uses his Tango Orchestra to explore tango's roots and current conventions: the 14 tunes are interpretations of recent and older pieces recorded in the classic tango style but with a fresh outlook: a combination of roots (old) and contemporary (new) can heard throughout.
Jaurena employs several of Uruguay's top musicians who provide virtuosic accompaniment and spotlight the subtle differences between Uruguay tango and that from Argentina, where the genre was developed. Jaurena's ensemble includes four bandoneones, piano, two violins, viola, cello, bass and guitar, with guest Marga Mitchell's intimate vocals on select cuts: the 12 artists form a musical recipe both celebratory and comfortable.
Hearing Fuerza Milonguera is like receiving a mini-history lesson through tango's legacy since there are interpretations of eminent tangos by noted players such as Julio de Caro (a conventional take of his "Tierra Querida" opens this record). The longest track is an affecting translation of "Responso," by Aníbal Troilo, who was part of Argentina's golden age of tango (1940-1955). Tango aficionados will also respond to a brisk version of Mariano Mores' "Taquito Militar," which fuses modern ideas with traditionalism and is highlighted by a light military march and the blend of rhythmic piano, strings and layered bandoneones. Jaurena's material stands up alongside the finely-honed tango works. "El Faraón," Spanish for "the Pharaoh," is an instrumental narrative that courses with a story-like flow: the drama-filled tune could be about anything or anyone, maybe even the popular Mexican professional wrestler who used the same name. Jaurena concludes the 55-minute set with another descriptive tango, "El Tordo," with strong input from Agopian, who adds a refined solo.
The title track is a Roger Davidson original first offered on the Jaurena/Davidson duet outing, Pasion por La Vida. This version expands Davidson's creative effort into a larger group rendition which nods to the traditional Afro-Uruguayan condombe style that still flourishes in Montevideo, where this compact disc was recorded.
Mitchell's contributions are like a private conversation between her and the listener. She brings a confidential air to Homero Aldo Expósito's famous, poetic tango "Naranjo En Flor." She does equally fine on another classic song connected with early bandoneón music, Pedro Laurenz's "Como Dos Extraños." She exudes a lingering passion to Chico Novarro's "El Ultimo Round," about living life fully before the final round. She shines on "Ayer," a song she co-wrote with Davidson, where she sings about the feelings deep in her heart: her voice is matched by poignant accents from the bandoneón as well as Alvaro Agopian's piano.
Review By Doug Simpson