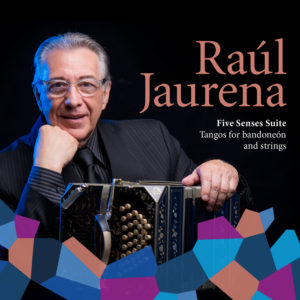 Buy Now
Raúl Jaurena, bandoneon
The Arrhythmia Quartet:
Daniel Szasz, 1st violin
Serghei Tanas, 2nd violin
Simona Rusu, viola
Ariana Arcu, cello
Recorded at WILDWOOD RECORDING
Nashville, TN: November, 2014
Engineer: Brendan Harkin
Mixed and mastered by Luis Bacque, May 2015
Produced by Raúl Jaurena
Executive Producer Roger Davidson
Executive Producer Pablo Aslan
Associate Producer Alexandra Aron
Design Marie Coons
All works by Raul Jaurena (SGAE) unless otherwise noted
The Birmingham-based Arrhythmia Quartet was founded in 2010, at the initiative of Daniel Szasz, Concertmaster of the Alabama Symphony Orchestra. All members of the quartet are natives of Romania and Moldova, graduates of Music Conservatories from Bucharest, Cluj, and Kishinev, and now reside in Alabama and Tennessee. The ensemble's mission is to promote both standard classical and more unusual repertoire. The members of the quartet are also very involved in supporting Music4Romania (www.music4romania.org), a non-profit organization that helps children in schools and orphanages in Romania while promoting Romanian and American music around the world.
www.arrhythmiaquartet.com
www.danielszasz.com.

Raúl Jaurena
Suite Five Senses and other music for bandoneón and string quartet
By Fernando González
It is unfair to define a work of art for what is not. The bandoneón, a button concertina invented in Germany in the 1840s as a poor man's harmonium to play church music, has become the quintessential instrument of tango. But Suite Five Senses and other music for bandoneón and string quartet, while informed by tango, is not a tango recording. Instead, the language of the music here is a hybrid of classical string quartet writing and various tango styles.
Also, a recording of bandoneón and string quartet immediately suggests a soloist with accompaniment. But Uruguayan bandoneonist Raúl Jaurena, an unpretentious master of his instrument, did not choose that approach.
" When I compose and work out the arrangements, I really strive to put the bandoneón inside the texture of the music," he said recently, while discussing his writing. "I can't stand it when I see people playing on and on while the other musicians stay in the background, playing a few notes, here and there, like mere accompanists. I wasn't writing a concerto for bandoneón. That would be a different piece. This is music for bandoneón and string quartet. All the instruments are important."
And while Jaurena's Te Amo Tango (Soundbrush), winner of a Latin GRAMMY® in 2007, featured a string quintet, this recording is not a continuation of that work.
Both projects do share a bit of history in that were inspired by Jaurena´s work with the Thalia Hispanic Theatre in Queens, New York. The bandoneonist wrote the "Suite Five Senses" at the suggestion of director and producer Angel Gil Orrios. The show, which ran from the end of January to the latter part of March, included both dancers and singers. The music was orchestrated for an ensemble comprising violin, piano, clarinet and string bass. It was after performing and touring with the exceptional Alabama-based Arrhythmia Quartet, comprised of Daniel Szasz, 1st violin; Serghei Tanas, 2nd violin; Simona Rusu, viola and Ariana Arcu, cello, that Jaurena decided to re-arrange this music specifically for these players.
What Suite Five Senses and other music for bandoneón and string quartet turns out to be is a recording of soulful, streetwise music rooted in tango but articulated with a classical language.
By his own account, Jaurena took a descriptive approach on most of the pieces. The five movements of the suite — "Hearing," "Smell," "Taste," "Touch" and "Vision" — include passages and gestures that are his musical translations of these senses. The opening "Hearing" starts with delicate violin harmonics over an insistent, metronomic cello pulse before the bandoneón brings it back down to earth (or the dance floor) leading the ensemble into an old style milonga section. In one fell swoop, Jaurena not only puts the focus on a crucial sense for making and enjoying music, but also sets the tone for the whole recording. He deploys the instruments as if they were dancers, turning and turning, now leading, now following; now pushing, now holding back. Throughout, the textures of the blends of bandoneón and strings seem to breathe as Jaurena´s melodies and counterlines are, by turns, open and tightly knit, translucent and dense.
None of the compositions on this recording follow exactly a conventional song form.
"Montevideo Night," a good example, is shaped by the narrative of a city night — from busyness and the quiet of dawn to the noises of the new day. Sometimes, Jaurena's forms suggest short films, such as in the conversation of violin and bandoneón in "Para vos y para mi" ("For You and I") or the celebratory "Tango," a salute to the music's history from its simple beginnings (which included violin) to a final, fugue-like resolution that would have made Astor Piazzolla proud.
Defining a work of art for what is not is also a way to speak of how original that work is.
In obvious and subtle ways, Suite Five Senses and other music for bandoneón and string quartet is such a work.
Fernando González is a GRAMMY-nominated music critic and writer. Fgonow.com