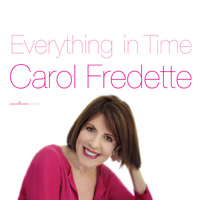 Buy Now
In Everything in Time, her long-awaited return to recording after a decade's absence, veteran New York jazz singer Carol Fredette is at her peak, singing a repertoire that blends classic American and Brazilian pop-jazz. A musicians' singer, Carol has spent her career performing with the top players in jazz, including Ron Carter, Mel Lewis, Steve Kuhn, and John Scofield. Everything in Time reunites
her with her longtime colleague, the celebrated bassist and arranger David Finck. Produced by David, the album boasts a first-rate band of Manhattan- and Brazil-based jazzmen; along with Carol they bring new sparkle to songs ranging from Kern to Ivan Lins to Kenny Loggins. For Carol's fans, Everything in Time is a grand welcome-back; those who don't know her are in for a happy discovery.
"Carol Fredette is absolutely the best, most creative, elegant, earthy, in tune and in control, dreamy, sensual, vibrant (without all that "vibrato"), moving vocalist I have ever heard." – RecordingVIP.com
"She's as good as they come" – Stan Getz
There is an endless list of choices to be made in the process of producing a recording. Which songs? What instrumentation and musicians? Which studio? How much money can be spent? The Who, What, Where, and How of this process is a full time job before even a single note of music is written, let alone played.
This recording with Carol Fredette was one of those rare projects in which the choices were easy and came incredibly naturally. We started with a list of about 40 songs that were important to her. After several conversations and a couple of meetings we gradually chipped away at our list until we were left with our ultimate sequence of the fifteen songs offered on this disc. After making those choices the CD began to have a life of its own. Things easily fell into place as Carol and I shared dozens of ideas about how to treat the material. We each had suggestions about instrumentation and personnel, as well as location and engineer possibilities. It wasn't very long before we found ourselves at Deep Diner recording studios in New York City adjusting the headphone mix for some of the best musicians around, playing some of the best songs ever. Isn't that how it is supposed to be?
The material presented here is varied. Among the songwriters: American songbook masters Jerome Kern and Dorothy Fields (A Fine Romance), Cole Porter (Dream Dancing) legendary jazz writer/singer, Bob Dorough (Rhyme or Reason); Brazil's Ivan Lins (Bilhete), and Tom Jobim (Dreamer) , the masterful team of Marylin and Allen Bergman with Michel Legrand (Pieces of Dreams and I Was Born In Love With You); as well as pop music icon, Kenny Loggins (Wait a Little While). Carol has chosen their melodies and poetry because the songs reflect her life experience. Isn't that what music is supposed to do?
Each of the selections chosen for this disc offers the listener some insight into Carol's qualities of joy, sadness, sensuality, humor, hope, and most of all, love. These elements are well-documented here. And when combined with her musical instincts, the ever-present influence of a certain singer with blue eyes, her passion for the music of Brazil, and her sense of swing, it all feels complete.
The choices made for this recording were good ones: a rich repertoire and a carefully selected cast to accompany a singer who is a real communicator of words and music. The choices are thoughtful. They are natural. They are entertaining. And most importantly, they give us the opportunity to get to know someone through music.
David Finck,
New York 2008