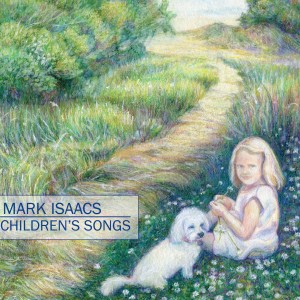 Buy Now
"This wonderful cycle is highly inventive and inspiring, accessible to children and adults alike. Very enjoyable and touching!"
Vladimir Ashkenazy
Mark Isaacs premiered Children's Songs in 2012 at the Adelaide Festival in South Australia. The suite is one more highlight in the career of a musician whom the Los Angeles Times praised for his "splendid musical mind." In this pensive suite of short piano works, Isaacs, one of Australia's most accomplished composers and pianists, plunges us into a part of ourselves that we may have thought we'd lost forever. His Children's Songs depict a delicate place, marked by tentative steps but endless imagination.
This delicate and delicious series of piano pieces was recorded at Eugene Goossens Hall in Sydney this past August with the composer at the piano, and the results are stunning. We  can't wait to share this music with you in May 2013.
Mark Isaacs: piano.
All music composed by Mark Isaacs.
Written for premiere at the composer's recital Works Without Boundaries at the 2012 Adelaide Festival (Australia)
Recorded by Ross A'Hern
August 14 & 15, 2012 at Eugene Goossens Hall, Sydney
Mixed and mastered by Ross A'Hern and Paul Bryant at The Chapel of Sound, Sydney
Produced by Mark Isaacs.
Consultant Producer: Janine Sowden
Executive Producer: Roger Davidson
Piano technician: Terry Harper. Hamburg Steinway Model D
Cover illustration by Jewel Isaacs
Total duration approximately 45 minutes
Limelight
Isaacs' mood pieces reveal the hand of a renowned improviser. 
Composer-pianist mar Isaacs was born in London but raised in Australia, and has long been a part of the Australian music scene. He is widely known as a jazz musician but his influences are wide. Isaacs also has a reputation as a formidable improviser, and there is an improvisatory spirit about this cycle of 18 short mood pieces. As a disciplinary measure, Isaacs set out to write one per day. He premiered the work in Adelaide in 2012. Children's Songs definitely sits in the classical sphere. Like Schumann's Scenes from Childhood  (and unlike Debussy's Children's Corner), Isaacs' music represents childhood recollected at a distance. There is none of the manic hyperactivity or lack of control that characterises children in the here and now. Rather, the atmosphere is subdued, even melancholy. Even in a piece like Are We There Yet? Isaacs is controlled: it's more a fantasia on the words "Are we there yet?" than a depiction of restlessness (although sleep clearly descends at the end).
The sleeve note mentions a number of influences, but to me the two composers who come to mind are the Frenchman Charles Koechlin and the Catalan piano miniaturist Federico Mompou. Like theirs, Isaacs' harmony has a subtly acerbic edge within a timeless dreamlike world.
While at 47 minutes it is short measure for a disc, this release is atmospherically recorded-- the sound quality is exceptional-- adn the authority of Isaacs' playing is a given.
--PS
Piano Addict
Composer and pianist, Mark Isaacs, has released his Children's Songs on Soundbrush Records. The 18 pieces were inspired by Schumann's Kinderszenen and the "playful, adventurous, mysterious world of the child. In this modern set we have the humourous  Are We There Yet?, Bunyip's Return (a much feared mythical Australian creature), the chaotic and everchanging  River, a gorgeous Abschied, and more. Like Schumann's pieces these are not necessarily for children to play, but rather are reminiscences of childhood.
http://pianoaddict.com/2013/05/great-finds-isaacs-childrens-songsorileys-liszt-and-more-liszt/
___________________________________________________________________________
Gapplegate Classical - Modern Music Review
Where solo piano music is concerned, you could say that Mark Isaacs belongs to the modern tonal school. Children's Songs (SoundBrush 1029) finds Mark running through a grouping of 18 interrelated pieces. Without to my knowledge containing an improvisation per se, he nonetheless shows a little bit of jazz flavoring a la Keith Jarrett and Bill Evans, along with the influence of Debussy, in that there are glowing impressionistic expressions to be heard.
The music is something children might appreciate, but mostly it is music that shows Isaacs reflecting on childhood as an experience, a state-of-mind, a set of events and images of an exceptional nature. So in that sense it is more akin than not to something like Robert Schumann's Kinderszenen.
The music really is what shines. Isaacs has created a reflectively intimate tableau that does not engage in pyrotechnics but nonetheless shows the sure hand of a very creative musical brain and heart.
The playing is appropriately poetic; the music revels in dappled sunlight. . . so it's perfect for this season or for that matter any fair day or its memory!
Mark Isaacs comes through with 18 pieces you'll no doubt want to hear many times. Excellent piano music.
http://classicalmodernmusic.blogspot.ca/2013/05/mark-isaacs-childrens-songs-solo-piano.html
Musictrust.com
Reviewed by Mandy Stefanakis, February 1st, 2015
People are often drawn to particular historical times. For me, the more I learn about ancient Greek and Mesopotamian civilisations, the more I realise that 'progress' is not a natural, upwardly inclining gradient, but rather resembles the movement of the Aussie dollar against the greenback. It is the mix of ideas, scientific, mathematical, philosophical and aesthetic and the equal status of all these areas of erudition that I admire about this time and its ongoing influence on all that we think and do. But the conflicts then are like the conflicts now. In some areas progress is a horizontal line.
The other period that I find particularly enticing is the late 19th into the early 20th centuries, for the same reasons. But brilliance in similar fields was about to collide with the First World War – the sublime overridden by the belligerent and crass, though the conflict helped foster technological development and some nice poems. Prior to this, within music and other pursuits, there was much communing rather than conflict. Particularly, like two tentative teenagers gazing at each other across a divide, impressionism and jazz, at first 'influencing' each other, gradually embraced. On his album Children's Songs, Mark Isaacs captures this point in time on many of the tracks. In the accompanying notes, James Gavin describes Isaacs' referencing of Bach, Schumann, Bartok and others, but I largely hear a marriage between Debussy and Gershwin and it is, as they say, a match made in heaven. Schumann is the other major sonority.
In addition to his work as a jazz pianist, Isaacs is a prolific composer and his music, even in moments of deep and intense contemplation, is beautiful. He draws from a well of cross-continental, historical and stylistic heritages in all his composing, from the romanticism of his Pieces for Cello and Piano to the eclecticism of his Symphony No. 1 where there is homage to Sculthorpe and an array of other influences. Isaacs writes particularly well for cello, also featured in his Wind in the Willows, part of The Hush series.
On this album, what is evocative is the use of whole tone scales and more chromatic derivations of them, the lack of a home base which depletes the anticipation and tension tonality brings. There are gorgeous suspended chords, an Isaacs trademark, so perfect on the timbrally forgiving medium of the pianoforte in twisting one's gizzards to just the right tension. Equally he creates a lovely sense of flow in his work, particularly through his use of rhythm which, like his exploration of scales, is not homebound. The movement away from constraining established structures with a focus on the natural environment helped define Art Noveau and Impressionism in all aesthetic pursuits during the late 19th and early 20th century. Jewel Isaacs' beautiful cover art for this album consolidates this sense.
Contributing to the overall musical impact is Isaac's sensitive dynamic interpretation of every note and, beyond the rhythmic feel his micro-timing is immaculate in its expressiveness. For example Are We There Yet? comprises a series of descending melodic ostinatos with only the resonance of each note impacting on the following to create any harmonic accompaniment. It is like a series of children's sighs accompanying the long trip, you know, the 'let's drive to Broome' kind. The piece's effectiveness relies on the performer's sensitivity of touch and Isaacs masterfully straddles the boredom he wishes to convey, with listener engagement.
Isaacs set himself the goal of composing a song per day for the album, part of the discipline requisite for a creative mind – like an author setting daily word counts. He would sit and play and gradually sculpt each piece. It's a remarkable endeavour.
Water is a 'thing' for Isaacs, or so it seems. He explores this theme here and on other albums. The River, which follows Are We There Yet? seems to be the composer where he wishes to be. It is as complex as AWTY is sparse. There is stillness created through paced, heavy chords on the bottom of the river and this incredible chromatic, lyrical interplay of rapid fire arpeggios with an overlaying melody that shifts in its voicing from 'soprano' to 'alto' so that the movement of the water's molecules in all their wondrous chroma are beautifully conveyed.
And if you truly want to know a composer, you gravitate to any piece called Home because you know that's where the heart and soul lie. And there is Isaacs messing with those lovely bi-tonal mashes, the stillness, the dwelling he likes to employ to capture the resonance of sounds, the syncopated rhythms and those lovely Debussyesque melodic meanderings and broad harmonies melded with a little jazzy tinkering.
Gentle Swing with its much more structured triple metre evokes the playfulness and gentleness of that 'wind in the hair, almost flying but not quite' feel and Isaacs uses a musically romantic approach to this piece with full jazz-inspired harmonies infusing it as the swing reaches the apex of its trajectory. The last piece, Abschied (nicht) rests much more in Schumann's arms. It is deep and rich with a massive melodic range and is going somewhere with its strong tonality although for a moment there, we're left hanging wondering if it will. Night, of course, darkness, awaits us all in its various guises. Isaacs captures this beautifully.
http://musictrust.com.au/2015/02/childrens-songs/