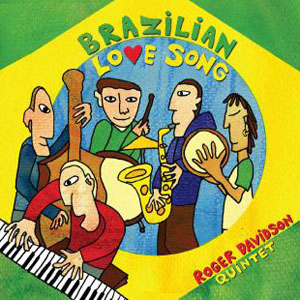 Buy Now
Pianist Roger Davidson's repertory as a composer ranges from chamber music and symphonic and choral works to songs in Afro-Caribbean and Latin American styles, and from straight-ahead jazz to Klezmer music and children's songs. Featuring eighteen original compositions, including bossa novas, sambas and chorinhos, Brazilian Love Song, is an exhilarating showcase for one of the most versatile composers in music today.
Roger Davidson, piano, compositions
Aaron Heick, sax
David Finck, bass
Paulo Braga, drums
Marivaldo Dos Santos, percussion
"Pianist Davidson has assembled a sweetly convincing group on BRAZILIAN LOVE SONG to play eighteen original compositions for a beautifully varied program. Davidson understands well—intuitively as well as prac- tically—that this might be a heavy burden for a mere CD to bear if the compositions were derivative of one another. Happily, they vary in tempo and mood as well as rhythmic underpinning, from bossa nova to samba to choro. And the CD's programming shifts fluidly from one mode to another: a quintet performance, with Heick's sweet saxophone soaring and murmuring, gives way to a piano-bass duet, then a trio featuring Finck's bowed bass. So the listener never tires, and Davidson comes off splendidly not only as a composer with a variety of imaginative approaches, but also as a pianist with some rhapsodic tendencies, beautifully balanced by his strong unflagging rhythmic powers. And—for those groups needing eight to fifteen minutes to get something going—the longest selection on this disc is 4:27, and even the selections that are substantially briefer are full of melody and improvisation—Davidson's visions are not only compact but deep and satisfying."
Cadence Magazine
_______________________________________________________________
Jazz and bossa nova have had a torrid love affair for many years, it seemed they enjoyed each other's musky aroma and found time to explore each other's sonic cavities as if it meant everything in the world to them. It should. Brazilian Love Song (Soundbrush) is not only a great jazz album with love song featuring a Brazilian motif, but it is also Roger Davidson's way of affirming that torrid love affair with a pianist kiss.
The 18 songs here go back and forth from solo piano pieces to track with a band that feature Paulo Braga (drums), David Finck (bass), Marivaldo Dos Santos (percussion), and Aaron Heick (saxophone). The quintet join forces to color the picture many have only imagined but a select few have seen and experienced for themselves. They are songs about love and romance: physical, sensual, and emotional, all done without ever going overboard. An example of this is "Ritmo das Flores", where Davidson sounds as if he's having a conversation with his musicians while flirting with the beauty of the land he speaks of.
This music is very smooth, like a Brazilian, and you will want to explore that smoothness until the first proof of hair comes through.
Review By John Book
http://www.thisisbooksmusic.com/2010/11/13/review-roger-davidson-quintet-brazillian-love-song/
______________________________________________________
Remember back in the 1960s when the term 'bossa nova' seemed to haunt every club and every relationship? American saxophonist Stan Getz and the Brazilian guitarist João Gilberto and vocalist Astrud Gilberto brought out 'The Girl from Ipanema' and the sound they produced influenced American minds strongly - and still does. Well, we have another infusion here. Classically trained pianist and composer Roger Davidson has absorbed that sound and transformed it into his own vary rich style. In this new album BRAZILIAN LOVE SONG he gathers his ensemble - Davidson himself on piano, with Paulo Braga , drums, David Fink bass, Aaron Heick, saxophone and Marivaldo Dos Santos , percussion - and takes the whole bossa nova mystique to another level.
The generous sampling of 18 songs (all composed by Davidson) range form the ecstatic to the most intimate Latin statements about the vagaries of the emotion of love. This is music to dance to, to sit and absorb in a quiet place, or to stir your emotions to overload. Davidson is such a fine pianist that he brings a security to his playing that passes genuinely to the other four of his quintet. Another very distinctive aspect of this successful album is the high quality of engineering and sound production courtesy of producer Pablo Aslan guiding Davidson's own significant music label called Soundbrush Records. This is the quality of sound usually lavished on classical recordings of both chamber ensembles and mighty orchestras but rarely heard with popular music. And that says a lot about this recording: it is top flight and Classy!
Review By Grady Harp
http://www.amazon.com/Brazilian-Love-Song-Roger-Davidson/dp/B0044KU77S/ref=cm_cr-mr-title
______________________________________________________
Sinatra/Jobim - The Complete Reprise Recordings - Concord Music
Roger Davidson Quintet - Brazilian Love Song (30 Years of Brazilian Music) - Soundbrush
I was taken back listening to this to the very earliest bossa nova jazz LPs from American performers.
Roger Davidson Quintet - Brazilian Love Song (30 Years of Brazilian Music) - Soundbrush SR 1018, 67:37 *****:
(Roger Davidson, pianist & composer; Paulo Braga, drums; David Finck, bass; Aaron Heick, sax; Marivaldo dos Santos, percussion; Produced by Pablo Aslan)
What a terrific couple of CDs of infectious Brazilian songs! The Frank Sinatra originals came out on two LPs - the first in 1967 and the later in 1969. Sinatra toned down his usual Live At the Sands style for a super-soft and intimate bossanova vocal sound in keeping with that of Jobim and his sensitive songs. Ogerman is one of the great arrangers and composers, and his string-heavy settings for Sinatra and Jobim are completely different from the usual Sinatra backing from Nelson Riddle and other bands. Sinatra said "I haven't sung so soft since I had laryngitis," but it makes for one of his most emjoyable albums.  Great to have it again. And Jobim may be soft too, but at least he doesn't sing off key as Astrud Gilberto did.
The remastering is excellent - these tracks could have been recorded last week. For some reason at the last minute Sinatra had called the Warner studio demanding they "kill the album."  A rare eight-track of the album which had already slipped out commanded $5000 in 2005. Seven of the nine tracks were eventually released on "Sinatra & Company" in 1971.
The Brazilian Songs CD was recorded in NYC last year, but it could have been done in Rio, with Argentine tango virtuoso Pablo Aslan producing it.  It's another great jazz session by performers imbued with the exciting bossa nova Brazilian sound.  Most of the 18 tracks here will be less than familiar to most listeners, which also adds interest.  I was taken back listening to this to the very earliest bossa nova jazz LPs from American performers - the Laurindo Almeida/Bud Shank session and of course the Charlie Byrd/Stan Getz ones.
Review By- John Henry
CD Review: http://www.audaud.com/article.php?ArticleID=8284
______________________________________________________
Roger Davidson's album Brazilian Love Song (Soundbrush 1018) is subtitled "30 Years of Brazilian Music." That is because it covers songs Roger Davidson has written between the years 1978-2008.
This is old-school bossa nova and samba jazz done by Davidson's quintet, which includes Davidson on piano plus percussion, drums, alto sax and acoustic bass. Davidson and altoist Aaron Heick turn in decent solos, and bassist David Finck can take some nice choruses with the bow or pizzicato. The rhythm section cooks and churns in the way one expects. But essentially the album stands or falls on the strength of Roger Davidson's songs and whether the classic Brazilian feel communicates. They do not disappoint. These are lyrically sumptuous musical repasts, well performed.
Davidson's mood here tends toward the cool realm. He doesn't kick off any super-burners. However the hour you spend with this music in a sitting is a delightful one. Nicely done, Mr. Davidson!
http://gapplegateguitar.blogspot.com
______________________________________________________
So, here's a gringo that's been writing Brazilian music for 30 years and really enjoys his work.  Here, we find him rounding up some pals to help him take a walk down memory lane, playing tunes that will have you wondering where you heard them before, even though you probably haven't unless you are a real samba hipster.  Tasty stuff that could have easily come from the beach towns of Brazil, this might be samba for gringos, but don't write it off lightly, it works throughout.
Reviewed by CHRIS SPECTOR, Editor and Publisher
A lot of respected classical composers have tried writing popular music. Very few have done it successfully. But Roger Davidson is a composer of such adventurousness and scope that the word "classical" hardly does him justice. Born in 1952 to a French mother and an American father, Roger has built up an impressive catalogue of chamber, symphonic, and choral works; he's no less adept, however, at writing sambas, rumbas, jazz, and children's music. A lot of his pieces blur the lines between genres. In 2008 he made his Carnegie Hall debut as pianist in the debut of his Prayer for Peace (for Jazz Trio and Orchestra).
Since then he has recorded a jazz-piano tribute to Michel Legrand and a Klezmer album, and played his original tangos at the International Tango Festival in Buenos Aires. "Music is for the world," he explains. "If there's music that I want to write or play and I think I can do it, I don't see any reason not to."
Both as a composer and pianist, Roger has spent years (and devoted several CDs) to an exploration of South American styles. Now comes Brazilian Love Song, the latest chapter in his ongoing fascination with Brazil. The country's music first captivated Roger in 1964, when he, like so many others, was seduced by Getz/Gilberto, the album that helped make bossa nova an international craze. The collaboration between Stan Getz and guitarist-singer João Gilberto helped launch a new musical form, Brazilian jazz, that Roger immediately embraced. "I promptly got as many bossa nova records as I could get my hands on," he says.
But it wasn't until the late '70s that he began composing bossa novas and sambas in earnest. He's never stopped. Roger's gift for creating beautiful melodies in any genre shines in this project, and his four sidemen – two of them Brazilian, the other two from the New York jazz scene – make the music complete. All of them have collaborated with him often, notably on Bom Dia, his previous Brazilian album; and on Bingo, a children's CD that uses Brazilian and Caribbean rhythms.
Paolo Braga is a venerated Brazilian drummer; for years he accompanied the country's premiere composer (Antônio Carlos Jobim) and its greatest singer (Elis Regina). "Paolo Braga is one of the most brilliant Brazilian drummers alive," declares Roger. "He's also got a fun spirit that helps me play better. He doesn't just concentrate on the rhythm; he supports the melody and the whole atmosphere of the tune." Bahian percussionist Marivaldo dos Santos was a longtime ensemble member in the off-Broadway hit Stomp, but he has never lost his ties with Brazil; there he has written and performed everything from ballet music to rap.
Alto saxophonist Aaron Heick hails from Seattle but is now based in New York; his resume includes stints with Chaka Khan, Aretha Franklin, Paul Simon, even Frank Sinatra. "Aaron is a brilliant saxophone player," says Roger. "He has a real sense of the dynamism of music; when he encounters a melody he gets into the soul and the spirit of it very quickly."
David Finck is surely the most versatile stand-up bassist of our time. His playing has been equally prized by the A-lists of jazz (Dizzy Gillespie, Herbie Hancock, Paquito D'Rivera), Broadway (Christine Ebersole, Linda Eder), pop (from Rosemary Clooney to George Michael), and Brazilian music (Cesar Camargo Mariano, Ivan Lins, Leny Andrade). When André Previn plays jazz piano, Finck is his bassist of choice. "David is an old friend," explains Roger. "He's a bass player who likes to be a bass player; he gives strong support at the bottom. But when it's time to play melody he's really strong at that, too. He's been playing Brazilian music longer than I have, probably, and is steeped in that culture. It shows in the passion he puts into his playing."
The spirit of Stan Getz's Brazilian albums is recaptured on this CD's title track. Brazilian Love Song reflects the sultry, languid feeling that made the Getz style of bossa nova so seductive. Aaron Heick plays here with a cool, sexy swagger; Roger's piano underlines that mood.
One day in 2008 he was improvising at the keyboard, and a song emerged. "It was more about praying for the world," he says, "but then I realized it had so much feeling that it was really a song about love, and not specifically for one person." He called it Calor de Coração (Heat of the Heart). This gentle meditation comes to life through Roger's billowing solo and the wistful bowing of David Finck.
Much of Roger's instrumental music is striking in the pictures it paints. Ritmo das Flores (Rhythm of the Flowers) is an example. "There's a gentleness to the rhythm and the quality of the melody that made me think about flowers," he notes. Roger's nimble solo and the dancing lightness of Paulo Braga's drumming add to the tune's airy quality.
O Jogo (The Game), written the same year, is marked by its playful exchanges between piano and bass. It's set to a late-19th-century Brazilian rhythm called maxixe, whose guitar parts flow with sixteenth-note offbeats. "It was just the rhythm I wanted," says Roger.
Samba da Sarah evokes the happy memory of an English girl Roger met on a boat in the '70s. This track has all the jubilance that makes samba as intoxicating as a drug. Longing for You (1996) is a haunting bossa nova whose asymmetry befits its theme of something awry. The bowed bass solo lends it a crying quality. Forgiveness, he says, "is about just that." A brief, direct statement, it began as a piano solo; here the gentlest touches of bass are added.
The tender melody of Saudade de um Amor (Longing for a Love, written in 2008) is utterly straightforward in its simplicity. "It's one of my favorite Brazilian tunes I've written," says Roger. He gives the spotlight over to Aaron Heick, whose sultry, cascading solo expresses all of the yearning Roger had in mind.
Roger wrote Dream that year as a song with English words. It's a brisk samba with a bright piano solo. The dreaminess is saved for Deep Red Roses, a ballad from 1983 and a showcase for the soloing of his fellow musicians. Flowers were on his mind that year. In a Garden of Orchids evokes one of Brazil's natural glories. Aaron Heick's sensual solo sets the atmosphere.
The reflective but intense Prayer for the World showcases Roger's own playing. "That's literally a prayer," he explains. "I was concentrating on the feeling behind the melody rather than the melody itself while I was writing it." It came out of him in the musical language of Brazil: After the band had run it through once, he says, Paulo Braga remarked: "That's a real bossa nova."
By day, the beaches of Rio are bustling, energized places, filled with people even in the morning. Such an image was in Roger's mind in 1982 when he wrote one of his earliest sambas, The Beach. Aaron Heick's jaunty solo floats along on a gentle wave of percussion.
In 2008 Roger wrote an instrumental that he called "Dreams Will Come True." It seemed to fit this project, especially after he retitled it Sonhos Verdadeiros (True Dreams). "It's about love," he says. "It also had an encouraging feeling." The no-frills clarity of his piano playing is the perfect counterpart of his composing; he believes in making uncluttered statements, straight from the heart.
Now I See Your Heart is a hybrid of rumba and bossa nova; the tune is so lilting that it seems to cry out for words. Blue Samba's inception is simple: "I wanted to write a samba that was like the blues." He did so in 2007. The drums and percussion set up a pulsing forward movement.
Roger returns to his primary theme in Esperança, the Portuguese word for hope. In this song, hope is a quiet, internalized feeling, expressed only by Roger on piano and by the meditative bowed bass of David Finck. The CD ends on an effervescent note with Sua Dança (Your Dance), written in 1983.
The completion of this album finds Roger busy with orchestral commissions; he's also completing a major oratorio – "as well as continuously writing jazz, sambas, and tangos," he adds. He plans to go to Brazil in the near future, to present the music on this CD to the country that inspired it.
-- James Gavin, New York City, 2010
[James Gavin has contributed to the New York Times, Time Out New York, and the Huffington Post. His most recent book is Stormy Weather: The Life of Lena Horne.]
/////////////
Portuguese translation of Liner Notes
Muitos músicos clássicos respeitados tentaram escrever música popular.  Poucos conseguiram com sucesso.  Mas Roger Davidson é um compositor tão  audacioso e abrangente que apenas a palavra "clássico" não lhe faz justiça.  Nascido em 1952, filho de  mãe francesa e pai americano, Roger construiu um impressionante catálogo de música de câmara, música sinfônica e trabalhos para corais; ele não é menos perito, porém, compondo sambas, rumbas, jazz e músicas para crianças. Muitas de suas composições tangem as linhas que as separam por gênero.  Em 2008, ele fez a sua estréia no Carnegie Hall como pianista na primeira apresentação de seu Prece Para a Paz (para trio de jazz e orquestra).
Desde então, ele gravou um tributo de jazz-piano para Michel Legrand e um Klezmer álbum, e tocou seus tangos originais no Festival Internacional de Tango em Buenos Aires.  "Música é para o mundo", explica ele. "Se houver música que eu queira compor ou tocar e eu achar que possa fazê-lo, não vejo razão em não fazê-lo".
Como compositor e pianista, Roger ficou anos (e dedicou vários CDs) explorando os estilos musicais da América Latina.  Agora surge Brazilian Love Song (Cançao de Amor Brasileiro), seu mais recente capítulo, resultado de sua contínua fascinação pelo Brasil.  A música deste país cativou Roger pela primeira vez em 1964, quando ele, e muitos outros, se deixaram seduzir por Getz/Gilberto, o álbum que ajudou a fazer da Bossa Nova uma mania internacional.  A colaboração entre Stan Getz e o violonista-intérprete João Gilberto ajudou a dar início a uma nova arquitetura musical, e "brazilian jazz" (jazz-brasileiro), que Roger abraçou de imediato. "Eu adquiri de imediato todas as gravações de Bossa Nova que eu tinha ao meu alcance", diz ele.
Mas só foi no final dos anos 70 que ele começou a compor Bossa Nova e sambas com paixão.  E nunca mais parou.  O dom de Roger para criar lindas melodias em qualquer gênero brilha nesse projeto, e seus quatro acompanhantes — dois deles brasileiros, os outros dois das cenas de jazz de Nova Iorque—fazem uma música que fala por si.  Todos eles vêm colaborado com ele bastante, notavelmente em Bom Dia, seu álbum brasileiro gravado anteriormente; e em Bingo, um CD para crianças que utiliza ritmos brasileiros e caribenhos.
Paulo Braga é um respeitado baterista brasileiro; durante anos ele acompanhou o mais importante compositor brasileiro (Antônio Carlos Jobim) e a fantástica cantora Elis Regina.  "Paulo Braga é um dos bateristas mais brilhantes ainda vivo",  declara Roger.  "Ele também tem o espírito divertido que me ajuda a tocar melhor. Ele não só dá um suporte rítmico mas melódico também e cria toda uma atmosfera para a música." O percussionista baiano Marivaldo dos Santos foi durante muito tempo um membro do grupo "off-Broadway" de muito sucesso "Stomp", mas nunca desatou seus laços com o Brasil onde  compôs e fez apresentações de tudo, desde música para ballet até rap.
O saxofonista-alto Aaron Heick, que é originário de Seattle mas agora tem como base Nova Iorque, tem em seu currículo nomes como Chaka Khan, Aretha Franklin, Paul Simon, e até Frank Sinatra.  "Aaron é um brilhante saxofonista", diz Roger.  "Ele tem o real senso de dinâmica da música, quando ele vai na melodia, ele penetra na alma e no espírito da música rapidamente".
David Finck é com certeza o mais versátil dos contra-baixistas acústicos dos nossos tempos.  Ele foi premiado na faixa de músicos de jazz de primeira linha (Dizzy Gillespie, Herbie Hancock, Paquito D'Rivera), Broadway (Christine Ebersole, Linda Eder), pop (de Rosemary Clooney até George Michael), e música brasileira (Cesar Camargo Mariano, Ivan Lins, Leny Andrade).  Quando André Previn toca jazz piano, ele opta por Fink.  "David é um amigo de longa data", explica Roger.  "Ele é um baixista que adora ser um baixista; ele dá forte apoio nos graves.  Mas quando é a hora de tocar melodia, ele também se sobressai. Ele tem tocado música brasileira há provavelmente mais tempo do que eu, e ele vai fundo nessa cultura.  Isso se mostra na forma apaixonada dele tocar".
O espírito dos álbuns brasileiros de Stan Getz é revivido nesta faixa título Brazilian Love Song (Canção de Amor Brasileiro), reflete a sensualidade, a languidez que transformou a Bossa de Getz em um estilo tão sedutor.  Aaron Heick toca aqui em estilo "cool", sensual e provocativo; o piano de Roger enfatiza essa atmosfera.
Um dia, em 2008, ele estava improvisando nos teclados e uma música surgiu.  "Era mais como uma prece para o mundo", diz ele, "mas depois vi que tinha tanto sentimento que era de fato uma canção sobre amor, e não para uma pessoa só em específico". Ele a chamou de Calor de Coração.  Essa delicada meditação vem à tona quando o solo de Roger surge como uma onda e o arco melancólico de David Finck se junta a isso.
Muito do instrumental de Roger chama a atenção para as cores e matizes de sua música.  Rítmo das Flores é um exemplo.  "Existe uma delicadeza em relação ao ritmo e melodia que me fez pensar em flores", diz ele.  Os ágeis solos de Roger e a leveza dançante do toque de Paulo Braga contribuem para uma qualidade etérea da composição.
O Jogo foi escrito no mesmo ano e é marcado por sua conversa entre piano e contrabaixo.  É remetido a uma gênero musical do final do século XIX no Brasil, o maxixe, onde as partes para o violão fluem em semi-colcheias sincopadas.  "Era simplesmente o ritmo que eu queria", diz Roger.
Samba da Sarah evoca a lembrança feliz de uma garota Inglesa que Roger conheceu em um barco nos anos 70.  Esta faixa tem toda a vibração que faz do samba tão intoxicante quanto uma droga.  Longing For You (Desejando Você) é uma Bossa Nova misteriosa cuja assimetria realça o tema dando-lhe um novo sentido.
A delicada melodia de Saudade de Um Amor (Longing for a Love, composto em 2008) é por excelência direta na sua simplicidade.  "É uma das minha músicas favoritas, no estilo brasileiro, entre as que eu compus", diz Roger.  Ele ilumina agora Aaron Heick com seus solos sensuais, uma verdadeira cascata musical que expressa todo o desejo que Roger tinha em mente.
Roger compôs Dream (Sonho) naquele mesmo ano como uma música com letras em Inglês.  É um energético samba com um ensolarado solo de piano.  O estado de sonho é guardado para Deep Red Roses (Rosas de Vermelho Fundo), uma balada feita em 1983 e uma vitrine para os solos de seus colegas músicos.  Flores estavam em seus pensamentos naquele ano.  In a Garden of Orchids (Em Um Jardim de Orquídeas) evoca uma das glórias do Brasil.  E a atmosfera é sugerida pelo solo sensual de Aaron Heick.
O reflexivo mas intenso Prayer For The World (Prece Para o Mundo) apresenta o próprio Roger tocando.  "Isso é literalmente uma prece", explica ele.  "Eu estava concentrado no sentimento por trás da melodia ao invés da melodia em si quando a escrevi".  A inspiração surgiu dele numa linguagem musical brasileira: "Depois que a banda tocou uma vez ela inteira", diz ele, "Paulo Braga comentou: 'Isso é Bossa Nova de verdade'".
Durante o dia, as praias do Rio ficam fermentando, lugares cheios de energia, cheios de pessoas, inclusive de manhã.  Essa imagem marcava Roger em 1982 quando ele compôs um de seus sambas mais antigos, The Beach (A Praia). O nobre solo de Aaron Heick flutua pela música com uma leve onda percussiva.
Em 2008 Roger compôs um instrumental que ele chamou de Dreams Will Come True (Sonhos Se Realizarão). Parece se encaixar neste projecto, especialmente depois que ele o renomeou como Sonhos Verdadeiros.  "É sobre o amor", diz ele.  "E também tinha uma qualidade encorajadora".  O piano econômico e claro é o complemento ideal para a sua composição; ele acredita em comentários sem excessos, direto do coração.
Now I See Your Heart (Agora Eu Vejo Seu Coração) é uma mistura de Rumba e Bossa Nova; o tema é tão suingado que parece pedir uma letra. O início de Blue Samba (Samba Azul) é simples:  "Eu queria escrever um samba como se fosse Blues".  Ele o fez em 2007.  A bateria e percussão nos dão uma pulsação que puxa o rítimo para frente.
Roger retorna ao seu tema inicial em "Esperança".  Nesta música, esperança é silenciosa, de sentimentos interiorizados, expressados somente por Roger em seu piano, e pelo contrabaixo de David Finck.  O CD termina em uma efervescente  nota com Sua Dança, composta em 1983.
Com a finalização deste álbum Roger se ocupa de orquestrações; além de completar um  oratório – "e continuar compondo jazz, sambas e tangos", acrescenta ele.  Ele planeja uma viagem ao Brasil em um futuro próximo, para apresentar a música deste CD para o país que a inspirou.
–James Gavin, New York City, 2010
[James Gavin tem contribuido para The New York Times, Time Out New York, e o Huffington Post.  Seu mais recente livro se chama Stormy Weather: The Life of Lena Horne, uma biografia sobre a vida da cantora Lena Horne.]