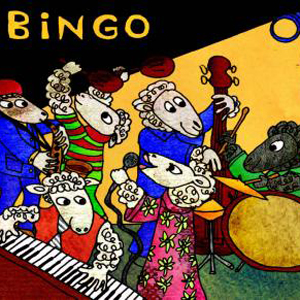 Buy Now
SOUNDBRUSH RECORDS proudly presents BINGO – Songs for Children in English with Brazilian and Caribbean Rhythms. Arranger and pianist Roger Davidson formed BINGO, an ensemble of leading Jazz musicians, to breathe new life into cherished childhood tunes. In addition to Brazil's legendary Paulo Braga and Marivaldo dos Santos, Bingo features vocalist Christy Baron, whose pristine singing brings sophistication and groove to these time-worn classics. Produced by Pablo Aslan.
Musicians:
Christy Baron (vocals)
Roger Davidson (piano)
Paulo Braga (drums)
David Finck (bass)
Susan de Camp (oboe)
Aaron Heick (sax)
Oscar Feldman (sax)
While most jazz-loving moms and dads would like the kids to inherit our passion for music, there are not many tools available. Some top-notch New York jazz musicians got together under the nom de plume BINGO. The result is a CD that the younger population will enjoy. 

Pianist, Roger Davidson and the quartet lay down a solid "kid friendly" groove. Reedmen, Oscar Feldman and Aaron Heick contribute some energetic licks that youngsters will appreciate. Jazz diva, Christy Baron, delivers the goods to the kiddies in fine fashion. Her enunciation is, of course, crystal-clear for the young audience. 

Roger Davidson contributes a couple of original compositions in the form of "Sleep My Child" and "Lullaby Waltz." There is a fine oboe solo delivered by Susan de Camp on "Sleep." The charming "Baby Beluga" is penned by the international children's troubadour, Raffi. BINGO delivers "The Fox" in a hot calypso style that may prompt you to resurrect that old Limbo Pole from the attic. "Baa Baa Blacksheep" is a gem! The old favorite gets a great vocal by Christy Baron, some rollicking sax work by Aaron Heick and a "Peanuts" style piano solo by Davidson. 

Jazz musicians have played children's music for decades but it's seldom that an entire album is dedicated to the little folks. The old Red Nichols version of "Three Blind Mice" or the Paul Williams Sextette reading of "Pop Goes The Weasel" wouldn't attract today's youngsters. 

BINGO includes a colorful cover that young eyes will easily spot on your CD shelf. Considering the attention span of the intended audience, Roger Davidson wisely kept the length of the tracks quite short but included seventeen songs. Most songs don't exceed three minutes in length. BINGO will be available at your favorite shop on September 1.

Tracks: B-I-N-G-O; Froggy Went A Courtin'; This Old Man; Home On The Range; He's Got The Whole World In His Hands; Baby Beluga; All The Pretty Horses; Scarborough Fair; Kumbaya; Sleep My Child; Who's That Tapping At The Window?; The Fox; Baa Baa Black Sheep; The Riddle Song; Lullaby Waltz; Three Blind Mice; Happy Birthday (instrumental).
---
Drr. Roberta E. Zlokower
September 5, 2005

This is one of the best recordings for children that I (as a former Director of Early Childhood Curriculum) have ever heard, since Ella Jenkins and Pete Seeger were recording simple folk tunes. Not only should this CD be in every home, where a young child lives, but it should be globally, in multiple copies, in every nursery school and day care center in English-speaking communities, or in communities where young children are learning the English language. In fact, soundbrush includes a book of lyrics, so parents and teachers can facilitate the singing. Young children learn language more readily through music, and I hope soundbrush, someday, includes books and manipulatives to accompany this recording, as a learning enhancement. In my opinion, every single track is "notable", each with a memorable, danceable, singable rhythm, but in the interest of time and space, four tracks are featured below. 

Notable tracks: 

#5 – He's Got the Whole World in his Hands – With repetitive, simple lyrics, sung with clarity and purpose, and a theme of cultural inclusion, this song is one of the numerous highlights on this educational and enjoyable CD. Saxophone and vocals take turns with the theme, so kids can alternately dance, play toy instruments, and sing. 

#6 – Baby Beluga – This song begins and ends with actual baby whale, underwater sounds, and the vocals and saxophone (soaring over piano and drums), again shift from singing to dancing motifs. Ms. Brown has an infectious joy and simplicity in her enunciation, so critical to early language modeling. 

#8 – Scarborough Fair – This was one of the many songs I used to sing in the classroom, and, for young children, it would be more appropriate for background or group listening, with a very nurturing melody. Sung with a bit of brogue, and introduced by sax, this song will warm parents and kids alike. 

#12 – The Fox – This song will get the kids up and dancing, shaking maracas, or slapping drums. Roger Davidson, on piano, keeps this vivacious melody moving, with a reggae rhythm filled with frolicking fun. 


---
They're the songs we grew up with. 
No, not the ones from AM or FM radio or from our earliest record, tape, and CD collections. These are the songs that we learned in our first years at school, at summer camp, and with neighborhood friends at play. Christy Baron sings each selection the way we remember it. In case you've forgotten the words, the lyrics are included in the liner booklet.
Along with these straightforward vocals, we get a sassy jazz accompaniment with integrated solos. Piano, acoustic bass, saxophone, and drums become sensitive partners for Baron as she delivers the songs earnestly. As you would expect, she performs the songs as an educator would: with clear-cut articulation and genuine emotion. They're the same songs we remember from our childhood, but they're dressed up a little with a mainstream jazz aura, and they're delivered with Brazilian and Caribbean rhythms.
Roger Davidson's "Sleep, My Child" and "Lullaby Waltz" serve as appropriate children's bedtime music, while Raffi's "Baby Beluga" arrives as a bright and happy calypso affair. "Happy Birthday," the album's lone instrumental arrangement, closesBingo with a fiery-hot samba parade that makes you want to celebrate.
"Three Blind Mice" and "The Fox" push the envelope with stirring calypso arrangements. "Baa, Baa, Black Sheep" takes a samba ride that proves joyful as well as fulfilling. Throughout each arrangement Baron's fresh vocals are suitably balanced with the quartet's perky jazz solos.
Highly recommended for folks who have families, as well as for those who don't think they do, Bingo takes you back to those grammar school days when innocence ran through our veins everywhere we went.
Jim Santella
---
Usually the notion of an album featuring "beloved songs for children" invokes a skeptical response of "good for the kiddies, but a big yawn for us parents." Thanks to inventive jazz pianist Roger Davidson and versatile vocalist 
Christy Baron
-- who somewhat wordily subtitle their irresistible, toe-tapping collection "Songs of Children in English with Brazilian and Caribbean Rhythms" -- it might be harder to get the kids to bed. Fans of jazz, calypso, Latin, and these other styles won't mind a bit, however, as the whole house sings along with 
Baron
on a jamming, tropical "B-I-N-G-O" (which features a jubilant piano-sax improvisational swirl by Davidson and 
Oscar Feldman
), a swinging "Froggy Went a Courtin'," and a feisty, tongue-in-cheek, quartet-driven "This Old Man." Those are just the first seven minutes of 45 of the most charming moments you're likely to hear. Amid crisp, unpredictable arrangements of some very familiar material, there are a few unexpected song choices, from a folksy and sweet "Scarborough Fair" to a singalong-ready "Kumbaya." Davidson, who also contributes a few originals to the mix, is at his best on a bursting-at-the-seams piano solo amid the Latin shuffle rhythms on 
Raffi
's catchy "Baby Beluga" and kicking the "Three Blind Mice" you know where to get them up dancing. Special mention should be made of percussionist 
Marivaldo dos Santos
' potent contributions throughout, which are capped off with perhaps the most jubilant rendition of "Happy Birthday" ever recorded.
Jonathan Widran