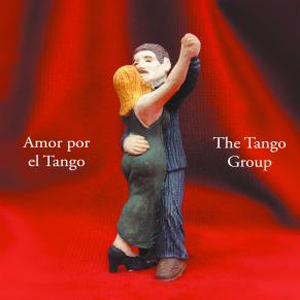 Buy Now
The tango's mystique lives on, attracting musicians as diverse as the two stars of this CD. Roger Davidson is a New York-based pianist and composer of orchestral and choral works, jazz, and world music. Argentine native, Pablo Aslan is a gifted bassist and director of AvanTango, a NY based modern tango ensemble. Together they have created a new collection of tangos embracing the traditional repertoire with an exuberant modern edge.
The entire collection of original songs and arrangements is an upbeat and welcome addition from the increasingly vital tango scene in New York. Here are new arrangements of traditional tangos, such as La Cumparsita, as well as tango arrangements of classics by Cole Porter and new compositions by Davidson. Guest artist, oboist Susan de Camp plays on two songs, which redefine traditional tango instrumentation. This ensemble of first class tango musicians offers up a rare pleasure in their debut album.
The rhythm of the tango pulses, oozing forward on its collective ensemble momentum, carried by each instrument in the drummer-less music. Piano, bass, violin, bandoneon—it's a heady sound, full of emotion and spirit, evoking images of passionate dancers.
Pianist Roger Davidson is a musician/composer/arranger who spends time in the classical, Latin, jazz and world music arenas. His second recorded sojourn into Latin/tango sounds—Mango Tango from '98 was his first—Amor por el Tango jumps with both feet into authentic Argentine tango sounds while experimenting with some fresh tangents. Davidson teamed with bassist Pablo Aslan—director of Avantango, a tango/jazz ensemble—for this collection of songs from the standard repertoire, along with six very faithful to the genre Davidson originals and tango-tinged takes on three Cole Porter classics, "Night and Day," "Begin the Beguine" and "So in Love." This music began in the Bueno Aires brothels and evolved from the streets to the classical auditoriums under bandoneon master Astor Piazzolla. The tango is passionate, beautiful stuff; there may be no sweeter noise than the bandoneon—an open reed squeeze box, similar in sound to the accordion. Mix it in with the violin and it seems pure magic. And this tango group goes after the sound with an authentic panache. The inclusion of the Cole Porter tunes, especially "Night and Day," is especially interesting, serving as an American Songbook touchstone for those unfamiliar with the exotic quality of the tango. Another departure from tradition is the incorporation of oboe on three numbers, a nice added color to the fluid weave of sound. Something old and something new for tango lovers, Amor por el Tango would also make a great introduction to the sound for those unfamiliar with it.
~ Dan McClenaghan
---
BILLBOARD:
Album Title: Amor Por el Tango
Producer(s): Pablo Aslan, Roger Davidson
Genre: WORLD
Label/Catalog Number: Soundbrush 1003
Release Date: Jan. 4
Source: Billboard Magazine
Originally Reviewed: January 01, 2005
It may be all too easy for some tango enthusiasts to conclude that their music saw its heyday with Astor Piazzolla's generation. It's clear, however, upon listening to "Amor Por el Tango" that this sultry dance genre is every bit as vital today as it was in the mid-20th century. The Tango Group, led by pianist/composer Roger Davidson and bassist Pablo Aslan, has created an album that features traditional tangos by Piazzolla, Enrique Delfino and Gerardo Matos Rodriguez, among others. It is also home to Davidson originals and tango arrangements of three Cole Porter tunes. Davidson and Aslan acknowledge the richness of their musical heritage while making their own contributions. Begin your exploration of this fine record with Aslan's bold arrangement of Rodriguez's "La Cumparsita"—perhaps the most recognizable tango ever written. The Davidson originals "Tristeza" and "Perdida" show the composer's uncanny feel for tango as well as his distinctive take on the genre. Racked in the United States by North Country Distribution.—PVV
---
HERENCIA LATINA:
El tango nunca morirá. Siempre se reencarna de alguna manera, ya sea en su natal Buenos Aires, o algún otro rincón del mundo. En este caso, esta majestuosa manifestación musical cobra nueva vida en manos de Roger Davidson, un pianista establecido en Nueva York, y Pablo Aslán, un bajista nativo de Buenos Aires, ahora residente de Brooklyn, y que ha tocado con Yo-Yo Ma, Shakira, entre otros. Juntos, estos dos músicos han creado una producción muy exquisita y placentera.
"Amor por el Tango" nos presenta 15 números, escritos por algunos de los nombres más conocidos en la música mundial. Tenemos, por ejemplo, "Night and Day", "So in Love", y "Begin the Beguine", del legendario Cole Porter; "Griseta", de Enrique Delfino"; y los conocidos "La Comparsita", de G. Matos Rodríguez, y "Volver", del recordado Carlos Gardel y Alfredo Le Pera. Davidson, por su parte, también contribuyó con temas de su autoría, como "Alicia", "Rebecca", "Secretos", "Tristeza", "Perdida", y "Vals para mi amor".
"Amor por el Tango" no es el primer trabajo de Davidson dedicado al tango, debido a que en 1998 él grabó el álbum "Mango Tango". El presente trabajo es sólo una continuidad de la pasión que este experimentado músico siente por el mismo. En esta fascinante producción, Davidson y Aslán son acompañados por Héctor del Curto y David Alsina en el bandoneón, Susan de Camp en el oboe, Nicolás Danielson en el violín, Francisco Navarro en la guitarra y Pedro Giraudo en el bajo. La combinación de todos estos talentos de verdad ha generado un trabajo memorable. (EG)
www.herencialatina.com/Rese-Dic/ResenasDic.htm
---
TANGO REPORTER:
Un disco que bien podría ser un perfecto disco de tango, no lo es por la inclusión de tres temas de Cole Porter (Night and Day, So in Love, Begin the Beguine). Y no es porque los temas de Porter no tengan nada que ver con el tango sino porque sus arreglos no tienen nada que ver con el tango. El resto del álbum es de primera. Contiene un tango que atrapa, bien vertido, sobre todo llevado por dos bandoneones excelentes, Héctor del Curro y David Alsina, que componen lo mejor del disco y se reparten los solos de los surcos. Temáticamente, son de destacar las versiones de Triunfal, Chique y Griseta. Mención aparte merecen los temas Alicia, Rebecca y Tristeza de Roger Davidson, pianista del grupo, por la calidad melódica, y que si bien traen remembranzas de viejos temas, no pierden el encanto en ningún momento. Completan el grupo Nicolás Danielson (violín), Susan de Camp (oboe), Francisco Navarro (guitarra), y Pedro Giraudo y Pablo Aslan (contrabajo).
"Mencion aparte para los temas Alicia, Rebecca y Tristeza de Roger Davidson, pianists del grupo, por la calidad melodica, y que si bien traen remembranzas de viejos temas, no pierden el encanto en ningun momento". Tango Reporter. "La combinación de todos estos talentos de verdad ha generado un trabajo memorable.
Special mention for the songs Alicia, Rebecca and Tristeza by Roger Davidson, pianist for the group, for their melodic quality that although they remind us of old songs, they never loose their charm"
---
Carolina Sotola, HOY, NYC 3/18/2005
Sonidos de Tango en la Gran Manzana
Dicen que en la vida hay pequeños momentos de gozo que, si sabemos verlos, en conjunto pueden formar la felicidad. Uno de esos momentos es escuchar "Amor por el Tango", la ultima produccion de The Tango Group, donde confluyen sonidos recreados del tango clasico, por el ya renombrado bajista del ambiente arrabalero de Nueva York, Pablo Aslan, y algunas composiciones originales del pianista y arreglista Roger Davidson.  En su unica presentacion en el Cami Hall esta semana en Manhattan, los dos musicos, acompañados por el guitarrista Francisco "Pancho" Navarro, el bandoneonista Raul Jaurena y el violinista Leonardo Suarez Paz, reinventaron con destreza temas de Luis Brignolo, jugaron con los limites entre el jazz y el tango de algunas de las piezas de Cole Porter y hasta se animaron a una version de vals de "La Cumparsita".  Los musicos hicieron honor al nombre de la produccion amando el tango con passion evidente, y tal vez lograron que el publico, en un ambiente intimo entre empanadas y vino tinto, comprendiese por un momento el sentido del dos por cuatro, que se descubre a traves de la nostalgia y sobre todo, los sentimientos.
(translation)
Tango Sounds in the Big Apple
They say that in life there are brief moments of joy that, if we can see them, together make up happiness. One of those moments occurs while
listening to "Amor por el Tango', the latest CD by The Tango Group, where there is a meeitng of sounds from classic tango, by the renowned New York based tango bassist, Pablo Aslan, and some original compositions by the pianist and arranger Roger Davidson.  In their concert at Cami Hall in Manhattan, the two musicians, joined by guitarist Francisco "Pancho" Navarro, bandoneonist Raul Jaurena, and violinist Leonardo Suarez Paz, skillfuly reinvented the tangos of Luis Brignolo, played with the limits between jazz and tango in Cole Porter compositions, and even dared to play "La Cumparsita" as a waltz.  The musicians honored the title of the CD, loving tango with passion. In an intimate setting, among empanadas and red wine, they made the audience understand for a moment the essence of this music, which comes from nostalgia, but even more so, from our emotions.