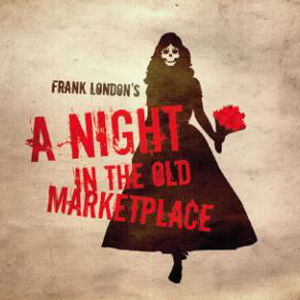 Buy Now
A NIGHT IN THE OLD MARKETPLACE is a collection of 21 songs by Klezmer giant Frank London with lyrics by Glen Berger. Performed by an array of stars including Manu Narayan, Lorin Sklamberg, They Might be Giants, Susan McKeown, and Craig Weddron, this extraordinary score mixes Jewish, jazz and world beats. London helped transform Jewish music through his work with The Klezmatics, the Hasidic New Wave, and his Klezmer Brass Allstars. Now he takes Klezmer solidly into the 21st century with this boldly original music created for Alexandra Aron's theatrical adapation of I.L. Peretz's Yiddish play.
Frank London is highly acclaimed as standing at the pinnacle of Jewish music and for those unfamiliar with his gifts, A NIGHT IN THE OLD MARKETPLACE is a wonderful place to start. This CD is a recording of a theatrical work that sets the revered 1907 Yiddish play of the same name by L.L. Peretz. Setting the bizarre tale to music that combines Jewish music, jazz, classical, rock and just about every other form of music from the 20th century into a highly entertaining mix, London has created a solid hit.
The texture of the play is highly reminiscent of the musical works of Kurt Weill, with special emphasis on 'The Threepenny Opera', as well as the old vaudeville klezmer concerts. The music is written by Frank London and the lyrics are by Glen Berger. The simple staging is allowed due to the small pit band required - Tuba/bass, guitar/banjo/mandolin, keyboards/accordion, and drums. The cast of singers (rather singer/actors) represents some amazing talent including Susan McKeown, Manu Narayan, Lorin Sklamberg, Craig Wedren and other singers well known to both Broadway and bands/groups of a great variety.
The production brought to CD is as complete a transfer of a stage work to recording venue as we are likely to hear. Frank London has created a specialized work that thankfully brings to our attention the rich heritage of klezmer and Yiddish theater, and if this beautifully performed and produced recording is any indication of the value of the stage work, we should be seeing multiple traveling productions of A NIGHT IN THE OLD MARKETPLACE. Moody, atmospheric, extremely creative and of course, entertaining both theatrically and aurally. Highly Recommended. - Grady Harp, June 07...
---
The cat that might be single handedly responsible to the renaissance in Jewish music comes with an adventurous score for a new Yiddish play. With a bunch of genre stars from in and out of Jewish music on board, this ambitious work that recalls the intersection of Kurt Weill and Tom Waits is a must... for anyone with a taste for something different and first class. Not at all hard to get into, you can accept this as something hot and different a lot faster than stressing over it being ethnic. When stuff is in the hands of pros with their eye on the ball, you can't help but come away with good results. - MIDWEST RECORD, CHRIS SPECTOR
---
Who would have thought that Meah Shearim could ever mix with avant-garde! Setting free form klezmer music to a 1907 Yiddish ghost story (and who said there were no new song ideas out there?) Alexandra Aron put together a flexible ensemble to handle the catchy and spellbinding melodies that serve... as a foundation for some intriguing lyrics. All throughout A Night in the Old Marketplace, the music is infectious, swinging and above all, melodically kosher. The vocals are delivered in a Broadway meets Borscht Belt manner, and keep the music from going too far off the path. Enjoyable on multiple levels, A Night in the Old Marketplace is equally fresh and refreshing '– a definitive musical Mitzvah. - George Harris
---
Nearly a decade in the making, A Night in the Old Marketplace is an ambitious project based on a 1907 play by Yiddish writer IL Peretz featuring a powerful score by klezmer virtuoso Frank London and darkly poetic lyrics by playwright Glen Berger. If that description sounds a bit esoteric, relax;... London and Berger (and theatrical director Alexandra Aron) have created a highly original musical universe that''s true to its hundred-year-old source, yet extremely accessible and entertaining to modern ears. London, a key player on the Downtown new Jewish music scene through his membership in groups like the Klezmatics and Hasidic New Wave, boasts an almost absurdly eclectic resume that includes stints with everyone from John Zorn to LL Cool J to Mel Torme. That eclecticism is evident in his tunes here (21 of them; some lasting just a minute or less), which combine Jewish, jazz, classical, opera, rock and world music elements, often within a single song, while evoking a Kurt Weill-meets-Tom Waits mood of decadent cabaret. There are some beautiful numbers here, like the opening '"Bottom of the Well'"; haunting ones like the wordless '"Canon of the Dead'"; religious ones like '"God''s Reply to Job'" and danceable ones, like the fast-paced klezmer workout, '"Desire It'". Berger''s lyrics are bleak, but wickedly funny as they bring Peretz'' story of love and betrayal, ghosts and golems and piety and profanity in the vanquished world of the Polish shtetl to life. Somehow, what could have been just a mish mash of disparate styles holds together, thanks largely to the stellar ensemble of musicians assembled. The core band for the recording (Art Bailey on accordion and keyboards, Ron Caswell on tuba and bass, Brandon Seabrook on electric guitar and banjo and Aaron Alexander on drums) offers a cutting-edge twist on traditional klezmer, while guests drawn from the realms of Jewish music (the Klezmatics'' Lorin Sklamberg), Celtic music (honey-throated singer Susan McKeown), alternative rock (New York favs They Might Be Giants and Shudder to Think''s Craig Wedren) and even the Broadway stage (Bombay Dreams star Manu Narayan) all make valuable contributions. A Night in the Old Marketplace is a remarkable achievement well worth the attention of fans of klezmer, jazz and all other types of music. When he''s not composing, the tireless London is also one of the busiest trumpeters around.- Joel Roberts
This project began almost a decade ago when I read Y.L. Peretz's 1907 Yiddish masterpiece A NIGHT IN THE OLD MARKETPLACE, a sprawling Jewish ghost story reflecting hundreds of years of Jewish life and folklore. Peretz called the work " a tragic carnivalspiel", a fitting description for his bizarre parade of people, spirits and corpses in a Polish shtetl. Being a theater director, I wanted to reach the deep emotional currents that flowed under this chaotic and philosophical play, and decided to approach it through music. I called Frank London, one of NY's most exciting klezmer musicians and composers. We met early one morning for coffee at an East Village café for what should have been an hour. I got home after dark that night. I called my friend, playwright Glen Berger, recounted the day-long conversation and asked him to join the project as lyricist. In the subsequent years, Frank, Glen and I have worked on this material. We have wrestled with Peretz's text, his characters, his absurd yet deeply human vision of life's apparent meaninglessness…while slowly this glorious music has simmered, grown, and exploded around us. The music on this CD is our response to the challenges set forth a hundred years ago by a visionary Jewish writer. It is with enormous gratitude and great delight that I present this album made possible by Roger Davidson and Soundbrush Records. I would like to thank every musician and singer for contributing their astounding talents.   Most especially I thank Frank and Glen for their brilliant work and continued devotion to this strange and wondrous material.
Alex Aron
November 2006, NYC